The Thompson/Elias Story – so far…
George Robert Thompson, 1855-1929, was from Yorkshire, and served an apprenticeship with a printer in Hull. He moved to Llandudno in 1877, and co-founded the 'Llandudno Advertiser' newspaper. He was a newsagent, bookseller and stationer, and established several shops and stalls in the town. There were stalls on the pier, and he opened a shop at 19, Mostyn Street, now 'Italian World'. Later he removed to 63a Mostyn St., which became his HQ. Other shops were at 15, South Parade and 15, Gloddaeth Street, near the main hotels, and one in Station Rd, Deganwy village. On his later cards, all the shops are mentioned, and his business is by then called "G.R. Thompson & Sons Ltd." He had a big family, 5 sons and 4 daughters, some of whom worked in his shops. Following his death in 1929, his daughter Annie ran the business for many years, but all the shops were closed over time, except for 15, South Parade, which was managed by her son, John Smith until it closed in 1985.
We gratefully acknowledge the help of Jane Matthews, Engagement Manager of the Mostyn Gallery, Llandudno for sharing with us her research on the life of G.R. Thompson.
In 1890, Thompson published a now scarce book of photographs, "250 views of Llandudno and District", and at the beginning of the 20th Century, when postcards were becoming very popular, Thompson began to publish his views as postcards. The earliest postmark we have to date is 26th August 1903, on this lovely scene of the Punch & Judy show on the promenade.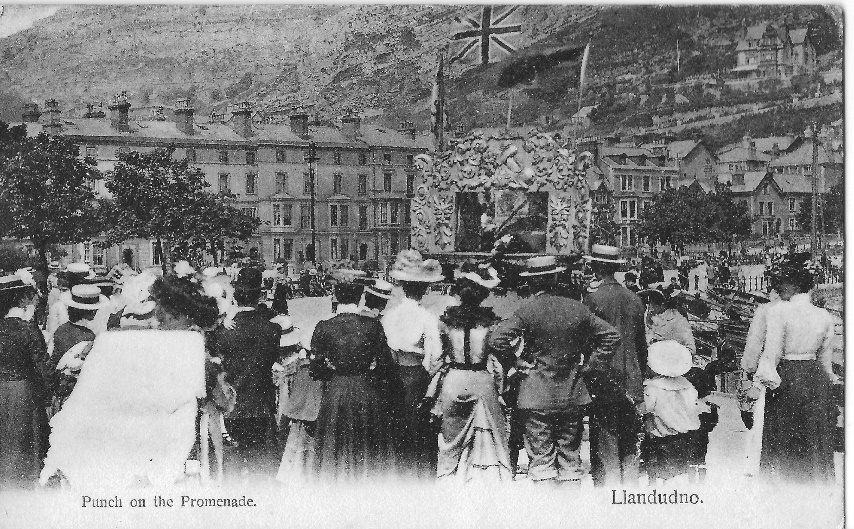 "Post Card King's Series."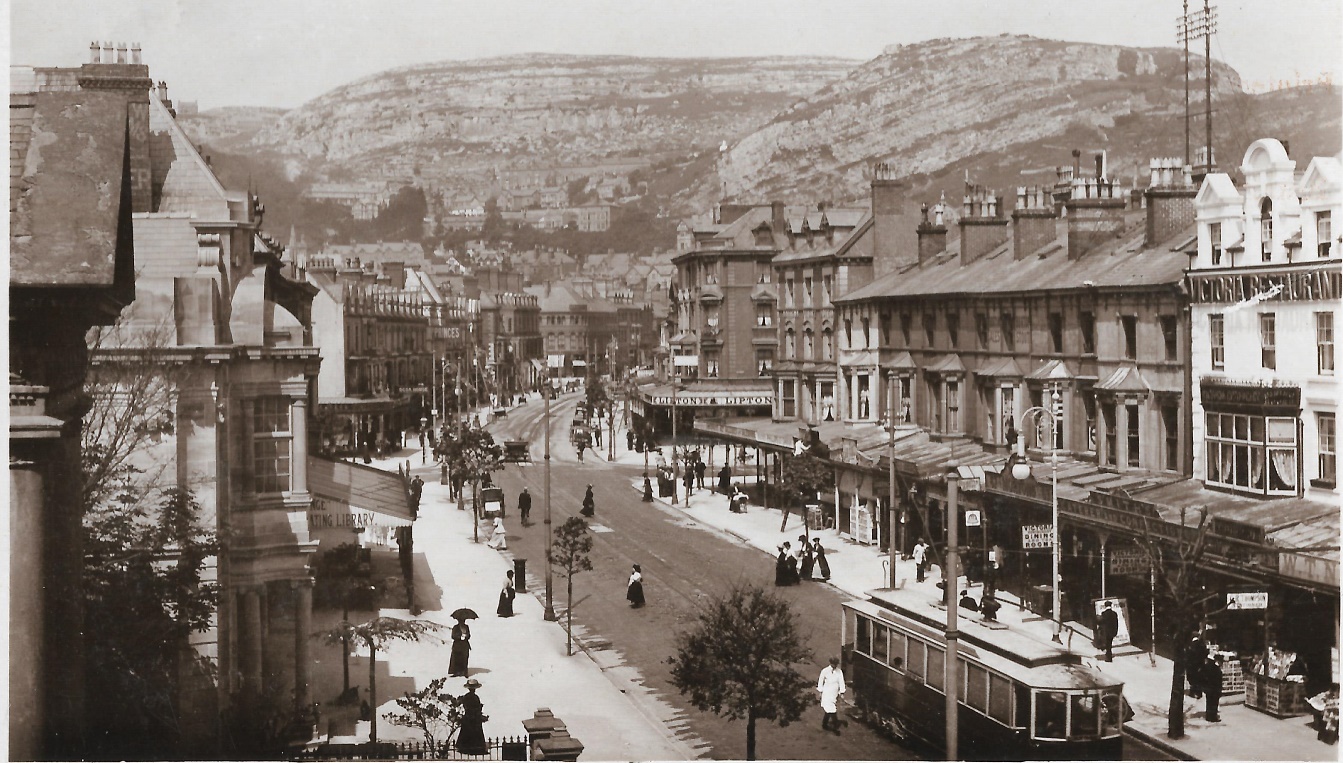 Thompson's shop at 63a Mostyn Street.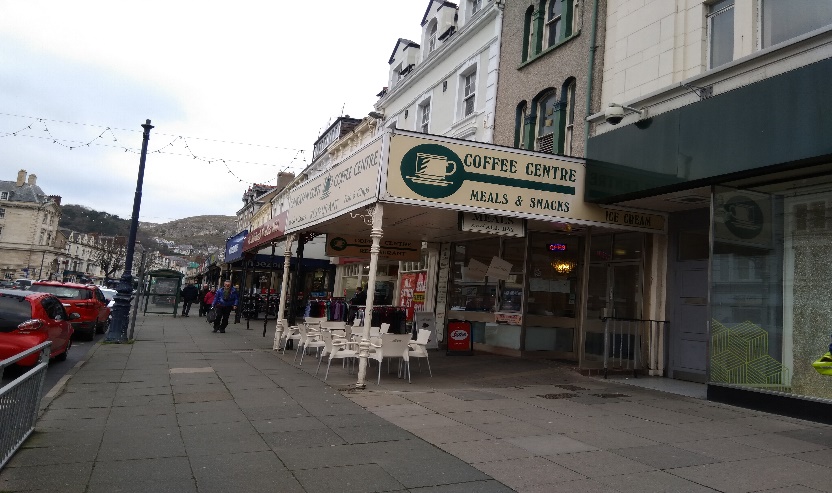 Now the Coffee Centre, next to Marks & Spencer.
The South Parade Shop. Note the advert for Wheeler's Coach Tours to the left.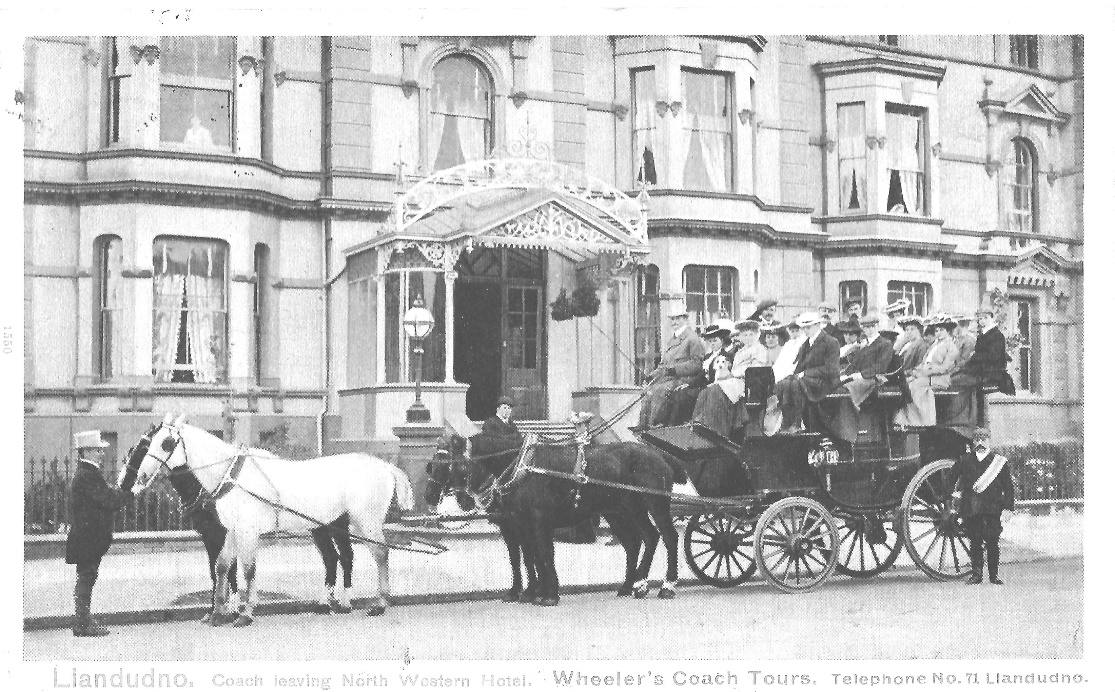 A Pictorial Stationery Co., Peacock Brand, card advertising Wheeler's tours. c1905.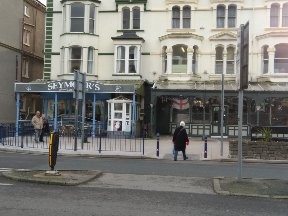 The South Parade shop, now Seymour's Café and Restaurant.
An advert for Thompson's shops appeared in the Llandudno Advertiser 23/11/1907.
"Pictorial Postcards Visitors and Residents should call and see the SOUTH PARADE POSTCARD GALLERY. Largest selection in Wales. Over 5000 different postcards to select from.
Proprietors:- G.R. Thompson, "THE POSTCARD KING," 63a Mostyn Street. Postcard albums in great variety. Also Coaching Company's Office where seats may be booked."
A Thompson card showing the pier and kiosks.
A packet of small coloured envelopes has this information on the front:-
ONE PENNY. 24 TOM THUMB Envelopes Assorted Tints.
24 sheets Note Paper to match. One Penny.
G.R. Thompson. Stationer & Newsagent. 63a Mostyn Street, and the Pier Bookstalls. Llandudno.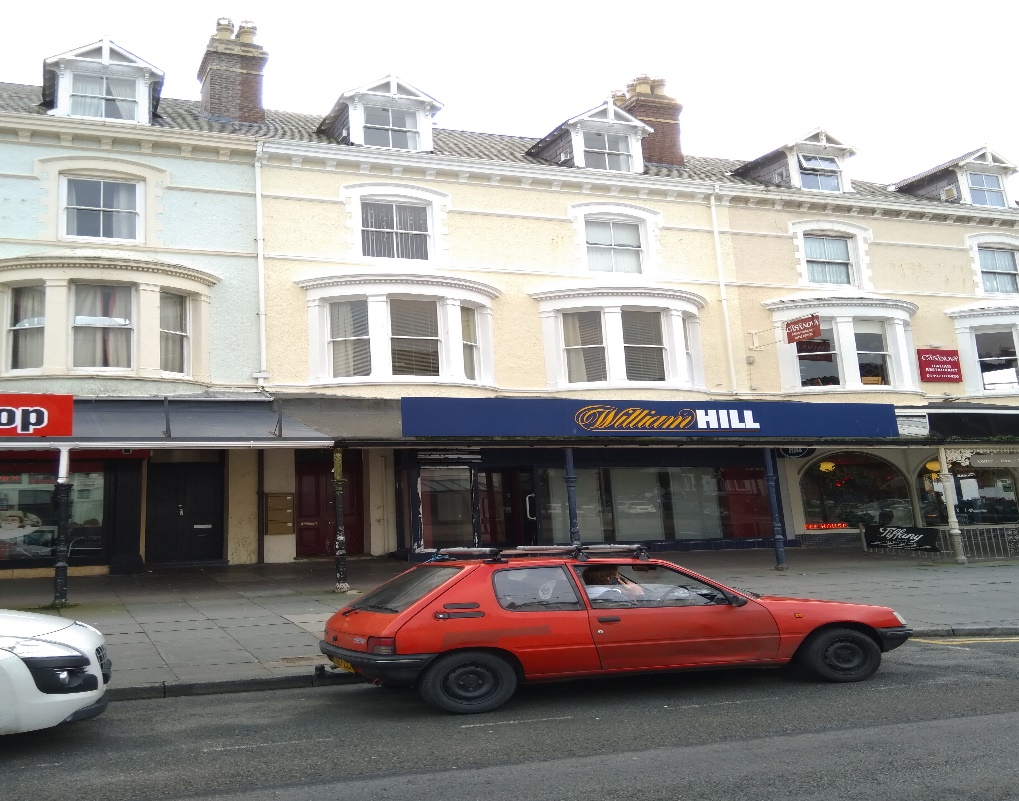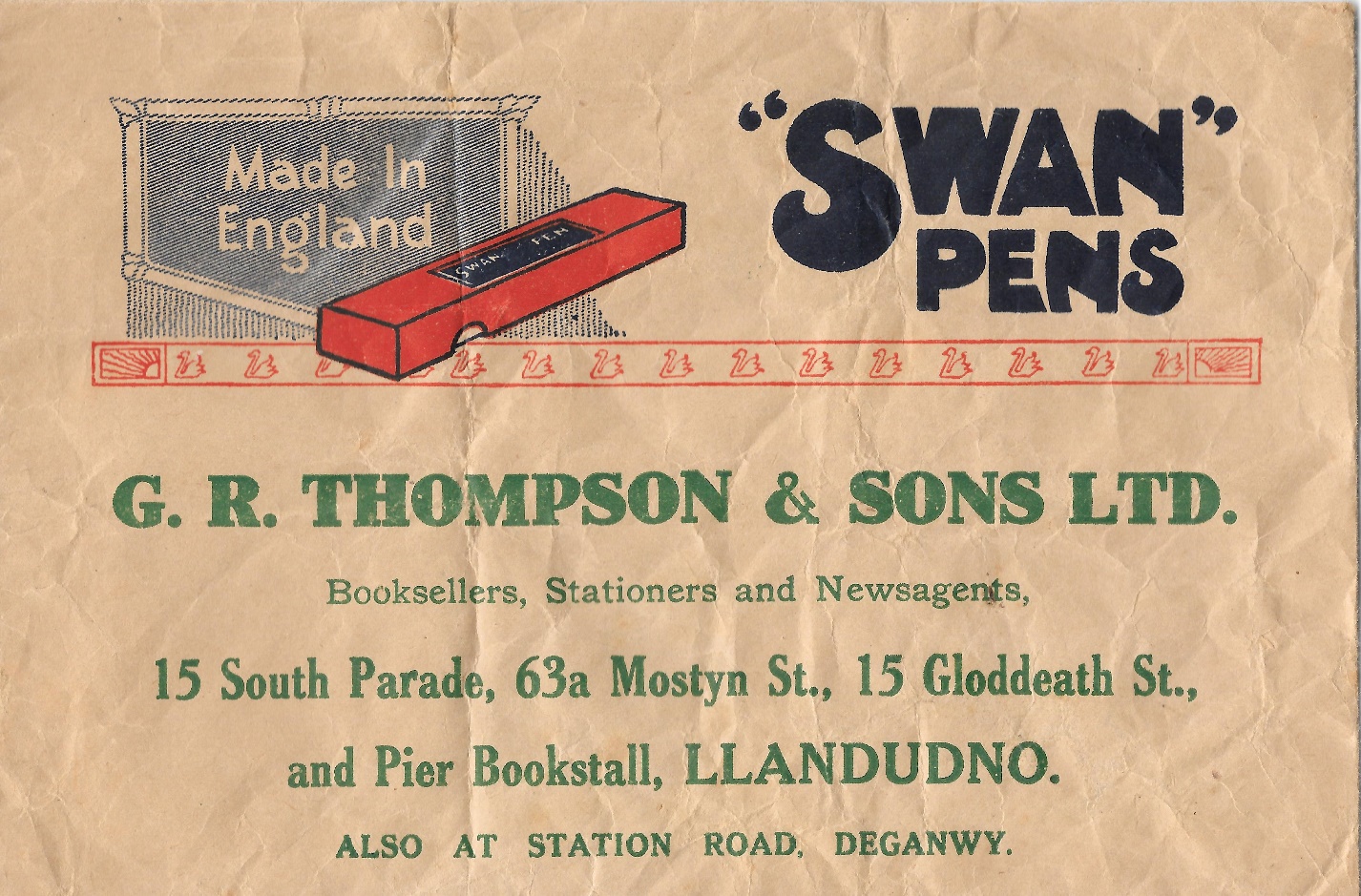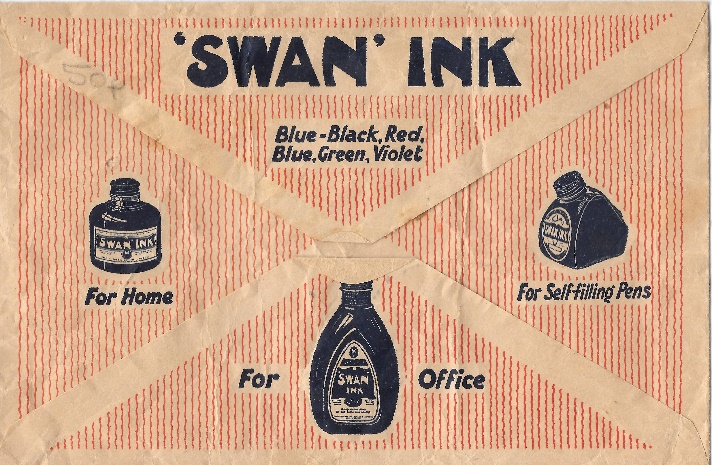 Front and back of a Thompson envelope advertising Swan Pens and Ink. c1927. smaller than actual size. They are large enough to take the postcards of the time, at 6.5" x 4.25".
['Gloddeath should be 'Gloddaeth']
====================================================
The Logos.
Thompson used the name "The Post Card King" [or briefly, around 1905, "The Welsh Post Card King"], to make the most of his resemblance to Edward VII.
He used an image of the King in his logo,

but later changed it to a picture of himself, used in various 'frames' .

His cards had many different logo and information combinations over the years, and we are attempting a timeline for these, using the earliest and latest postmark dates. This research was begun by the late Eifion Roberts of Deganwy, many years ago, and after his passing, his son kindly gave us his notes and pictures. Eifion was our Treasurer for several years.
We have identified 6 distinct logos, which appear in various colours and sizes, and many variations of 'G.R. Thompson, "The Postcard King's Series, Llandudno' information, in size, font, colour and position on the card, both front and back..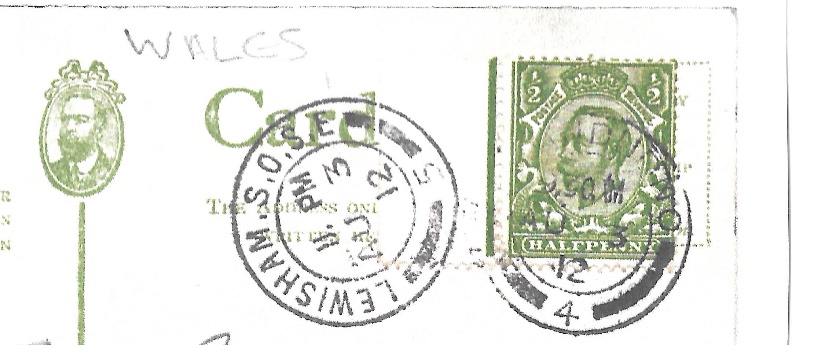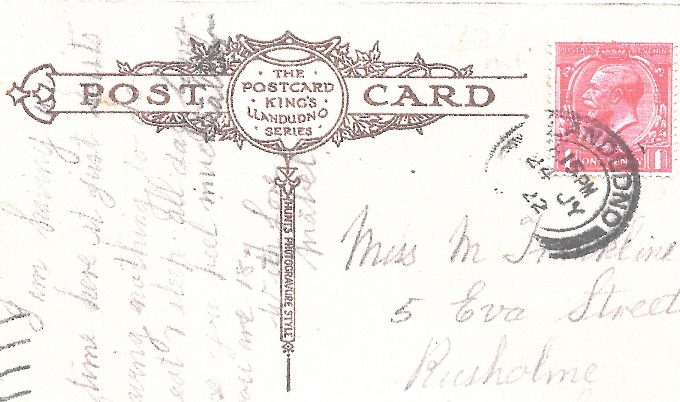 Thompson also had his name, as retailer, printed on cards published by some of the most famous names of the time
- Valentine, 1903 and 1931; C.N. Carl Norman 1904; Photochrom 1910; Raphael Tuck 1913
Woolstone Bros., 1915; Rotary Photo 1916; [dates are as postmark]
The salesmen would visit the shops with samples. The managers would choose which views they wanted for the following season, and for a small extra payment, the name of the retailer could be printed on the reverse of the cards.
A Manchester printer, Hunt, was used for some of Thompson's cards – "Hunt's Real Photo Process".
Some of Thompson's cards are perforated on the left edge, which indicates that they were originally in a postcard booklet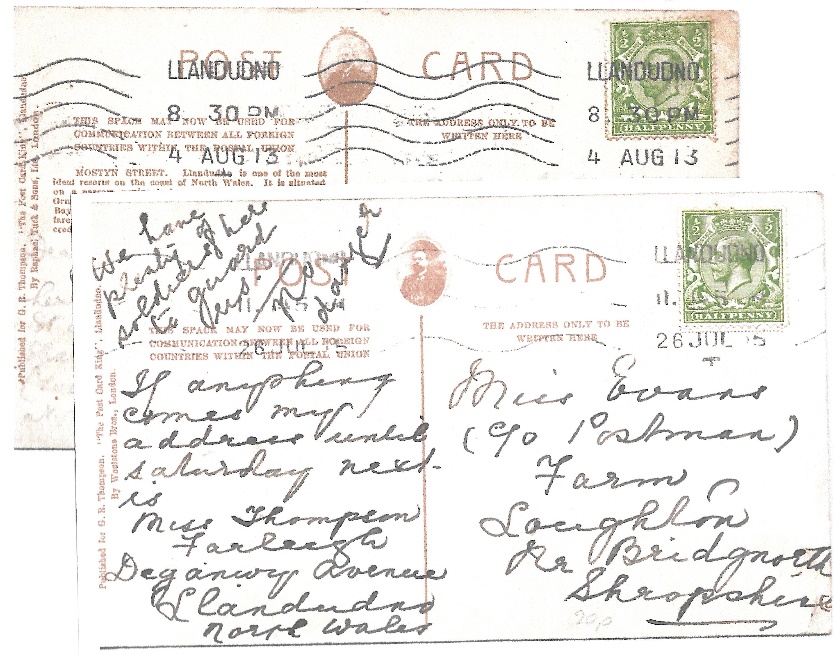 Thompson portrait logos on cards by Tuck and Woolstone Bros.
There are still some varieties for which we need dates, and we have been unable to find images of the shops at 19 Mostyn Street, and Station Road, Deganwy.
In the 1920s there was another postcard publisher in town, Lloyd Elias, who had a studio in Somerset St. We are working with his grandson, Mr. R. Twitchett, to establish the titles of the superb photographic postcards he produced.
He writes "My grandfather, Lloyd Elias, was a freelance photographer and started to publish postcards in the early 1920s. He was also the official Police Photographer. I believe that in the mid to late twenties, he sold the postcard publishing rights to Thompson, the Postcard King of Llandudno, as a lot of his cards appear in the late 20s and early 30s published by Thompson. Elias carried on as a photographer and was well known for his photos of the attempted rescue of the crew of the doomed submarine 'Thetis' in Liverpool Bay in 1939. I am still researching, and any new information that I come across, I shall gladly send to you."
We have recently discovered that, by 1938, Lloyd Elias, as 'Xpress Photo Service' had premises in Norwood Passage, Reform Street, Llandudno, which lies behind the Victoria Shopping Centre. This information was found in the details of a photo showing the official opening of a shop in Llandudno Junction in 1938.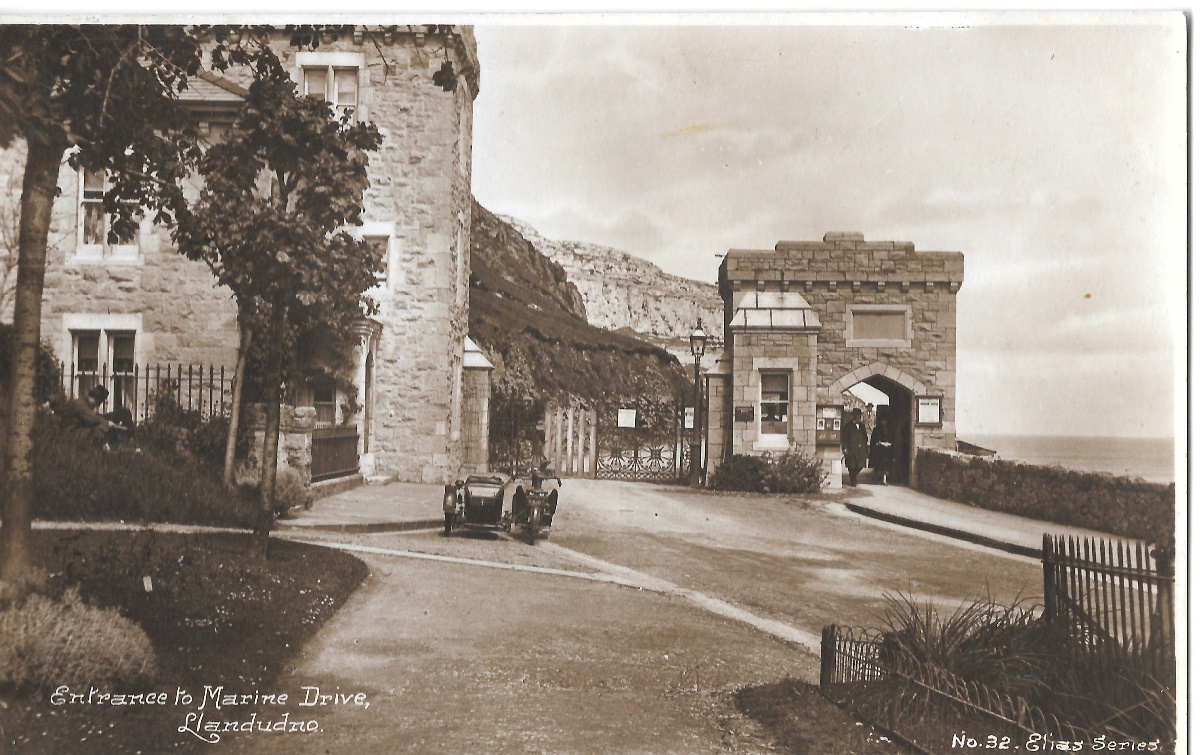 Elias Series card No 32….note the distinctive captions. p/m Sept 9th, 1924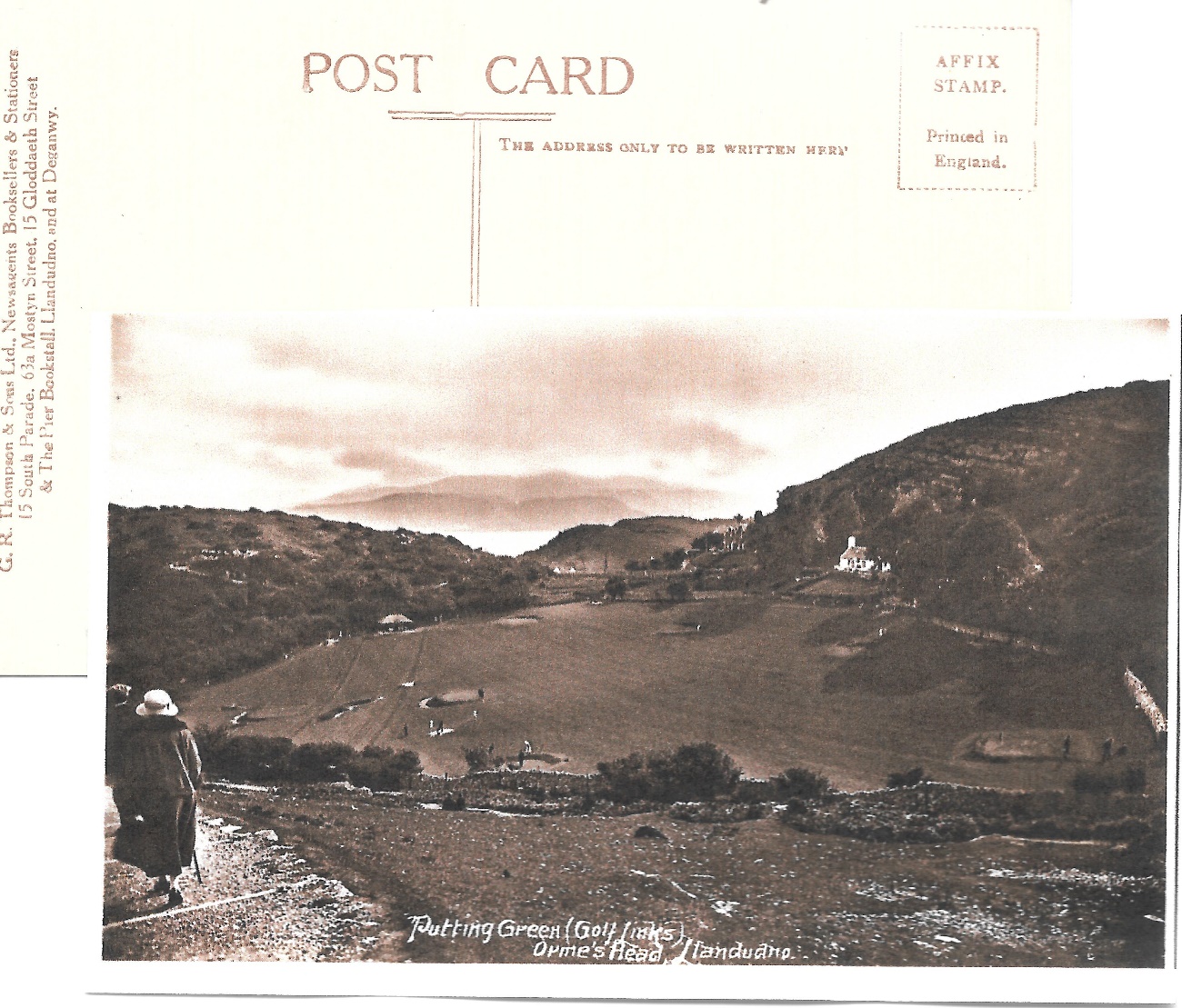 Elias Photo – Thompson back. c1927.
In an unexpected twist to the Thompson story, two of the artists taking part in "Llawn", the Llandudno Arts Weekend in September 2017, contacted the Club, asking for help to identify Llandudno's most famous Postcard Publisher. Of course, we suggested Thompson, and they adapted his logo for use with their project, which was for the public to print postcards on the Prom. It was done by using printing-stamps on a sheet of card which already had a pink shadow of the Great Orme printed on it, with green pointers to some of the town's attractions, together with the rather enigmatic caption "Who are we here now Llandudno"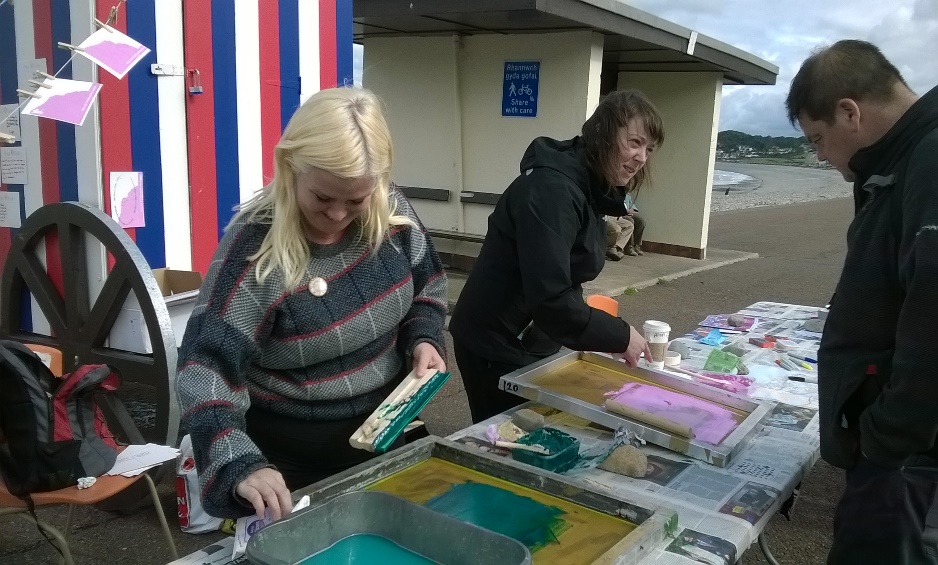 My photo of the event 2017, showing the two artists.
The project was very successful, and attracted a lot of interest from passers-by on the Prom. The children who tried
it had a lot of fun….Here's the card I 'made', and the adapted logo from the reverse. "Who are we here now".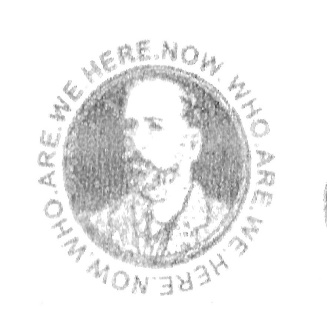 VALENTINE'S 'W' SERIES 2020 updated 27 /5/2020
The St. Andrew's University list of Valentine's serial numbers and their dates of registration, indicates that the 'W' series relates to Wales. All the cards have 'W' before the serial number.
There are some views of areas in the border counties, Cheshire and Shropshire, for example, in the 'W' series as well as in the English 'G', 'H', 'K', 'L' and 'M' series, and a few cards of South Wales have been noted with an 'H' prefix. This is an on-going project, and the list will be up-dated when a significant amount of new information has been added.
The date code letters are provisional, but no card has appeared with a '41' date number, so it is likely that the letter codes started in that year, and the Valentine's 1951 Festival of Britain Official cards have the date code 'K', so 'K' cannot be later than 1951, and 'K' would be correct for 1951, if 'A' were 1941. However, no letter 'I' has yet been found, so it is possible that it was not used, in which case, 1949 would be J, 1950 K and 1951 L, and so on. As is usual with items meant for tourist areas and souvenir shops, the orders for the goods would be taken during the winter and spring before the summer season, so it is possible that the cards may have been printed in the year before they went on sale.
The numbers and dates of the 'W' series are:-
W1-438 1934
W439-619 1935
W620-1095 1936
W1096-1383 1937
W1384-1730 1938
W1731-2101 1939
W2102-2111 1940
W2112-2113 1941 date-code A [provisional] A [possible]
W2114-2115 1942 B B
W2116 1943 C C
No card s reg'd 1944 D D
No cards reg'd 1945 E E
W2117-2232 1946 F F
W2233-2523 1947 G G
W2524-2660 1948 H H
W2661-3093 1949 I J
W3094-3507 1950 J K
W3508-3817 1951 K L
W3818-4191 1952 L M
W4192-4802 1953 M N
W4803-5695 1954 N O
W5696-6330 1955 O P
W6331-6606 1956 P Q
W6607-6891 1957 Q R
W6892-7155 1958 R S
W7156-7611 1959 S T
W7612-7943 1960 T U
W7944-8133 1961 U V
W8134-8159 1962 V W
1963 W X
1964 X Y
1965 Y Z
1966 Z
No information is given on the St. Andrews list for the dates 1963-66, although the numbers continue up to [at present] 8460, and use these date codes.
The aim is to list all the titles in the 'W' series, so that those cards relating to North Wales can be identified. The 'W' series extends beyond the 8159 number, which is the last 'W' number given in the St. Andrews list.
Valentine had been registering and numbering their photographs, beginning with no.1 in 1878,in a strightforward numerical sequence until no. 224436 in 1933, which included, at random, all the areas of the U.K. and some foreign views. Although plain postcards had been used on the continent since 1869, and in the U.K. from 1870, picture-postcards were not officially allowed in the U.K. until 1894. Valentine was one of the first publishers to issue picture-postcards in the U.K., as early as 1895, according to Anthony Byatt's book 'Picture Postcards and their Publishers'.
In 1934, they changed to the 'letter-prefix' series, which gave Scotland the 'A', 'B' and 'D' prefixes; England 'G', 'H', 'K', 'L' and 'M'; Ireland and the Isle of Man 'R', and Wales 'W'.
The dates given for the 'W' series are those on which the photographs were registered and assigned serial numbers. The earliest cards in the series appear to have been Sepia Photos with borders. Many of the photos were re-issued, often several times, in different formats, and sometimes with slightly different captions. All the main captions are printed in capital letters. Not all the cards have Valentine's name on them, but they are distinctive.
Cards from Valentine's earlier numbered series were also re-issued from 1934 onwards, but were issued with their original numbers, and did not belong to the 'letter-prefix' series.
In the later issues and re-issues, the dominant format seems to change from sepia to black+white photos, probably to give the cards a more modern appearance. Except for the "Real photo" series, all the real-photo cards have the words 'This is a real [or in a few cases, 'Genuine'] photograph'
printed vertically as the divider on the reverse. Coloured photos were produced by hand-colouring the negatives. Some cards were issued as black-and-white, colour or sepia prints, mostly with style-names, eg "Silveresque", "Collo Colour","Sepiatype"
The numbers in the stamp-frames of the earlier cards denote the printing date for that card, eg. 38-1 for 1938. After 1940, there is a date-letter in the stamp-frame to indicate the printing date. It is thought that 'A' represents 1941; 'B' 1942 and so on, through to 'Z' for 1966, although no card with code 'I', for 1949, has yet been located. These date letter-codes have not yet been absolutely established but see the note above the date list.
Views were re-issued ,often several times, and in several different formats;
Eg. W2568 is registered in 1948; a "b/w photo with border" version has the date code 'O' for 1955, and was postally used in 1955.
W3466 was registered in 1950; a "b/w photo with border" version has the date code 'O' for 1955, and was postally used in 1955.
It appears that when Valentine decided to issue a new set of cards for an area, they re-used earlier photos when possible, where the picture was not out of date - a castle, general scenery or multiviews, for example, and then added in new photos to bring the set up-to-date:-
eg. W10, Cairn on Snowdon Summit, was registered in 1934, but was issued in a 'black-and-white, real-photo, deckle-edge' format with date-code X for 1964;
W529, Brecon Cathedral was registered in 1935 and was issued as a 'sepia photo with border' with date-codes N for 1954 and R for 1958;
W2233 Tomb of David Lloyd George….. was registered in 1947 and issued as a 'sepia photo with border' with date codes A, K, L and P, and as a 'black-and-white photo, deckle edge, 5059 style', with date-code V, 1962
It is probable that an agent brought a selection of local views to the retailers, or that selections were posted to them, and they chose the views they wanted, in the format which appealed to them. This would account for the same view being produced in different formats in the same year. It is possible that some of the cards were ordered by the retailers, and printed in the year before they were on sale in the shops, as many seem to have a postmark for the year following the printing date, assuming that the dating information is correct.
Latest updates in the Valentine W [Wales] and Valentine A [Art] Series are available by emailing

This email address is being protected from spambots. You need JavaScript enabled to view it.

,
.
;