s
The list of reports & club bulletins starts with Latest for 2022 at the top
For reports from 2021 scroll down
Club Bulletin, June 2022.
The May meeting brought some surprises! We learnt a lot about some of our members, including one who is a whisky connoisseur….
find out who it is later!
Our next meeting is on Wednesday, June 8th, at 7pm, when Marion is visiting 'The Islands of Wales'.
News.
I'm sad to tell you that the York fair has ceased to be. I've been in touch with organizer, Jack Stasiak, and he tells me that 'declining dealer numbers, covid, old age and Brexit', together with the huge cost of hiring the racecourse building, are the reasons behind his reluctant decision to cancel the fair. It will be a great loss to the hobby. The first of Jack Stasiak and Ron Mead's York fairs was in 1990 and I have been fortunate to have attended most of them. It was always a highlight of my year, especially as I was able to spend time with my postcard-friends, Gill, Sue and Gwyneth for the weekend. Sadly, we lost Gwyneth some years ago. It was also an opportunity to meet up with other collector- or dealer-friends, whom I saw only at York.
The first Provincial BIPEX, run by the Postcard Traders' Association, was in Harrogate in 1984, with a second at York Racecourse in 1989, which was a 3-day event, Thursday to Saturday. Jack and Ron decided to organize a fair themselves at York Racecourse, from 16th to 18th March, 1990, Friday-Sunday. The event was reported as "Very successful and the attendance justifies a repeat". One of the most popular features of the 3-day fair was the "small dealers' bourse" on the Sunday. The fair later became a 2-day event, Friday and Saturday, and the bourse disappeared. I am hoping that another fair in York or Yorkshire may be possible in the future, as it is such a pleasure to visit that beautiful area
.................................................................................................................................................................................................................................................................................
Fairs.
The next Wirral Fair is on Saturday, June 11th . Here's a message from the new organizers:-
"Hello All. We are looking forward to seeing those of you attending the Postcard fair at Thornton Hough on 11th June.
Those standing are
Ralph Stuttard Renzo Garavello
Mark Keeley Alex Wallace
Ian Boumphrey Dave Seddon
Mick Liversidge Harry Hicks
Glyn Thursfield Andrew George
Steve McGreal John Ryan
Mike Day Simon Collyer
Our normal contact details are either 01244 880904 or This email address is being protected from spambots. You need JavaScript enabled to view it..]
The emergency number for Saturday only is 0752 8368 94
Our next fair will be 8th October From Madeline, Doug and Gillian (The committee ) "
.............................................................................................................................................................................................................................................................................
The next Abergele fair is on Saturday, July 9th .
~~~~~~~~~~~~~~~~~~~~~~~~~~~~~~~~~~~~~~~~~~~~~~~~~~
Our Llandudno Fair is on 20th August. We are looking for help with the Fair, so if you can come on the day, please let us know. We will be able to give more information about what may be needed, nearer the time. Thank you!
~~~~~~~~~~~~~~~~~~~~~~~~~~~~~~~~~~~~~~~~~~~~~~~~~~~~~
The next Criccieth Club meeting is on June 7 th at The Bishops Room, St. Catherine's Church. The subject is "Anything from Europe". For more information, contact Marion on 01766-590203 or email This email address is being protected from spambots. You need JavaScript enabled to view it.

The topic for our May meeting was "Bring an item from one of your non-postcard collections". As expected, there was a good variety of objects on display.
Lynne was first off the mark, with some examples from her lovely collection of Crown Staffordshire china, "Kowloon" pattern. It is a very delicate and pretty design, in the Chinese style, in shades of green. The firm was operating from 1889-1985.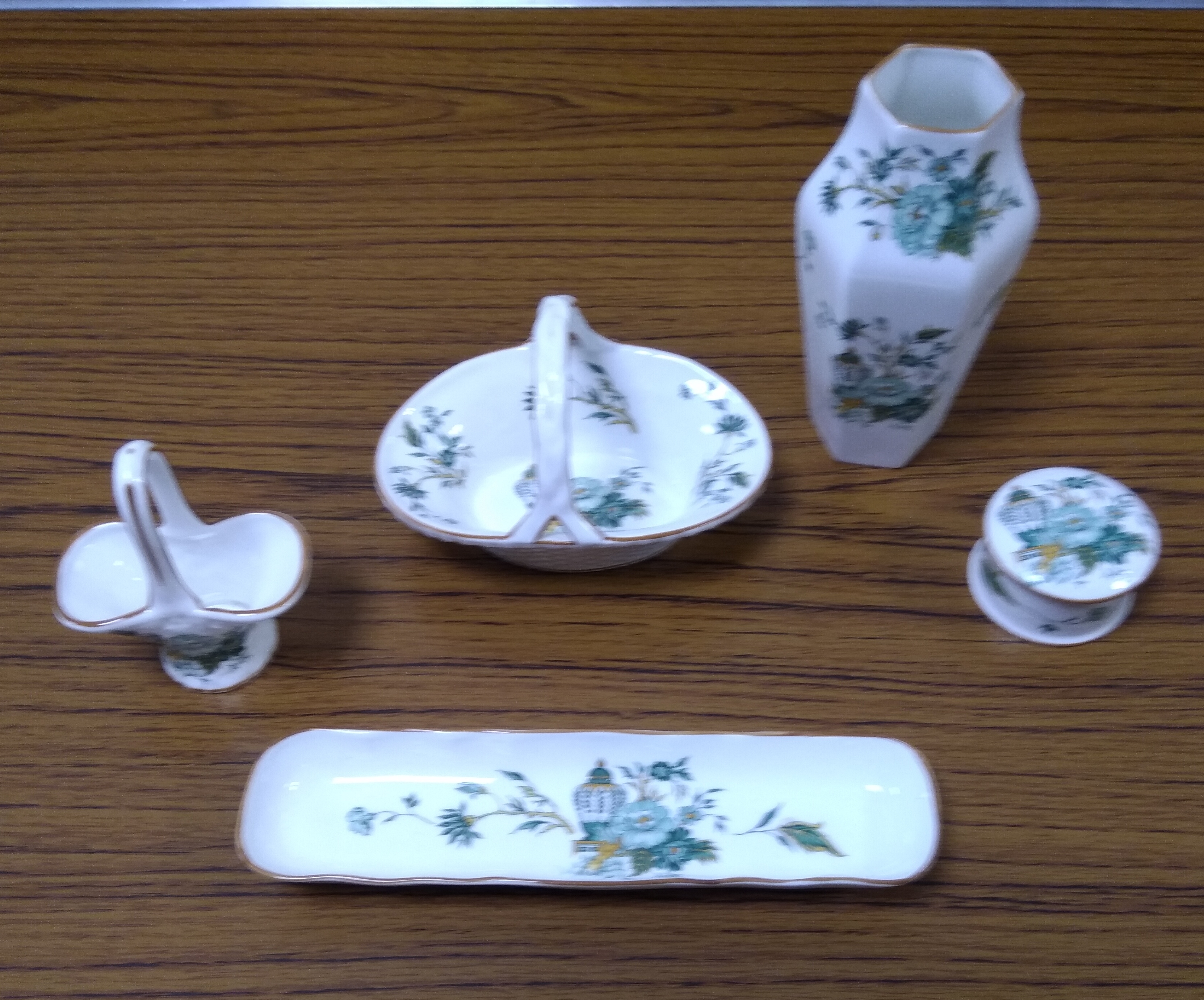 Keith is the whisky connoisseur, we were interested to learn. He collects all types of items relating to it, such as advertising-glasses and posters, and he prefers Irish whiskey to any other. The poster in the picture is for 'Royal Welsh Whisky as Supplied to H.M. The Queen & H.R.H. The Prince of Wales. The Welsh Distillery Co. Ltd., Frongoch, nr Bala. The only distillery in Wales.'
Frongoch later became a Prisoner of War camp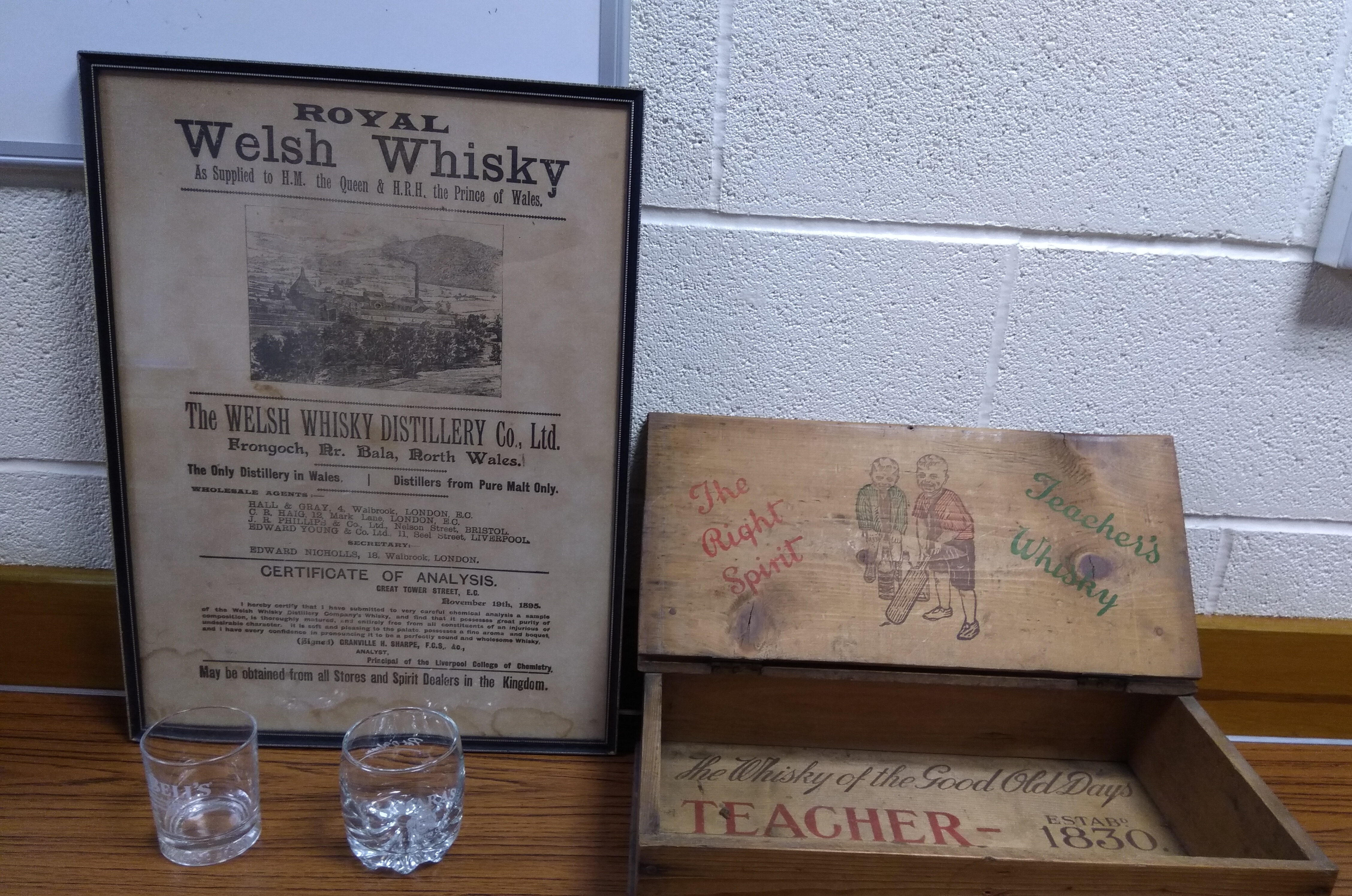 This very large and heavy old flagon was brought in by Lindsay, who is a bottle hunter and collector. It was used by T.O. Owen, Nassau Works, Llandudno, for Old Fashioned Brewed Ginger Beer. The firm was established in 1873, and made a variety of products, including fruit syrups to add to hot, cold or aerated water. From 31st December, 1874, Mr. Owen leased land from the Mostyn Estates for 99 years, upon which he built Augusta House, the Nassau Factory, stables and outhouses. Mr.Owen died in 1936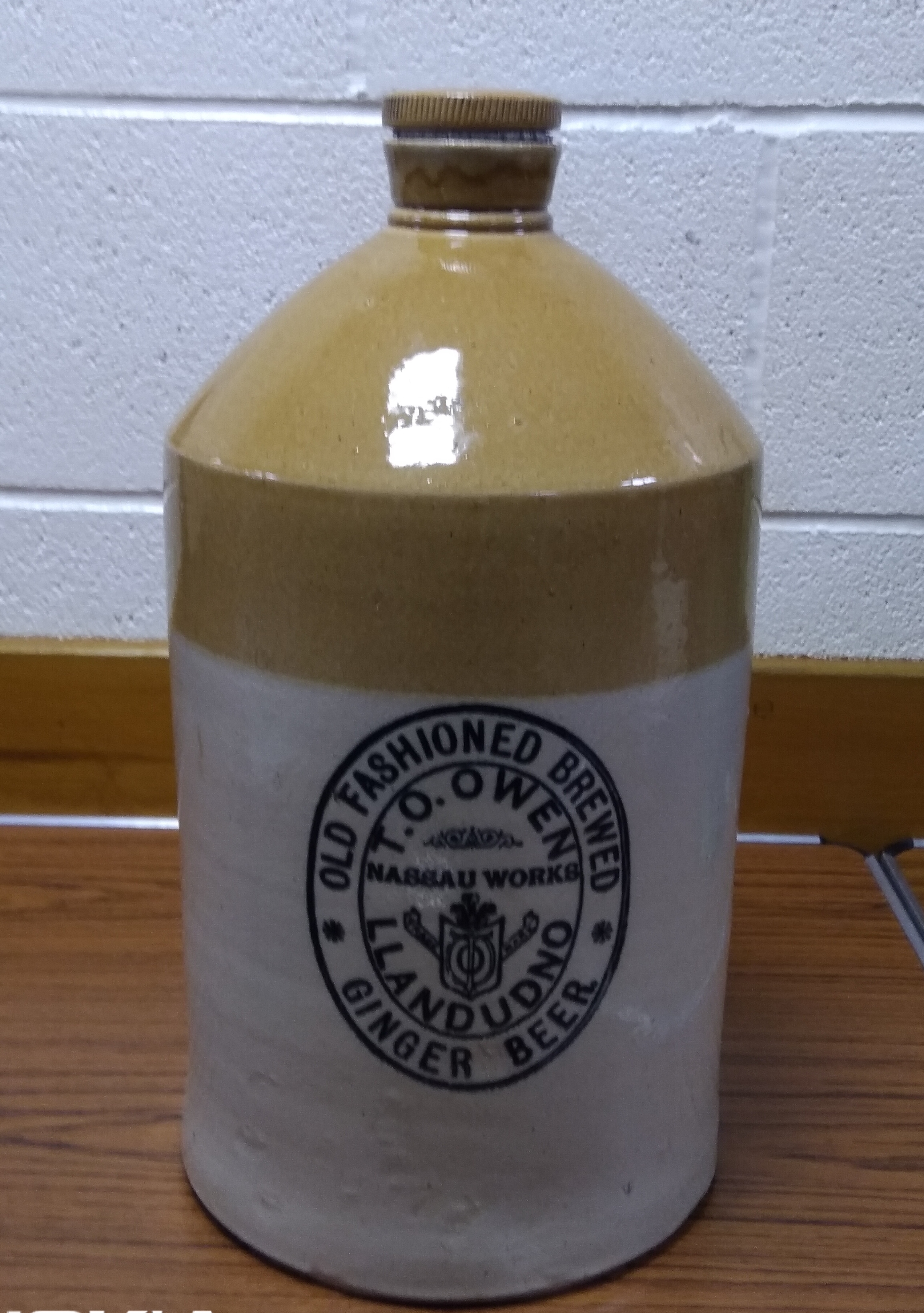 John's life-long career as a photographer and BBC cameraman was inspired by this treasured 'Photo Magic' camera which had been given to him by his uncle, who had been a rear-gunner and radio operator in the R.A.F. in WW2. The smaller item is described as a 'spy camera', and was used to take 'under-cover' photographs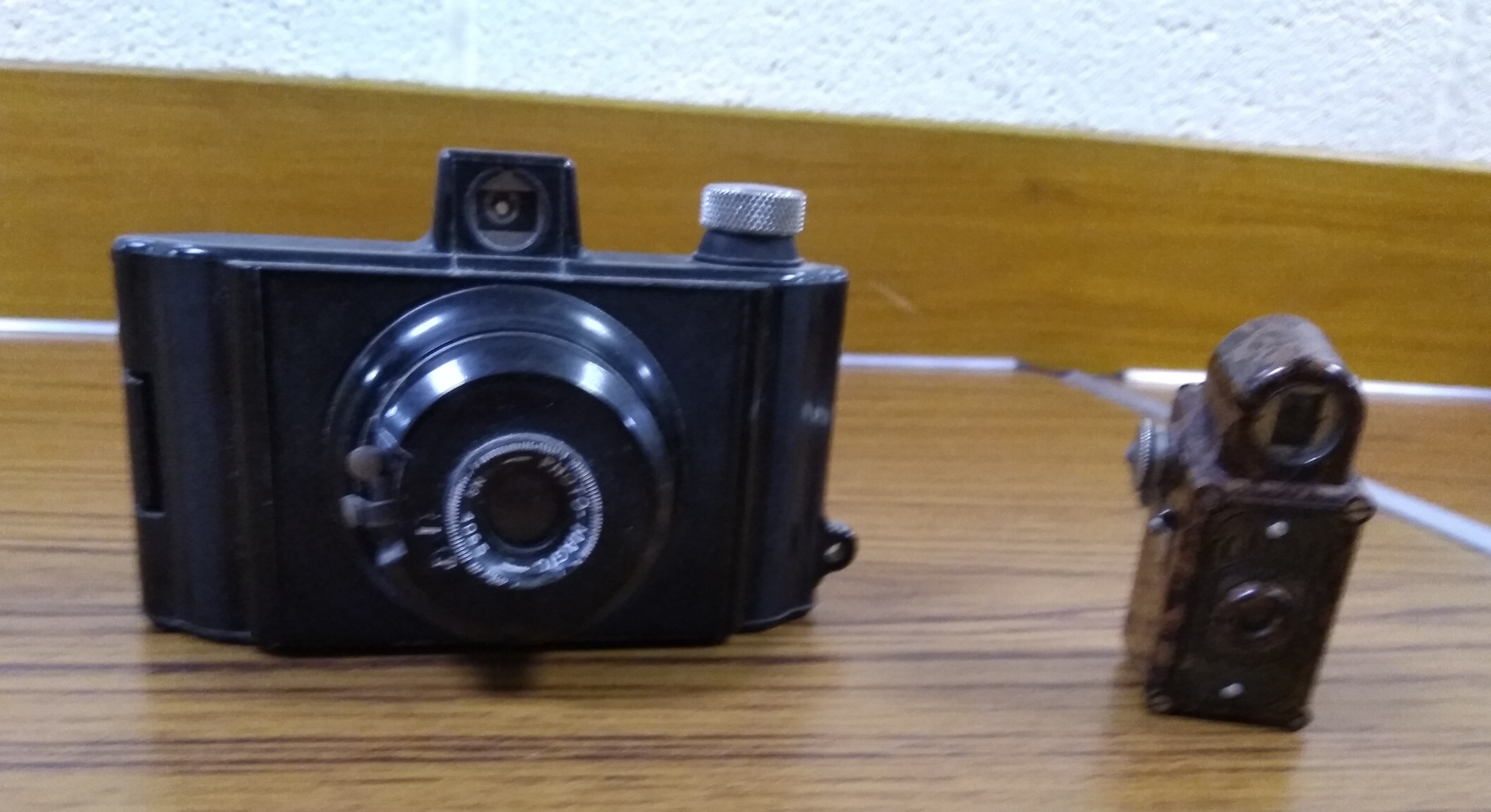 .
I took some items from my Dylan Thomas Collection, including this advertising coaster. I am especially fond of his work. I read some notes about significant elements in his short life, 1914-53, such as his father's occupation as an English Literature teacher, and Dylan's daily routine in Laugharne, which was morning - sleeping; afternoon – writing; evening - drinking in Brown's Hotel. I read a paragraph about Christmas morning from this book. The photo shows Dylan reading in a BBC studio.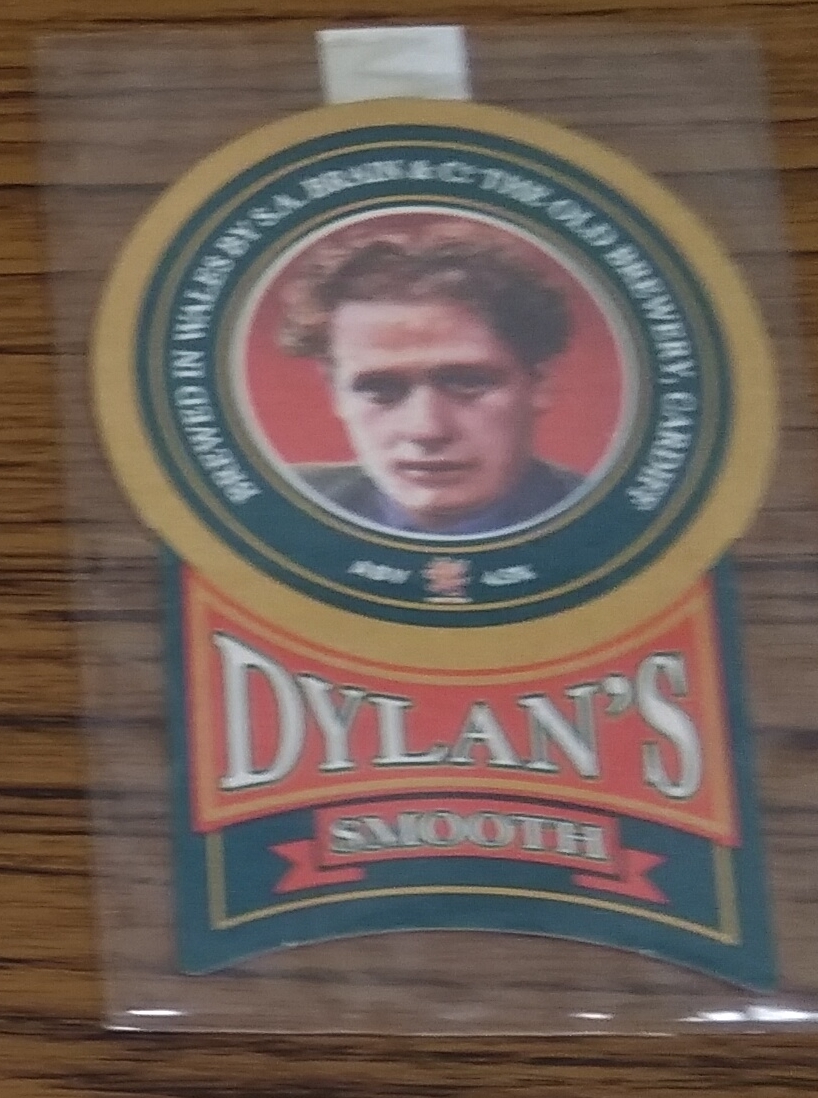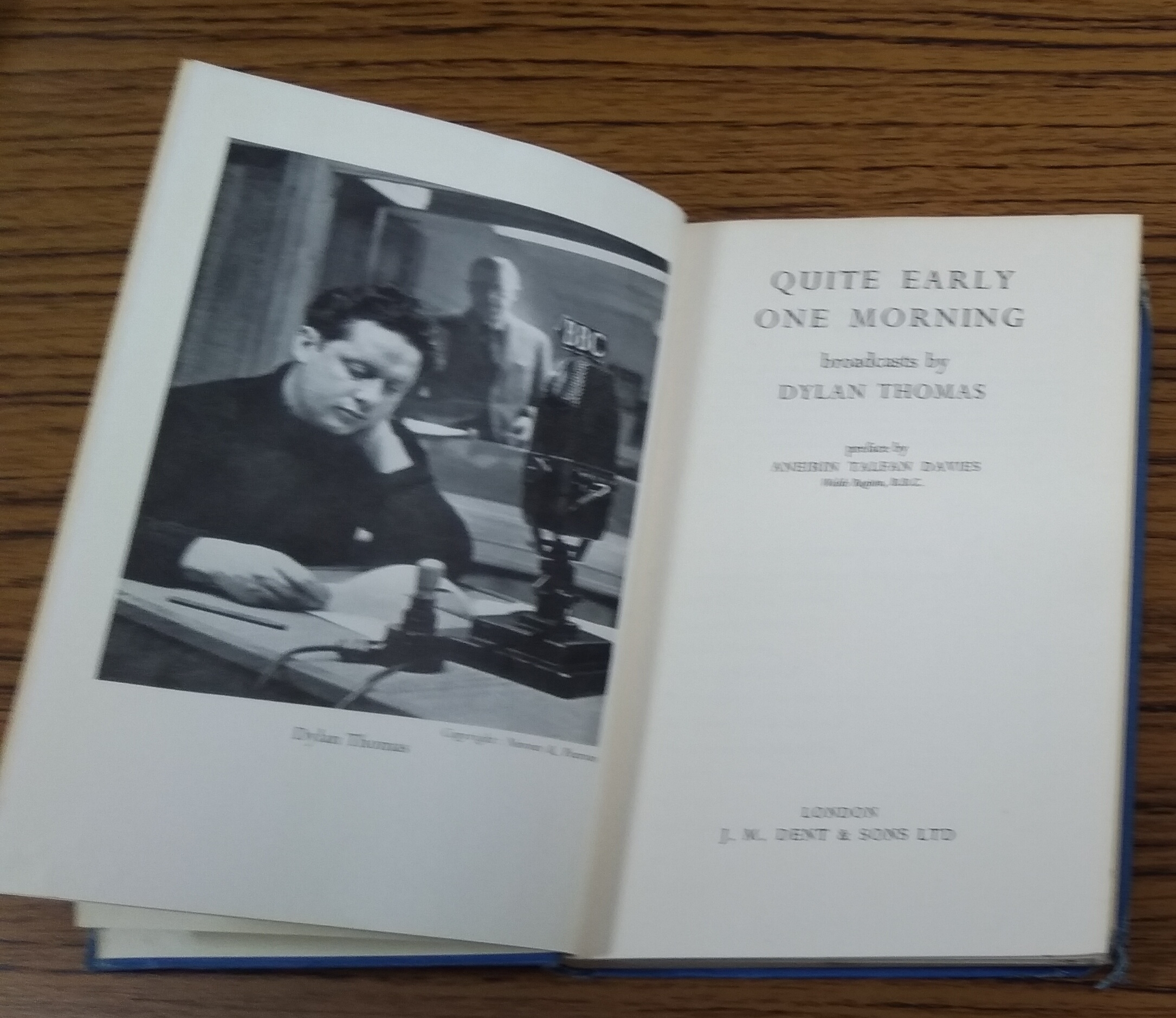 Thanks to everyone who took part – it was a most revealing and fun session.
~~~~~~~~~~~~~~~~~~~~~~~~~~~~~~~~~~~~~~~~~~~~~~~~~~~~~~~~~~~~~~~~~~~~~~~~~~~~~~~~~~~~~~~~~~~~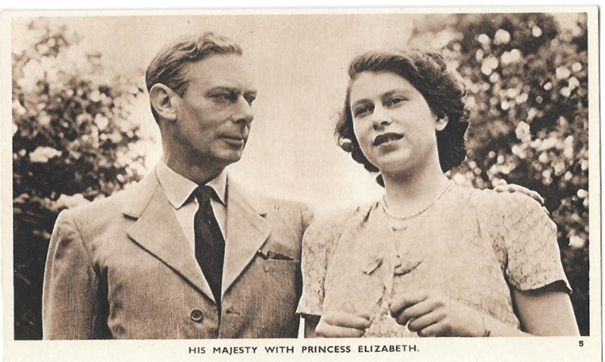 To mark the Queen's Platinum Jubilee, I have used this card by Photochrom Co. Ltd., London & Tunbridge Wells. On the back, is printed "By arrangement with Studio Lisa, Welwyn Garden City, Herts." It is a rather quiet study of 'His Majesty with Princess Elizabeth'. The Queen's father, born in 1895, was not expecting to become King, but following the abdication of his elder brother, Edward VIII, in 1936, he became George VI. Princess Elizabeth therefore became the heir to the throne. I do feel that, amongst all the Jubilee celebrations, we may forget the particularly difficult circumstances surrounding her becoming Queen in 1952.
Princess Elizabeth, who was 25 years old at the time, was on safari in Kenya with the Duke of Edinburgh when she received the heart-breaking news that her father had died unexpectedly, but peacefully, in his sleep, on 6th February, at Sandringham. Princess Elizabeth had become Queen Elizabeth. The rest of the world tour, which was to have been to Australia and New Zealand, was cancelled. The couple arrived back in England on 7th and the Proclamation was on 8th. The funeral of George VI was on 15th, and he was buried at Windsor. It must have been such a dreadful time for all members of the Royal Family.
The Coronation was on 2nd June, 1953, and was a wonderful occasion for her, the family and for the country. She is the only monarch to have reached a Platinum Jubilee, and we hope that she enjoys many more years as our Queen.
~~~~~~~~~~~~~~~~~~~~~~~~~~~~~~~~~~~~~~~~~~~~~~~~~~~~~
Jane Matthews has sent us an item which introduces us to something new -
The 'Flamboyant' Empire Exhibition 1938
Jane belongs to a postcard group where the members are given a topic which has to be illustrated by a postcard.
The topic for this research was 'Flamboyance', and includes some interesting information about Liverpool.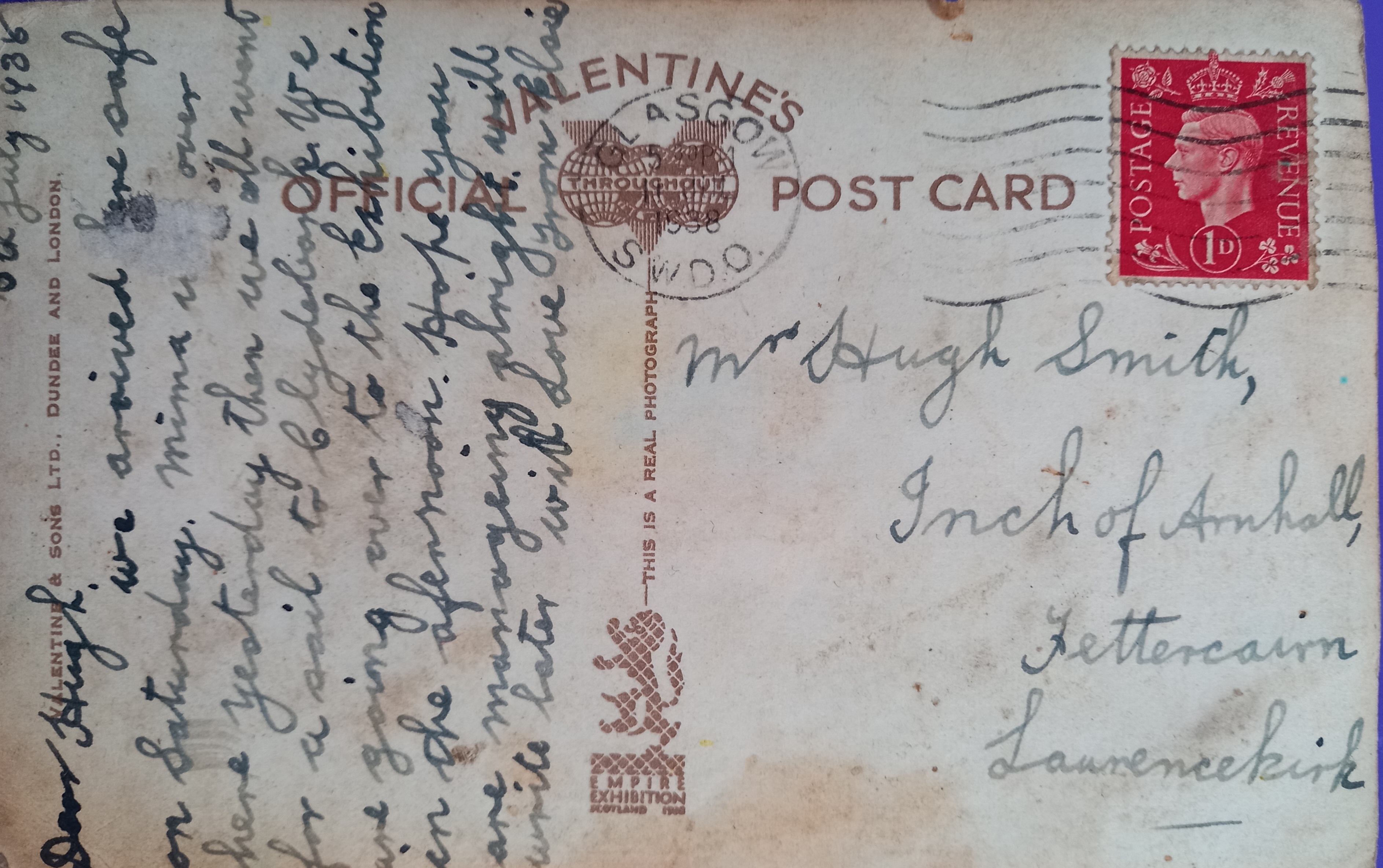 Valentine & Sons Ltd., Dundee and London produced the official postcards for this Scottish Exhibition,
although there are some cards by other publishers. The writer of the message was going to the Exhibition. K.
Some of you may question the degree of flamboyance demonstrated by this card. However, given the stereotype of Scottish dourness, I shall say that this is 'flamboyant for Scotland'!
The postcard is a night-time view of the floodlit 'Tait Tower' and cascades at the British Empire Exhibition held in Scotland in 1938, following the success of a previous incarnation at Wembley Park (London) in 1924 to 1925. What interests me in particular is not the beating of the drum about Empire (that makes me really uncomfortable), but the beautiful modernist buildings together with what was on show in the pavilions. Pathé news described it as 'presenting the Empire to the Empire', but it also threw a spotlight on Scotland and what it had to offer. During the Great Depression of the early 1930s Scotland had suffered much deprivation and, as its recovery was slower than in the rest of Britain, prominent Scottish industrialists advocated for the exhibition in order to boost trade and development. Funding came via subscriptions from private companies/individuals, government sources and those countries taking part.
Bellahouston Park in Glasgow was the chosen site and the nearby Ibrox Stadium, home of the Rangers Football Club, was made available for associated sporting events. The various planning committees launched the project in 1936, with Cecil Weir taking the helm. He was chairman of an international leather company based in Glasgow, an able linguist and an active member of the Liberal Party who supported social and economic reform. In 1943 he would suggest to Winston Churchill's government that a Design Council should be initiated in order to aid post-war recovery and this was created in 1944. Knighted in 1938, Sir Cecil Weir played a crucial part in business and industry in West Germany from 1946 to 1949 and on his return to the UK served as chairman of various companies.
The chief architect appointed to the project was Thomas Smith Tait (1882-1952), originally from Paisley, and who was educated at the Glasgow School of Art and the Royal Academy. At the time he was a senior partner in Burnet, Tait and Lorne of Glasgow and London, the foremost architectural practice in the 1930s and renowned for its modernist buildings. Tait designed most of the 100 buildings on the site, assisted by younger Scottish architects while some of the national pavilions were designed by architects from those countries under Tait's supervision. In addition to the main pavilions and halls, there were 62 representing commercial and industrial concerns.
The Liverpool architect Herbert Rowse designed the British Government Pavilion. After studying in Liverpool Rowse took inspiration from his travels in Italy and North America, opening his own practice in his home city in 1914. Rowse worked in a variety of styles and his stunning Liverpool buildings are testament to his considerable talents. The Martin's Bank building on Water Street, (opened in 1932) is said to be one of the finest interwar classical buildings in Britain and is described as a masterpiece. I first came across this seven storey building when I got lost in Liverpool and was intrigued as to its origins. It is built in Portland stone on a steel frame and the design is American classicism; the sculptural reliefs in the grand entrance have references to the slave trade, many banks making vast amounts of money from association with slavery and the sugar trade. The interior can certainly be described as flamboyant and the ornate banking hall has featured in the film 'Fantastic beasts and where to find them' and the TV series 'Peaky Blinders'. When a German invasion was feared in 1940, much of the country's gold was stored in the bank's vaults in a top secret operation. In 1969 the Liverpool HQ building and 700 branches were taken over by Barclays. When that company vacated the premises in 2009 plans fell through for a luxury hotel, but it has now been bought to house hybrid workspaces and to be used by businesses and the community. Some of Rowse's other significant Liverpool buildings include the India Buildings, the Mersey Tunnel approaches and ventilation towers and the Philharmonic Concert Hall.
Construction on the site began in 1937, the commemoration stone being unveiled by King George VI and Queen Elizabeth, and the project was completed in ten months. Roadways were built to a high standard and on the various avenues were the pavilions, Engineering Hall, Industrial Hall, Concert Hall, Palace of Arts, three churches, cinema, a lake and other attractions. The United Kingdom and Scotland had their own avenues, the latter having a life-size model of a highland village. Holiday resorts had provided inspiration for facilities and Billy Butlin (of holiday camp fame) was in charge of constructing and operating the 12 acre amusement park which showcased 28 large rides and over a hundred sideshows. The luxurious Atlantic Restaurant was built and operated by the Anchor Line shipping company and it was designed as the bow and superstructure of a liner. I'm pleased to say that a restaurant is located in the original booking office of the company, named 'The Atlantic Bar and Brasserie' in honour of the 1938 exhibition and serving French cuisine.
The 'Tower of the Empire', or 'Tait Tower', as shown on this postcard was the symbol of the exhibition and its image can be found on a lot of the merchandise still to be found on eBay. The Tower was 300 feet high and was the tallest building in Scotland at the time and as it was built on a hill it could be seen from 100 miles away. There were three observation decks and the view over the 170 acre site must have been spectacular, especially at night when the colourful water fountains were 'dancing' below. [See postcard below. K]
The Beresford Hotel opened in 1938 in order to accommodate visitors and at seven storeys high it was said to be Glasgow's first skyscraper. The building is a fabulous example of Art Deco architecture and during World War II it was a popular haunt for American servicemen. After being converted for office use then student accommodation, it now houses private apartments. A café, bar and event space seems to be set to open there this year.
King George VI and Queen Elizabeth returned to open the Empire Exhibition on 3 May 1938, the ceremony being attended by 146,000 people at Ibrox Stadium. The admission charge to the exhibition was one shilling for adults and sixpence for children and over the period May to October there were nearly thirteen million visitors, although it had been hoped that many more would attend. Factors influencing lower numbers than had been predicted were the good old Scottish weather (cold, wet and windy) and the lack of international advertising due to developments in Europe prior to World War II. I like the fact that the sender of the postcard says someone they knew went to the exhibition yesterday and that they are going the next day. I bet they had a great time, despite the weather. Passenger trucks ferried 10,000 visitors per day around the site and there were 19 restaurants, and lots of milk bars and places to eat snacks. Entertainment featured classical concerts, drama, jazz and dance bands, variety shows and cinema presentations including documentaries, newsreels and cartoons. Parades and displays were scheduled throughout and competitions were held. The international football tournament was won by Glasgow's Celtic team and they received the Empire Exhibition Trophy.
On the last day of the exhibition (29 October 1938) a new day-record was set when 364,092 people attended. The weather did its best to dampen the excitement with a three hour downpour, but nevertheless people crowded into the attractions and onto the rides. Only the Palace of Arts remains on the site and this functions as a sports hall. Tait tower was demolished in 1939, the Palace of Engineering was dismantled and re-erected as factory space for Scottish Aviation at Prestwick, the South Africa pavilion was moved to become a staff canteen for ICI in Ayrshire and the Empire News Theatre eventually became a cinema and now the Empire Travel Lodge in Lochgilphead. Bizarrely, the highland village was shipped to San Francisco!
How I would have loved to have visited the Empire Exhibition, as the spectacle would have had flamboyance in spades. Maybe some of the Scottish members have relatives who attended and perhaps have family photographs or memorabilia. If so, I'd love to hear about this.
Thank you, Jane. We hope to have some more items from you in the future. K.
I have added these views of the Exhibition from my Art-Deco collection. K.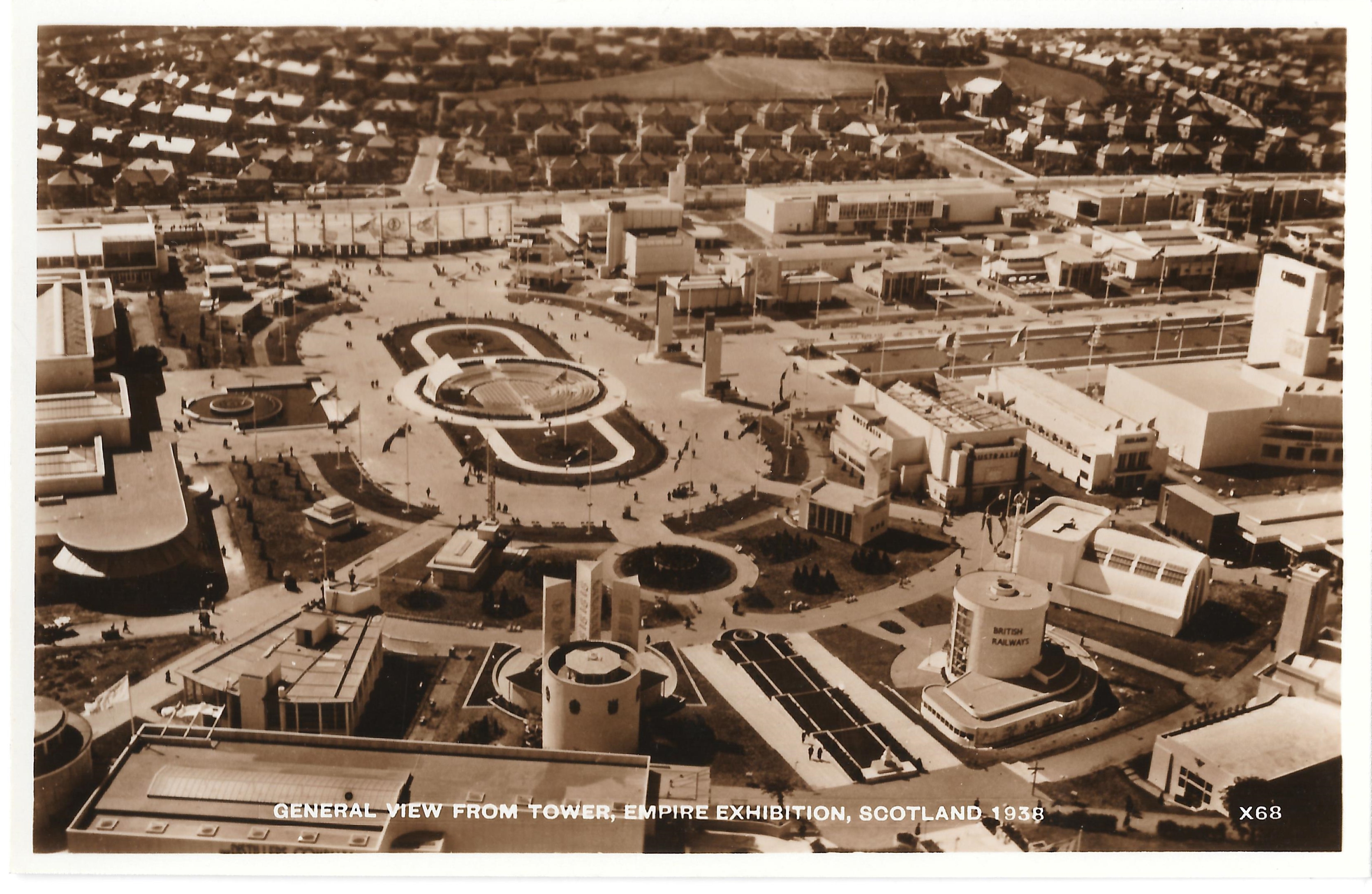 The view over the site from the Tait Tower.
The United Kingdom Pavilion by Rowse.
++++++++++++++++++++++++++++++++++++++++++++++++++++++++++++++++
The 13th July meeting will be another opportunity to reveal a bit more about ourselves. The '2-minute talk' topic will be:- "A card showing your favourite place for a day out."
At 10th August meeting, we will have final arrangements for the fair, and our usual 1-sheet competition. Please join in if you can. The entries can be on any location or subject. The more variety we have, the better, as the sheets will be on display at the fair, to give visitors an idea of the range of cards available.
Please don't use original cards – photocopies on an A4 sheet will do just as well for this.
++++++++++++++++++++++++++++++++++++++++++++++++++
Jubilee Tea Party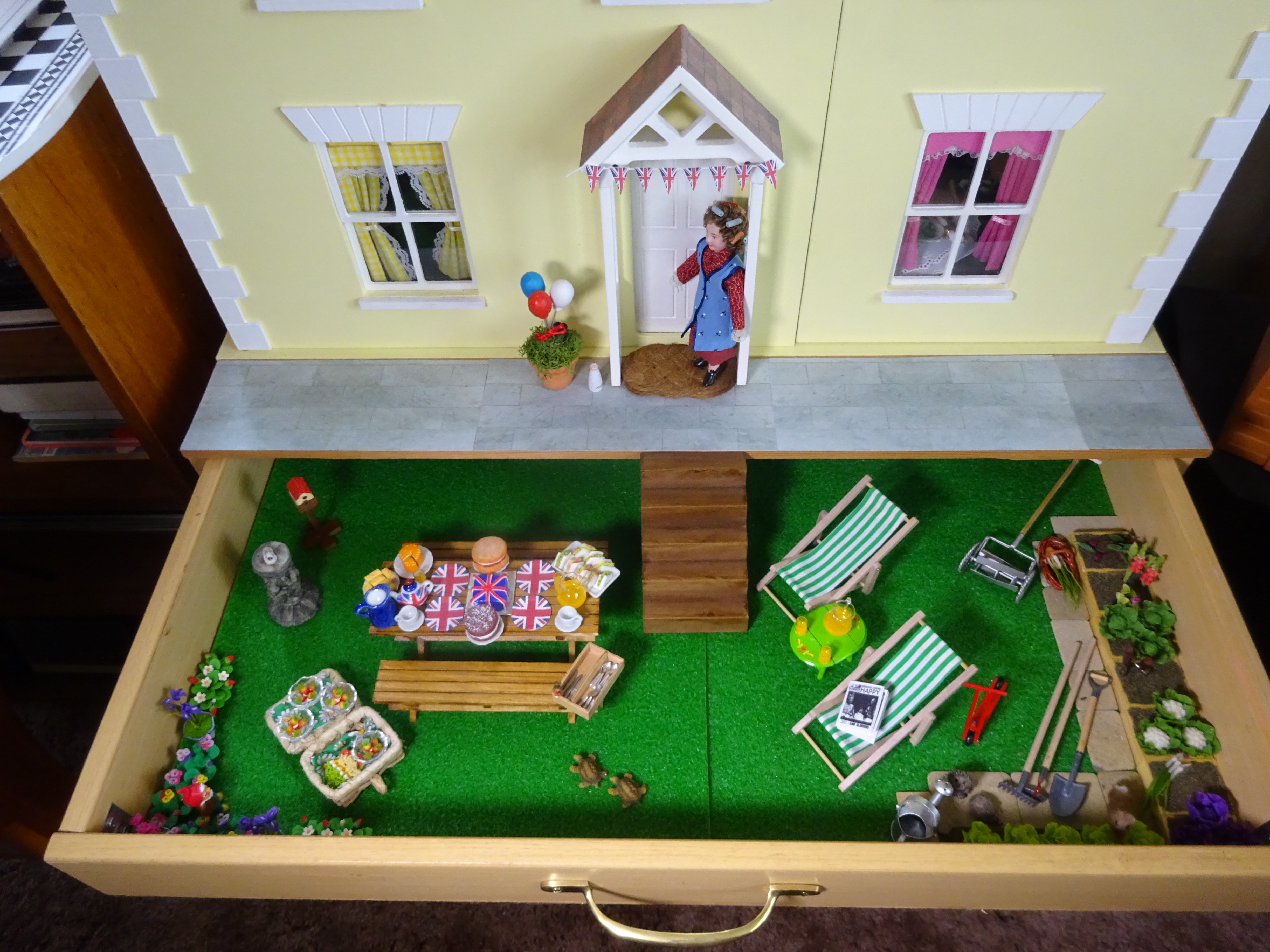 Barbara, who is a dolls' house enthusiast, has sent this photograph of a Jubilee Tea Party, which we can all enjoy!
It is her representation of her family home when she was young, including the 2 pet tortoises. The detail is amazing.
Thank you, Barbara!
~~~~~~~~~~~~~~~~~~~~~~~~~~~~~~~~~~~~~~~~~
I hope that you can join in with the Jubilee events in your area. I look forward to seeing you on June 8th for Marion's presentation. Best wishes for now, Karlyn
Club Bulletin, May 2022.
I was so disappointed not to be able to join everyone at the meeting in April, especially as I had asked John to give the talk about the Rev. William Hughes. Those members who were there found it a most interesting story. John has kindly written a summary of his talk, for those of us who missed it….see below.
Thank you to everyone who has sent cards and messages to me, following my recent operation. They have been a great help at a difficult time.
Our next meeting is on Wednesday 11th May, when the topic for the 2-minute talks will be "An item from your non-postcard collections" – and we know you have them! [If you collect full-size buses, cars or military tanks, please leave them in the car-park .

What's NOT on…
. The Anglesey Antiques fair at the Mona Showground in May is Cancelled, but the October one is still on, according to the Continuity Fairs website. Contact:- 01584 873 634 / 07703 558 600 / 07802 267206 This email address is being protected from spambots. You need JavaScript enabled to view it.
What IS on…
Next "Colwyn Bay" fair in Abergele - Saturday, 14th May. Contact Steve on 01745-826434 and email: This email address is being protected from spambots. You need JavaScript enabled to view it.
Next Wirral fair, Thornton Hough - Saturday, 11th June. Contact:- Madeline Dearman - 01244 880904 email:- This email address is being protected from spambots. You need JavaScript enabled to view it. or Gill Jackson :- 07741-316847
~~~~~~~~~~~~~~~~~~~~~~~~~~~~~~~~~~~~~~~~~~~~~~~~~~
Criccieth Club. May 3rd 2 Sheet Competition We meet on the First Tuesday every month at The Bishops Room, St Catherines Church, Criccieth.
Secretary - Marion Turner 01766 590203 This email address is being protected from spambots. You need JavaScript enabled to view it..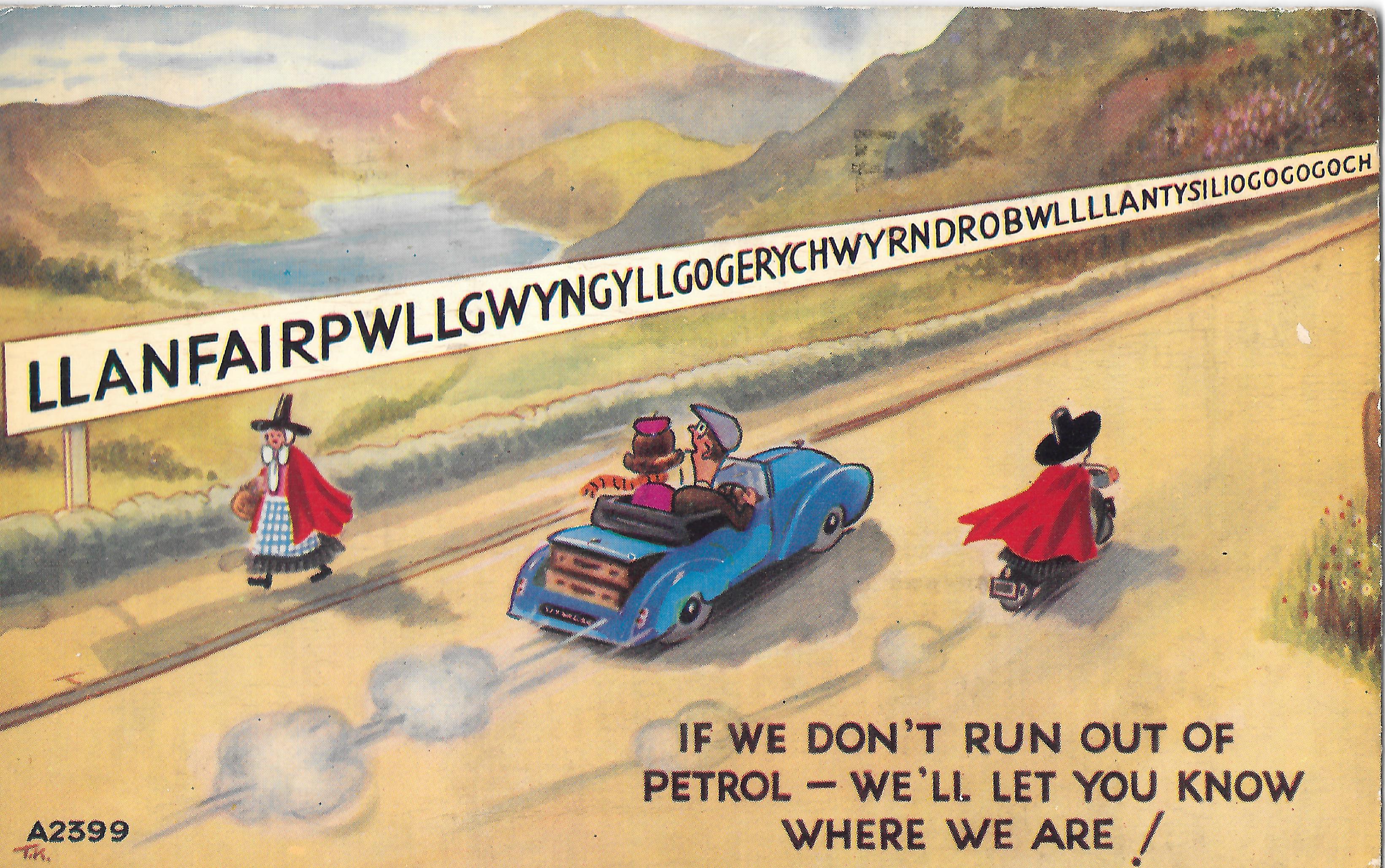 Here's a topical card for the holiday weekend, in the Valentine A Series.
It was posted in June 1960 from Aberytswyth
Rev. William Hughes
a summary of the talk by John Lawson-Reay.
Rev. William Hughes was sent by the Baptist Missionary Society to Africa, to be in charge of a remote community at Bainston. Just getting there was a nearly impossible task, but the one good thing to come out of the ill-fated venture was that the Baptists managed to get an engineer to design a boat suitable for use on the Congo, which could be dismantled, packed into crates, and re-assembled in Africa. The crates and the engineer arrived, but the poor engineer succumbed to the climate. However, William and several helpers did manage to carry the crates 200 miles to Bainston and assemble the boat, and sailing it was a big improvement on hacking through the jungle.
William's health was failing and he pleaded to come home. Eventually he was allowed to do so and, based in Llangollen, and accompanied by Kinkasa and Nkanza (see photo) he travelled around the Baptist Chapels in Wales trying to raise funds for further missionary work in the Congo. Around this time he married his fiancee, Katy Jones.
The Baptists were keen for the couple to set off for Africa, and it must have been a huge relief to William and Katy when they were found to be medically unfit to do so. William became Minister of Old Colwyn and Llanelian baptist Chapels, and it was hoped that he would oversee the building of an additional Chapel in Colwyn Bay. At this time he was living at the first Congo House, which was in Bay View Road, Colwyn Bay, which Katy ran as a guest house
William succeeded in getting a Baptist Chapel built in Colwyn Bay, whilst continuing to raise funds for his own project; a 'Congo House' where African students could live and be taught useful trades, which would enable them to return home to better lives. The Congo Institute opened at Myrtle Villa, Nant-y-Glyn Road in 1890. Students were taught tailoring, shoe-making, printing, photography, and first aid. But even when 12 years old Kinkasa died, who had accompanied the missionary on his return from the Congo, it didn't seem to occur to William that just as the heat and humidity of Africa made it 'the white man's grave', so the cold and damp of Wales would send many Congo House students to their graves.
William met his hero, the explorer H.M. Stanley when he came to speak at Caernarfon; and as well as offering his own patronage of the Institute, Stanley persuaded the later disgraced, King Leopold of the Belgians and the owner of the Elder Dempster Shipping Line to do likewise. This meant that all students travelled free of charge courtesy of Elder Dempster.
At one point William returned briefly to Africa to set up a 'Feeder Institute' to supply further students.
Over the years, many Congo students died and were buried in the little churchyard at Llanelian, William's wife, Katy, died at the age of just thirty-three, and two of his daughters died. He did eventually remarry, but his second wife, Bessie, stayed in Colwyn Bay for just one week before returning to Ashton under Lyne, never to be heard of again!
But William's downfall came in the shape of a black actor, John Franklyn, who, whilst performing in Colwyn Bay, attended a Bible Class at the Congo Institute. Despite being warned about Franklyn's criminal past, William employed him to raise desperately needed funds for the Institute - its illustrious patrons all, by this time, having been disgraced. A national newspaper report headed "Black Baptist – Brown Baby" appeared and Horatio Bottomley of John Bull magazine (similar to today's Private Eye), named Franklyn as the father of the baby, born to a Colwyn Bay girl. Further, Bottomley alleged financial impropriety by William.
Despite his precarious financial state – by this time he had written many cheques knowing he had no funds to cover them, William sued Bottomley, but inevitably lost. Congo House and its contents were auctioned.
William's sister-in-law took him in, but when he turned to alcohol (who could blame him?!) and his son Stanley, who was a successful professional footballer, failed to honour his offer of financial help, she couldn't afford to keep William any longer; and tragically he ended his days in Conway Workhouse. He was buried – and remains with Kinkasa and many other Congo Institute students in Llanelian Churchyard, although the church no longer exists.
' Ripples from Colwyn Bay' - William Hughes' lasting legacy. One of his students Davidson Don Tengo Jabavu returned to South Africa where he established the first black university in South Africa. One of his students was Nelson Mandela who later declared that "Fort Hare and Professor J.D.D.T. Jabavu are virtually synonymous". So through his students and his students' students, his influence lives on. Just before he shuffled off into penury and obscurity William Hughes begged of old friends and supporters, and perhaps of us to-day: 'Please do not forget to remember me.' On the back cover of the book I have a photograph which I took of the gravestone of his first two boys. As I was about to take it a Robin flew down and posed on the memorial stone. I am sure he was there to guard the boys.
This is the cover of the book written by Christopher Draper and John, and I have been reading it over the past weeks. I find the story so very sad, as the Rev. Hughes genuinely wanted to help African communities, with no thought of gain for himself, and it ended badly for so many people. Thank you, John, for shining a light on this tragedy for us. K
The book was published in 2012 by Gwasg Carreg Gwalch, and the isbn is:- 978-1-84527-400-9
~~~~~~~~~~~~~~~~~~~~~~~~~~~~~~~~~~~~~~~~~~~~
"Finding Mr. Gooby" – Jane Matthews' account of her investigations into the message
on the Elmer Keene Llandudno Lifeboat card featured last month.
The card's message is written upside down, which may be an attempt to make it less easily read by the postman. It reads: 'Dear Mr Gooby, Thanks for letter received. Sorry not to have answered before, but have been so busy. Pleased to hear you had a good time at the J. (or T.) O.M. I suppose you have quite settled down to work again. Kind regards, M.Breeze.' It was posted in Llandudno on 15 July 1907.
At first I thought it was a message from a holidaymaker to someone back at work in London, but it seemed odd to have given the excuse of being too busy if on holiday. I therefore started to think that Mr Gooby had been to Llandudno on holiday and this was a card from someone he met there and had subsequently written to. Mr Gooby's initials are 'AW' and his address is '74 Packington Road, Acton, London'. Although the name Gooby is not common, it's strange enough for mistakes to be made by enumerators and a quick search revealed nothing.
To narrow down the search I tried using 'Albert William' then 'Alfred William' and I experimented with 1887 +/- 10 years for date of birth and…success! Albert William Gooby was born on 8 October 1882 to parents Walter and Mary. On the 1891 census Walter is listed as a 'Horsekeeper', which makes sense, as he was an agricultural labourer in 1881. The family is living at Packington Road in Acton. In 1901 there is more than one family at each number in Packington Road, so also at number 74 is Emily Bayley, a widow of 63 who is on Parish Relief, which would have been an alternative to the workhouse. There are many laundry workers living in the street and they all appear to be working from home; apparently this was common in the South Acton area. Albert Gooby is 18 and a railway clerk, a job he has been doing since the age of 14.
If my theory about Albert having visited Llandudno was correct, then he could have been mentioned in the Visitor lists. Sure enough, there he was, but in July 1906 when he stayed at 'Sundorne' in nearby Colwyn Bay. Either he visited after that, or the mysterious M Breeze took a very long time to answer his letter! I haven't been able to find anything else connecting the two people.
Albert married Winifred Farmer (whose father was…a farmer) in Longford, Derbyshire on 19 October 1910 and in 1911 they were living at 11 Rosebank Avenue in Harrow, Albert still being a railway clerk. In February 1916, at the age of 33, Albert was conscripted into the Royal Engineers (Railway and Canal Troops) as part of the British Expeditionary Force sent to France. He was Acting Lance Corporal when he was transferred to the Reserve after examination in Boulogne in September 1919 and in 1922 he received the Victory Medal.
In 1939 Albert and Winifred were living with their 27 year old daughter Joyce Mary at 14 Dalkeith Avenue in Harpenden, Hertfordshire and Albert was still in the same occupation. Joyce was a shorthand typist at the Ministry of Agriculture.
Albert William Gooby died at the grand old age of 95 in 1977.
~~~~~~~~~~~~~~~~~~~~~~
It's fascinating to see what can be discovered from a random postcard message from over 100 years ago! Thanks so much for sharing your research with us, Jane.
I hope that you can enjoy the holiday weekend, and I'm looking forward to meeting up with everyone again in May. Best wishes, Karlyn
Club Bulletin April 2022.
The March meeting was well attended, but Maralyn was unwell, and couldn't come, so we wish her a speedy return to full health. Everyone brought an album of cards to share with the group, so we had a most interesting and entertaining evening.
Keith had a wonderful collection of real photo cards by Idris James Pierce, a photographer with a Post Office and shop in Queensferry, Flintshire. The cards were a record of the village, and included images of Prisoners of War. Following his death, the contents of the shop were put up for sale at an auction.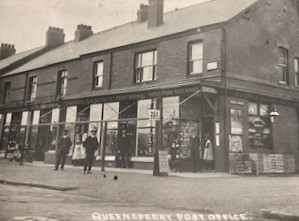 Idris James Pierce's P.O. and shop in Queensferry – one of his own cards.
Jamie's collection was of Rhyl, the place in which he grew up. He started it when he was about 16, and he used to visit the local antiques and 'junk' shops, looking for cards of the area. He now has a magnificent range of cards covering all aspects of this holiday town which he loves.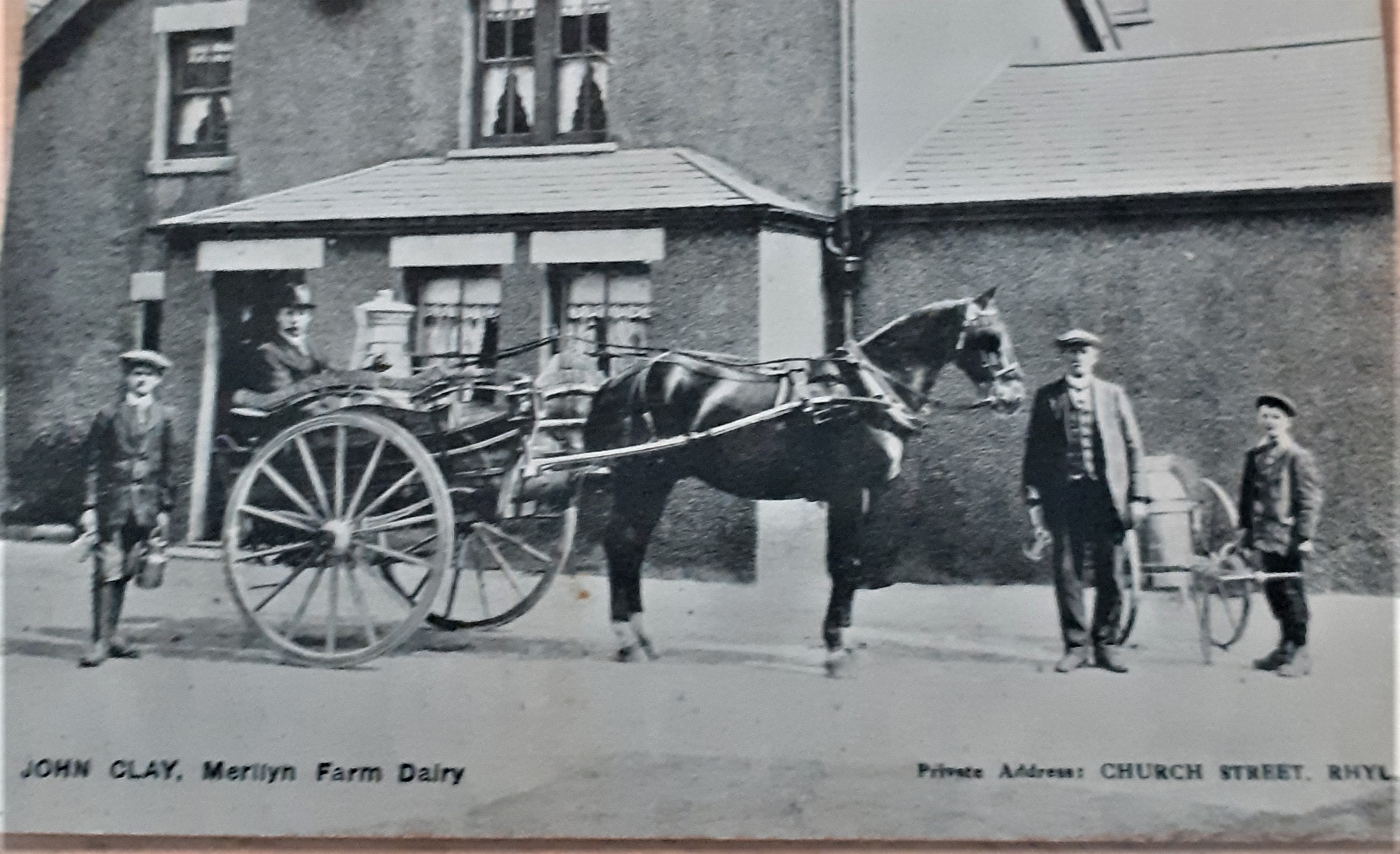 John Clay, Merllyn Farm Dairy. private address: Church Street, Rhyl.
[My mother used to go out on a milk-round when she was about 15 in 1925. She drove a horse and cart, and stopped outside houses in her village. The occupants would come out with a jug, and mother would ladle milk into it from the churn in the cart. It is lovely for me to see a photo of a milk-cart similar to one she would have used. K.]
Marion belongs to the fast-growing and world-wide postcard-exchange service "Postcrossing". It began in 2004, and invites members to send a postcard to a random person who is registered in the service, and then they will receive a card from someone else. It's a great way of collecting cards and getting in touch with fellow enthusiasts. For more information, go to:- https://www.postcrossing.com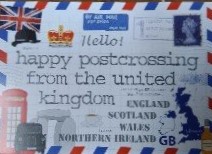 A card advertising the service.
Trebor is a Tuck enthusiast, and his album contained the beautiful and distinctive children's cards of Phyllis Cooper, 1895-1988.
Many have dark backgrounds and the designs are very much of their Art-Deco period. Unusually for the time, Tuck employed female illustrators. Phyllis also designed an advert for Ovaltine, in which a child is asleep in a chair, with her teddy in a rocking-cradle, while two fairies bring her a tin of Ovaltine. Phyllis later went on to write articles for interior design and architectural magazine.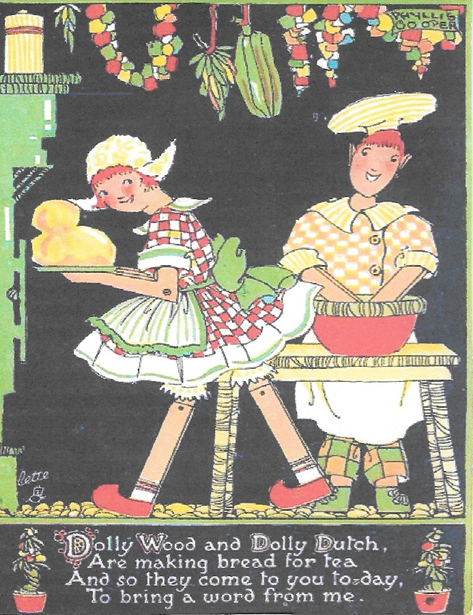 Tuck set no. 3487. Happyland series VII. Dolly Wood and Dolly Dutch are Making Bread for tea….c1930.
6 cards in the set.
This card perfectly captures a scene from rural Wales in the early 20th Century. It is from Lynne's collection of Broughton, Flintshire, and nearby villages. The church is St. Mary's, Broughton, and the house on the right is still there, I think, but the tree has disappeared. The man with the scythe is tidying the grass verges, and the man and boy in the pony trap could be a father and son out for a ride. The little girls are wearing hats and pinafores, perhaps on their way home after school.
Lindsay's collection focuses on Whitford village near Holywell, Flintshire. This view, by Holywell postcard publisher, Scotcher, was taken on the wedding day of Caroline Beatrice Tate, and Major Frederick Winwood Robinson at the village church of Saints Mary and Beuno, on 22nd August 1905. Caroline was the daughter of Sir William Henry Tate, of Tate & Lyle, the sugar refiners, whose summer residence was Downing Hall, Whitford. Sadly, the Major died in action in April 1917, and Caroline passed away in 1965.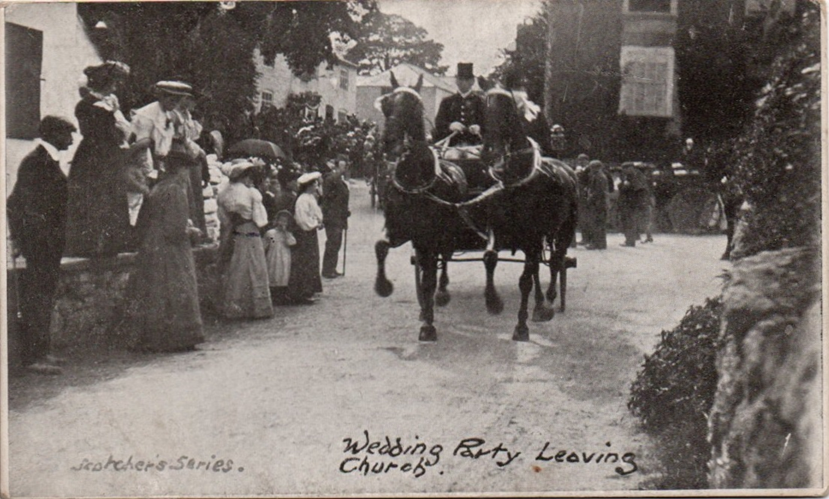 Japan has captured Sue's heart, and she very much enjoyed her recent visit to this intriguing country. Her collection of cards covers many aspects of Japanese life, such as the beautiful fabrics, the many traditions and the enchanting kimonos. However, the vibrant illustration on this card represents the Japanese planes in action in WW2.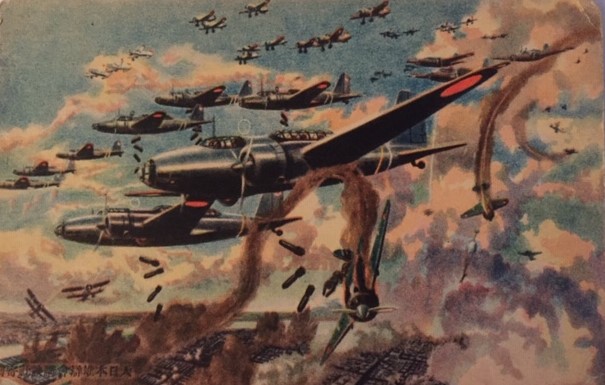 Local historian and author, John, had an album containing a vast array of cards depicting Convalescent Homes in Llandudno, Conwy and Deganwy. Our North Wales coastal area was considered to be an excellent place for recuperation, and many such homes sprang up in the late 19th – early 20th Centuries. Among the better-known homes were Plas Mariandir, with an Art-Deco entrance; Marle Hall, until October 2021 an Outdoor Education Centre, but for sale at the moment, and the Lady Forester Home, later the North Wales Medical Centre and from 19th September 2011, a training and rehabilitation centre for Blind Veterans.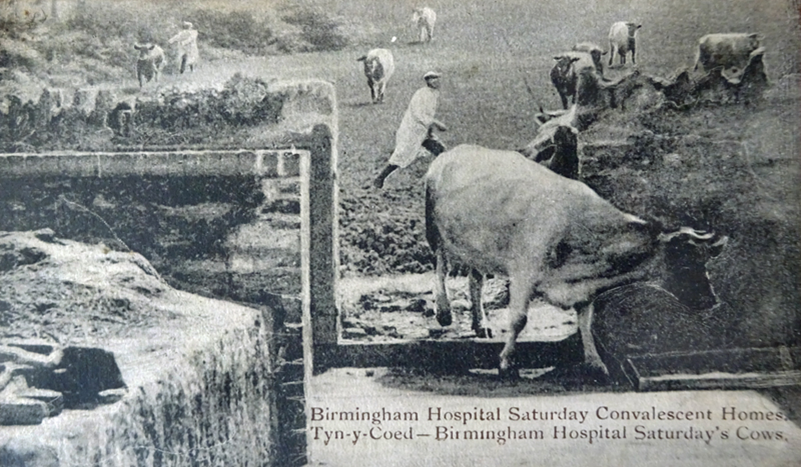 The Birmingham Hospital Saturday Fund, 1873-1938, had some properties in the area, but the thing which surprised
me most, was that the Tyn-y-Coed Home had its own herd of cows.
Air-ships were the topic of Roger's album There were images of the famous ones, such as the R100, R101, and the Hindenburg, and many of the less familiar ones. A most unusual set of cards showed how the air-ships were constructed. This card shows a UK military airship protecting a convoy in WW1, and is a "War Bond Campaign Post Card, issued in connection with the National War Savings Committee's Campaigns. From material supplied by the Ministry of Information. Design No.6. Passed by Censor". In the stamp-frame is "National Savings. Feed the Guns with War Bonds". The publisher is A.M. Davis & Co., Quality Cards, London. Price 1d.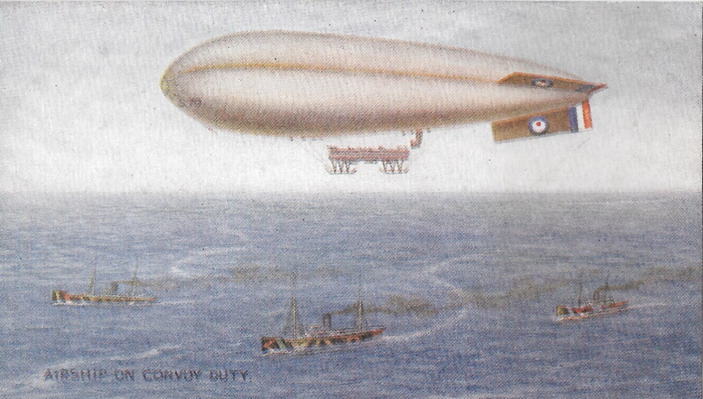 Airship on Convoy Duty – card no.6 of the first set of 6 issued.
I brought along one of my albums of "Illuminated Manuscript" style cards. I have always been attracted to this type of art-work, and I began collecting these beautiful coloured cards issued by Sporgi of Florence many years ago. Most are numbered on the back, and subjects include Popes, angels, and religious paintings. Before the meeting, I searched on-line for some information about this publisher, but the only results I had were pictures of SPORGI dogs – spaniel-corgi cross – and no mention of the publisher!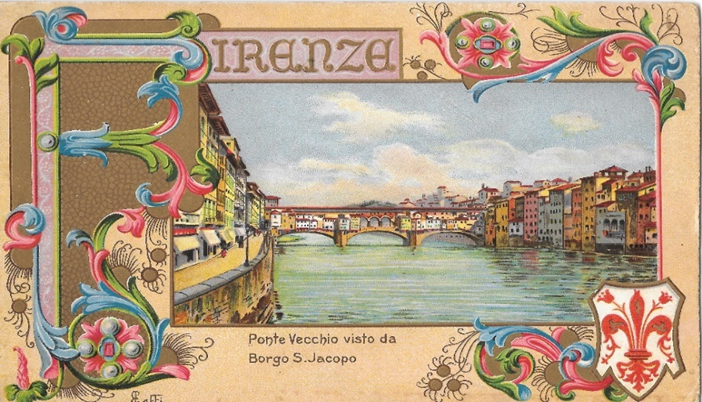 I had also brought an album of Club programmes, so that members could see what we've been doing over the past decades. There are some gaps in the series, but I hope to be able to fill them from other information which I have.
Thanks to everyone for a lovely evening, and for sending scans of your cards, as my phone-camera had a melt-down on the night!
Our good friend, Jane Matthews, has sent us an item, telling the rather surprising story of the Llandudno Lifeboats.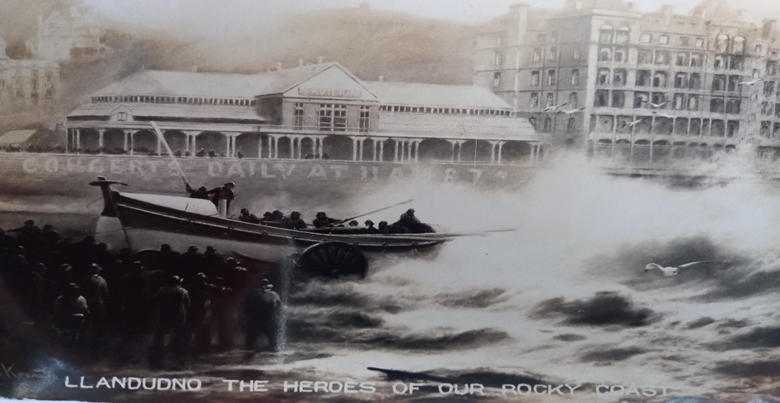 As I live by the coast, it seems appropriate to choose a card celebrating the lifeboat crews who have risked their lives to rescue those in difficulty on the sea. Only a few nights ago there was a rescue going on further up the coast, with lifeboat and helicopter involved. This card, dated 1907, shows a dramatic picture of the Llandudno lifeboat being launched into heavy waves, surrounded by what looks like men in sou'westers. The crew are about to row out to sea, which would seem almost impossible in such a swell. The wheel, which can be seen at the side of the lifeboat, belongs to the horse drawn trailer which was used to pull the lifeboat to the beach.
The first Llandudno lifeboat was a rowing boat funded in 1861 by two Liverpool ladies in memory of their sister, who died the previous year and it was named 'Sister's Memorial'. The coxswain was a copper miner and he was alerted to any emergency by his daughter banging on the pipe at the top of the shaft. The lifeboat station was located by the railway station in the town centre, so the boat had to be taken on a horse drawn trailer to be launched on either the North or the West Shore. There were accidents during transportation, with two men losing their lives in the 1890s after falling under the wheels of the carriage. The location by the station was originally intended to enable the boat to be taken by rail to nearby places, but this never transpired.
The boat we see on the postcard appears to be the self-righting lifeboat 'Theodore Price', which was stationed in Llandudno 1902-1930. It would have been pulled through the town and across the sand by 50 men, so presumably these are the men standing by. Horses were not used after 1899 due to the difficulty in obtaining them quickly and the cost.

In 1903 a boathouse was constructed in Lloyd Street which enabled easier access to both shores, but the lifeboat still had to be towed through the town. This remained the case right up until 2017 – the only place in the UK where this happened. The first lifeboat with a motor was obtained in 1933, together with a tractor and new carriage for transportation through the streets. Up to this point the lifeboat was still being pulled to the launch site by men.
A splendid new lifeboat station opened in 2017 on the North Shore. The current main lifeboat is a Shannon-class called the
William F Yates, after a donor to the RNLI (Royal National Lifeboat Institution), who had great affection for Llandudno. As there is no natural harbour, it is launched from a very sophisticated tractor unit and mobile slipway known as the Shannon Launch and Recovery System. There is also a small inshore lifeboat and the crews of both boats are mainly volunteers. Receiving no government funding, the RNLI is a charity which relies on donations to support its 349 lifeboats around the UK. Does this happen in other countries, I wonder?
There is a small signature ('Elmer Keene') on the bottom left of the picture. Ezra Elmer Keene (1853-1929) was originally a miller and baker, but later became a photographer and painter. Many of his coastal and rural images were used on postcards and his romanticised moonlit landscapes were very evocative.
The card has a message which prompted Jane to do some more investigating, and we'll see the results next time in
'Finding Mr. Gooby'. Thanks for your articles, Jane, they are always very much appreciated. K.
Next month's meeting is on Wednesday, 13th April. The speaker is John Lawson Reay, and his subject is "The Congo House Scandal." This really is a remarkable story, so do come along if you can.
Criccieth Club.
April 5th 2.30pm. Spring is in the air
Do you have anything new to share
May 3rd 2 Sheet Competition
We meet on the First Tuesday every month at The Bishops Room, St Catherines Church, Criccieth
Secretary - Marion Turner 01766 590203 This email address is being protected from spambots. You need JavaScript enabled to view it..
Fairs.
Next Abergele [ex-Colwyn Bay] Fair:- 14th May.
Next Wirral Fair:- 11th June
Anglesey, 2-day Mona Showground Antiques Fair in May – Cancelled!
I am sorry to say that the 2-day antiques and collectables fair, which should have been in May, has been cancelled.
The October event is still in the calendar.
https://www.continuityfairs.co.uk Tel:- 01584-873634 or 07703-558600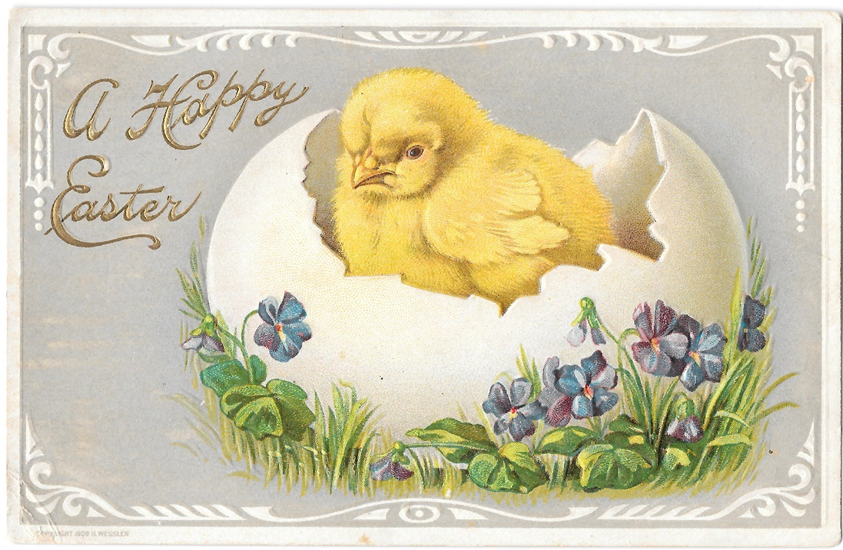 I could be out of action for a while if I have to go into hospital, so unfortunately,
I may have to miss the next meeting.
I'll sign off this month with a lovely seasonal card, and I wish everyone a very happy Easter. Karlyn.
Club Bulletin March 2022
The February meeting was the first of the year, as the January one was cancelled. We continued to stay apart and wear masks in the room, even though the Centre wasn't asking us to, but I think that we did feel safer. We can continue with these precautions for as long as members want to.
The delayed AGM was held at this meeting, and we are delighted to tell you that we have 2 new Committee members, who volunteered their services. The Committee is now:-
Chair: Marion.
Vice Chair: John Lawson Reay.
Treasurer: Sue Crawford.
Secretary: Karlyn. Membership records: Lindsay.
~~~~~~~~~~~~~~~~~~~~~~~~~~~~~~~~~
The next meeting is on Wednesday, 9th March, at 7pm., when we invite you to bring one of your postcard albums to display. It's always a most interesting evening, so I hope that we get a really good show.
As you will know by now, I have sent out a selection of basic fair posters and flyers for you to print if you wish, to take to other meetings, events and fairs you may be attending. All publicity for our fair is valuable, so thank you if you are able to help. We hope to have the usual colour-flyers as well, and we are trying to save paper and Club funds by reusing the leftover 2020 flyers, covering the 2020 date with the 2022 one. I think people may appreciate it as an environmentally friendly option.
~~~~~~~~~~~~~~~~~~~~~~~~~~~~~~
Criccieth Club meets at the Bishop's Room, St. Catherine's Church, Criccieth on the first Tuesday of the month at 2pm.
Phone Marion for more information on 01766-590203.
~~~~~~~~~~~~~~~~~~~~~~~~~~~~
Colwyn Bay Fair. Change of Venue for March 12th . Contact Steve on 01745-826434
Saturday, 12th March 2022 at Abergele Youth and Community Centre.
Market Street, Abergele LL22 7BP 9.30 am until 2.30 pm
There is free parking on-site, and the nearby Library and Tesco have car-parks which are free for a time, but they are monitored, and fines would be levied for overstaying.
The talk for February was the story of Talacre, given by a former resident of the village, and Club member, Jack Jones, who has given me a lot of help with this report. Talacre is a tiny village, situated at the tip of the Dee Estuary on the Welsh side, and opposite to West Kirby, Wirral, on the English side. It lies 4 miles east of Prestatyn, which is one of the most popular holiday resorts on the North Wales Coast.
In the early 1930s, during digging work in the Talacre area, a Viking grave was discovered. It was lined with stone slabs, and contained a skeleton, and two weapons. It would date from c1000AD., and it is known that the Vikings were in the Cheshire and North Wales area about that time. Sadly, the grave was sent to Manchester for further investigation, but is now lost.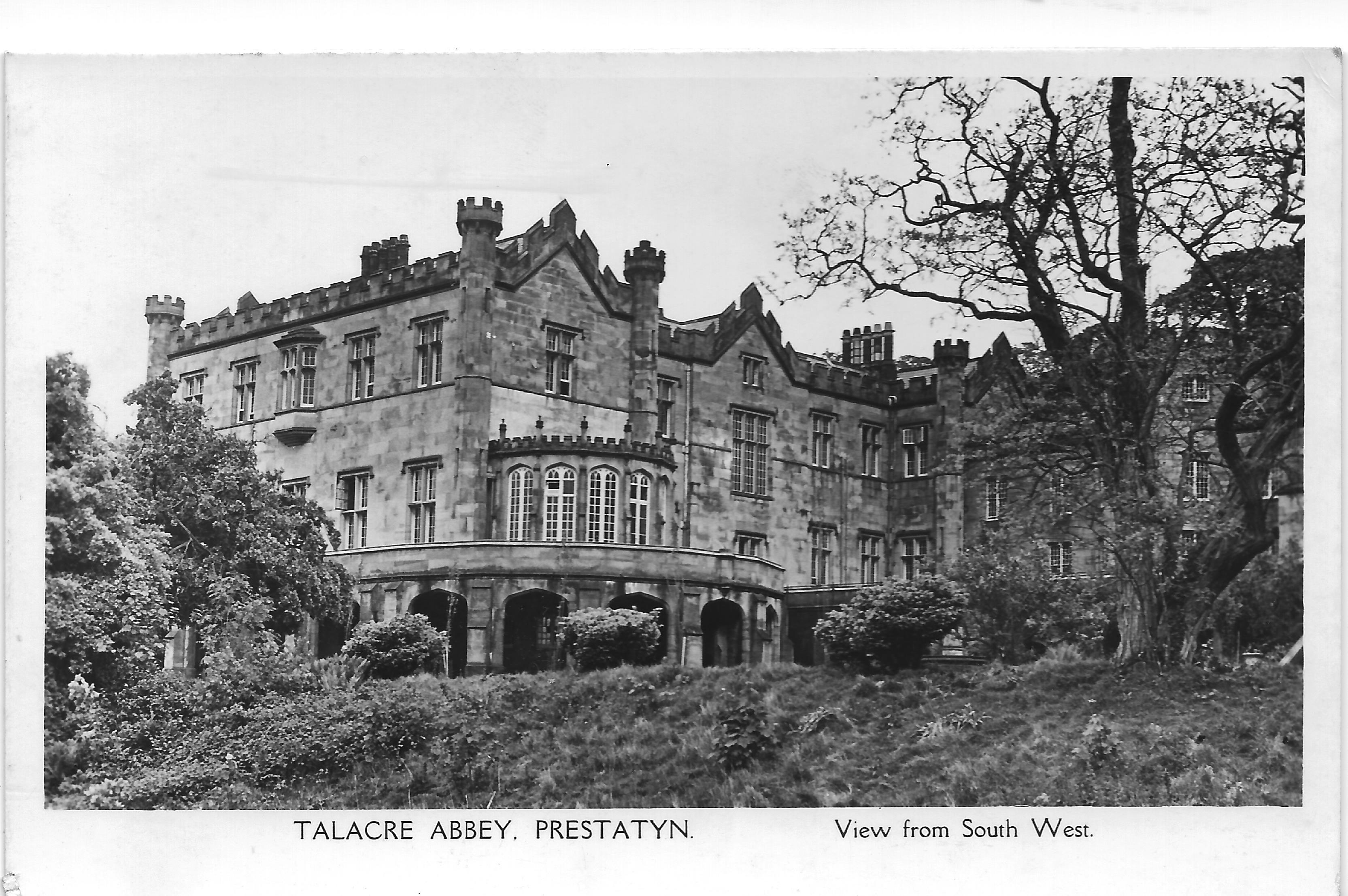 The Mostyn family had owned the land in this area since the 16th Century, and their home, Talacre Hall, dated from the 17th Century. Between 1824 and 1829, a new Hall was built, to the designs of Thomas Jones. Shortly after the sale of the estate, from 1920 to 1988, the Hall was a Benedictine Covent, and was renamed Talacre Abbey. It is now a luxury hotel and wedding venue, 'Westbury Castle'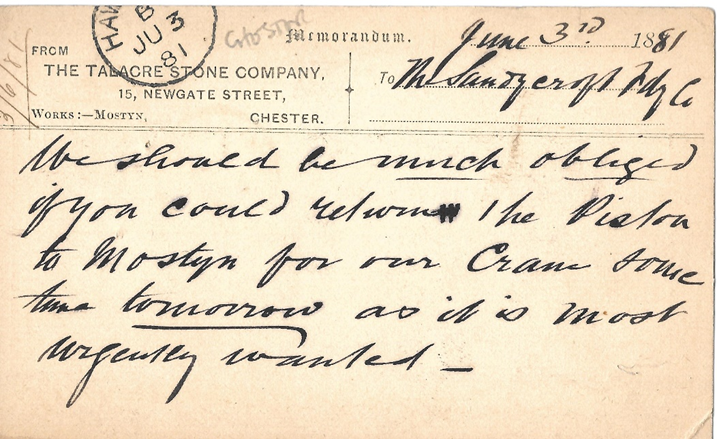 This card is a correspondence card from 'The Talacre Stone Company, 15, Newgate St., Chester. Works at Mostyn.' It was posted on June 3rd 1881 at Chester, and sent to the Sandycroft Foundry Co., Hawarden. The message reads:- "We should be much obliged if you could return the Piston to Mostyn for our Crane sometime tomorrow as it most urgently wanted."
The Stone Quarries in the Talacre and Gwespyr area have been suppliers to builders and farmers for many years. Basingwerk Abbey and Flint castle were built with Talacre Stone.
The Talacre scythe-sharpening stones from Sir Pyers Mostyn's Talacre Quarries were reported as having been awarded 1st prize at the Great Exhibition of 1851, and Talacre stone has been exported to other countries such as Australia and the USA.
For more information about the Talacre Quarries, go to:-
http://scytheassociation.org/wp-content/uploads/2011/02/Windrow12.pdf pp18-20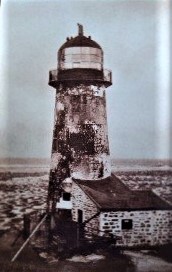 Point of Air Lighthouse in distress. c 1900.
Photo Precision Colourmaster International 24232PLX The Old Lighthouse Point of Air Nr. Prestatyn. c1960.
The River Dee has been used for transporting goods for centuries, but the estuary area is particularly dangerous for shipping, so in 1776/7, the first lighthouse, designed by Joseph Turner, was built at Point of Air, Talacre. It later collapsed, and a new building appeared in 1844, and although it ceased to be operational 40 years later, it remains as a landmark in the village. Talacre's lifeboat house opened in 1894 and closed in 1923. Local horses were used to draw the boat to the water, and a report of 1843 says that, on one occasion, when the weather was too bad for it to sail to Rhyl to help with a rescue, the horses drew it the 8 miles by road.
After several aborted attempts to mine coal here, in 1883, the Point of Ayr Colliery Company found a workable seam, and the Colliery opened in 1890 and closed on 23rd August 1996.
For more information go to http://www.welshcoalmines.co.uk/North/Point%20of%20Ayr.htm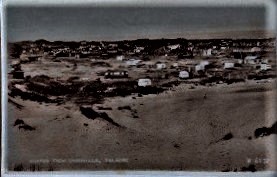 Warren from Sandhills, Talacre. Valentine card W6172 c1955.
The Warren was an area of sand dunes in which rabbits lived. They provided food for the Mostyn Estate and locals, and were also farmed for their fur. Jack's great-grandfather had moved to Talacre around 1900 and worked for Lord Mostyn as a gamekeeper. He lived in Warren House, which was the only stone building on the Warren. Jack's family lived in one of the many wooden chalets which had been built in the Warren from the 1930s. They had no mains water or electricity, but they provided homes for a good community where people helped each other. During WW2, following the heavy bombing of Liverpool, evacuees from Merseyside came to live there, in any shelter they could find – chalets, old buses or railway carriages. The Warren was a safe place for children to play, even during the war, as it was far from the main roads. Pill boxes and some coastal defence measures were put in place to prepare for possible enemy attacks, and some are still visible today.
The concrete road was built during the war, and from 1942-45, part of the Warren, from Talacre to Tyn-y-Morfa was used for target practice by RAF pilots, air-to-ground and air-to- air, and it may still be possible to find spent cartridges and bullets in the ground.
In the early 1960s the area was sold to the Cornish China Clay Company who had big plans to develop it into a major holiday park with swimming pool, launderette, club-house, shops etc. However, it was then discovered that the there was a diversity of wildlife and fauna, and progress was halted at the Tyn-y-Morfa end of the Warren. It was sold to Bourne Leisure in the late 60s and a conservation order was put on the Warren to protect it from further development. It was renamed Presthaven.
In 1973, the Warren was cleared and more plans were made to develop a holiday park, but that idea was shelved. In the 1990s Hamilton Oil bought the site on condition that they protected the Warren and its wildlife. There are some modern holiday and residential parks in the village.
If you would like to read more about the village, the book which was produced by the 'Talacre Then and Now' project, is called 'Atgofion Talacre Memories', and is written in Welsh and English. It has a brief history of the village, and is full of memories contributed by residents, former residents, visitors and holidaymakers. If you remember Talacre, it will be a joy to read. If you don't know the village, the book will surprise you with many personal stories and a wealth of postcard views and family photos. The book is available from the Talacre Community Centre for £3, and there's a video for £3 too.
We thank Jack for a most entertaining and informative talk on his home village, and he has promised to complete the story of the village in wartime at a future meeting
The 2022 programme for the Llandudno and Colwyn Bay Historical Society. Tel. John on 01492-582185.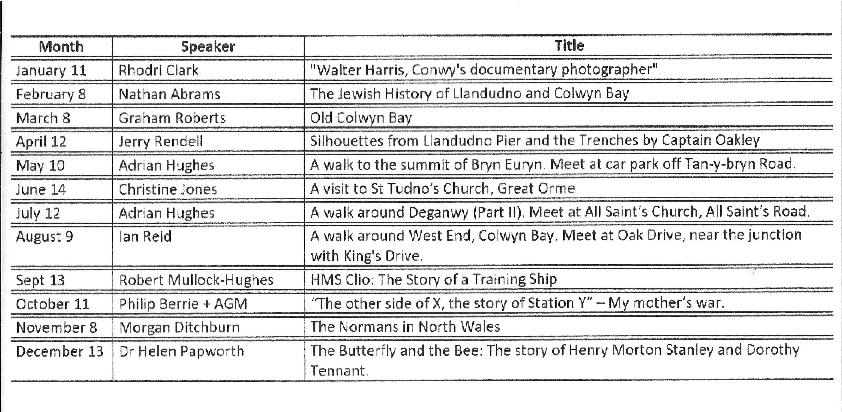 ~~~~~~~~~~~~~~~~~~~~~~~~~~~~~~~~~~
John from Menai Bridge has sent us a snippet which I think will surprise you!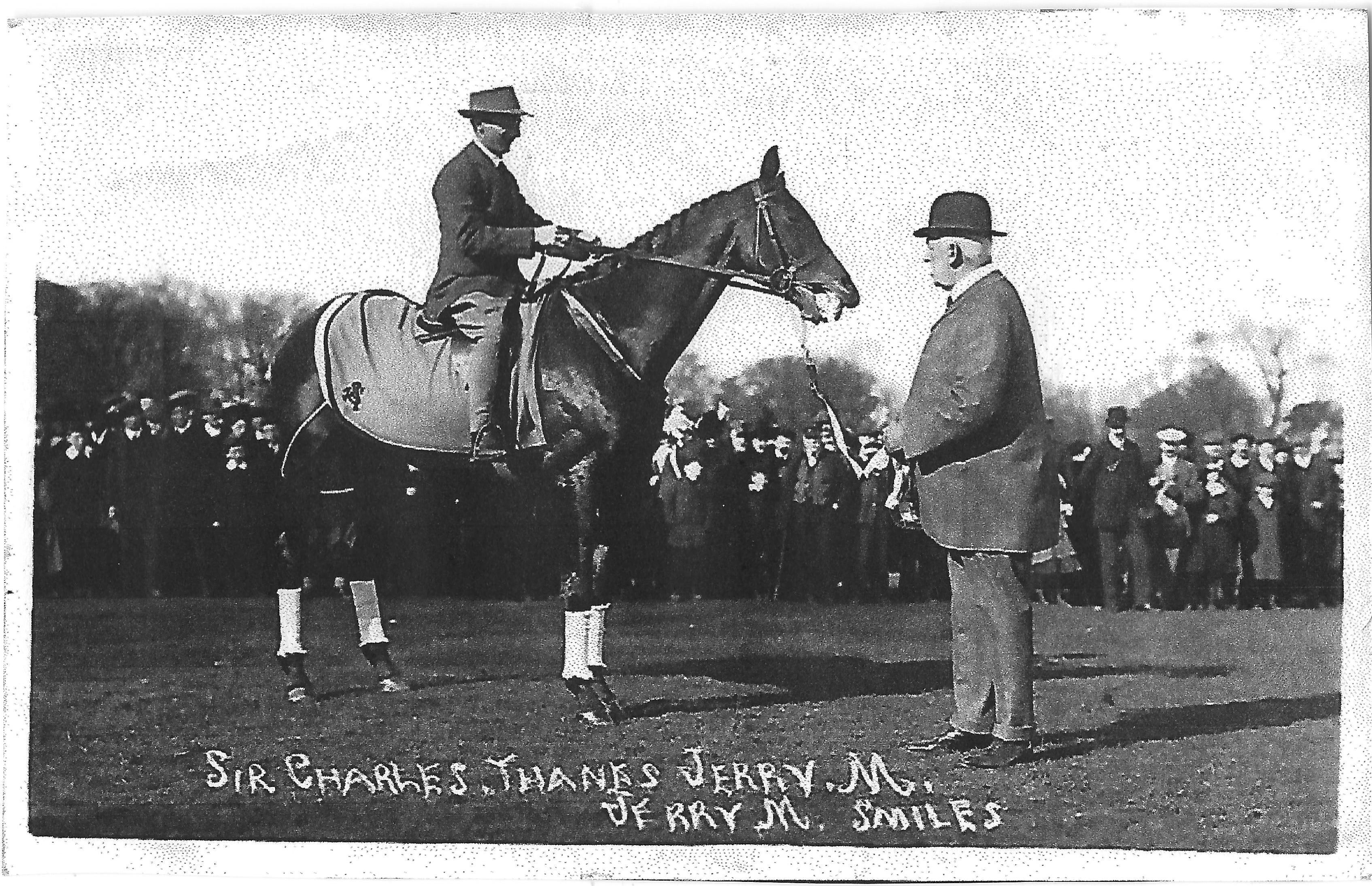 The illustrated postcard, produced by W.Williams of Castle Square, Caernarfon, shows Jerry M's triumphant return to Vaynol, Portdinorwic, after winning the Grand National at Aintree in 1912, along with Sir Charles Assheton Smith, the horse's proud owner and an invited crowd of his employees. This success was the first of a remarkable hat-trick of Grand National winners by Sir Charles, with Covertcoat in 1913 and Sunloch the following year. If a similar feat was achieved today it would undoubtedly make sporting headlines, with Vaynol besieged by television programmers.
Thank you John!
I'll sign off this month with two cards to mark St. David's Day on 1st March.. I look forward to seeing you on 9th. K.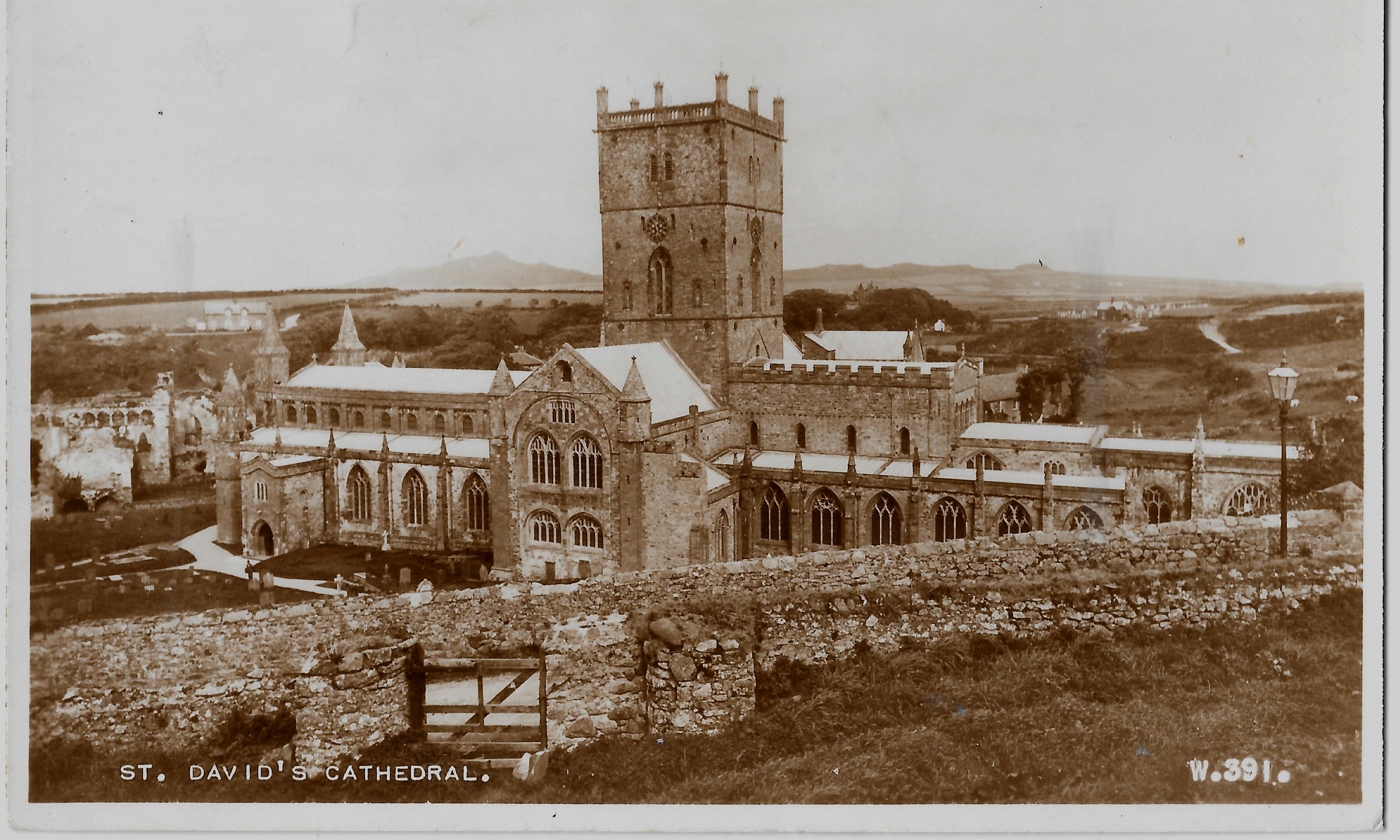 St. David's Cathedral. Valentine W series 391. Photograph registered in 1934. It was the site of a 6th Century monastery, and the current building was begun in 1181. The Cathedral Records in our National Library go back to 1397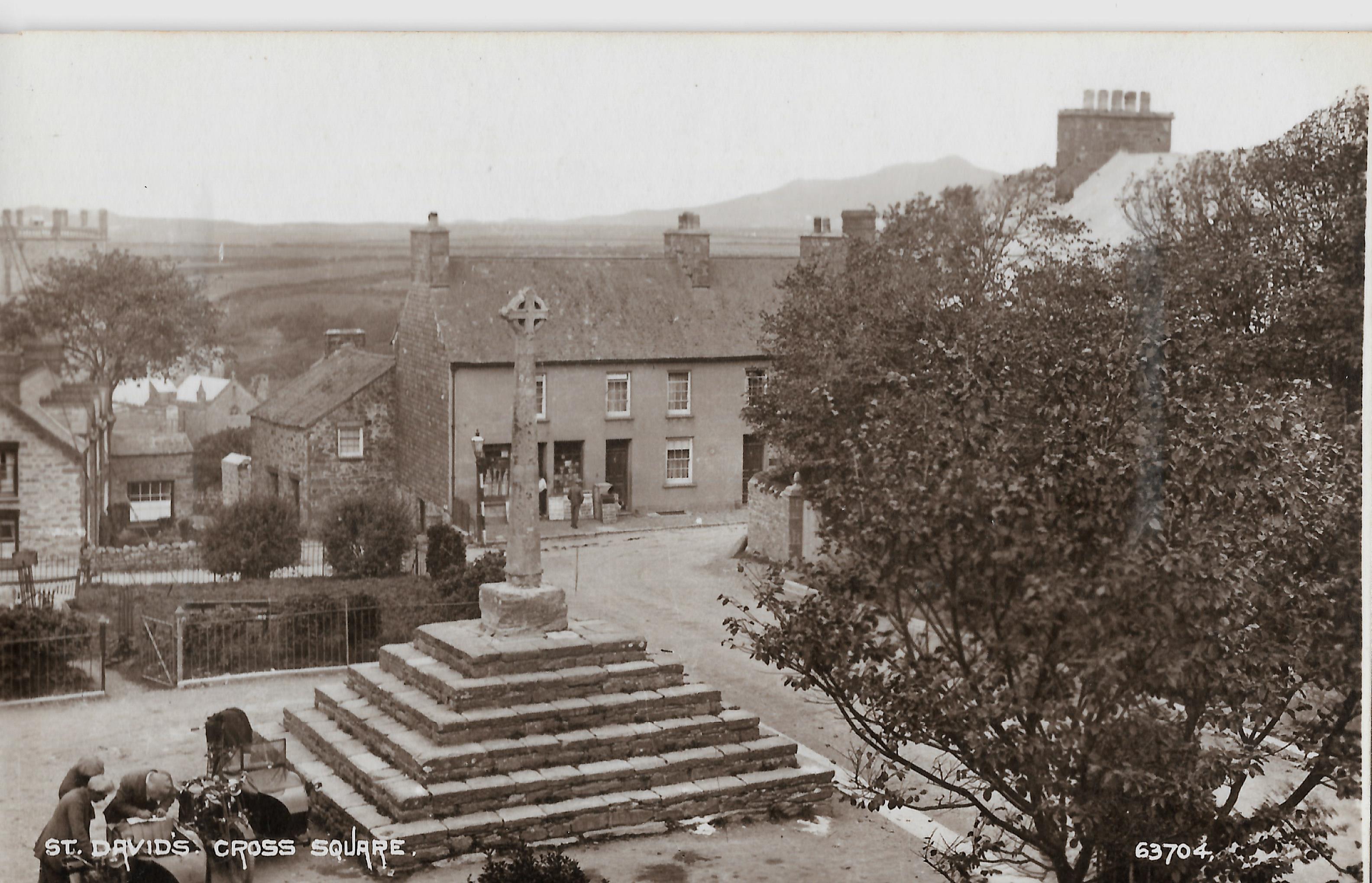 St. David's Cross Square. Photochrom No 63704. The market cross dates to the 14th Century, and the market is still held in the square. There are 2 motor-cycles with side-cars in the lower left corner – tourists?
Club Bulletin, February 2022.
Hello again!
The meeting on Wednesday, 9th February will go ahead. The only rules are:- sanitise hands on entering, and wear masks in the corridors. If members prefer to have distancing in the room, or if anyone wants to wear a mask, that's fine. There will be a short AGM too. You will have seen the accounts already, and there is nothing to report about meetings. We will have some changes to the committee. If you have any issues you would like to raise, you can let me know in advance, or on the night.
'The story of Talacre' is the title of Jack's talk for the meeting, and it is a fascinating story, from Viking times to the present, so do come along if you can.
Please look out for emails or phone calls from me, to tell you if there are any changes, or you can phone me on 01492-440763 for the latest information that I have.
News
I am sorry to report the passing of Liz, who came to the Colwyn Bay, Llandudno and Wirral fairs with Renzo Garavello. Liz passed away on Friday 7th January, and she will be very much missed at these events. She was a very lively and interesting person, who always enjoyed a chat with the collectors and other dealers. Renzo is, of course, very upset, and I have sent a card to him from the Club, and I have asked him to convey our sympathy to her family.
Colwyn Bay Fair. Bryn Cadno Community Centre, Upper Colwyn Bay. LL29 6DW.
I went to the fair on 8th January, to support Steve, who has had many months of trying to find an alternative venue for the event, [we know how difficult that is!] and the dealers who had come along. It is quite a wide, but steep and winding road up to the estate where the Community Centre is located, but there were Steve's usual signs along the way to guide us. The no.23 bus stops nearby.
There were fewer dealers than at Eirias Park School, but there was a good mix – some stamp dealers, Keith and Alec with postcards, and Glyn with ephemera and postcards – so something for everyone. There was also the usual refreshment bar in the foyer, which I wasn't expecting. We were asked to register our phone numbers for covid alerts, and use hand-sanitiser as we went in. We had to wear masks and stay socially distanced, but as there were fewer people in a large room, that wasn't a problem.
It was so nice to see members and friends again, and I very much enjoyed the morning. It was good to have our popular local fair back. Thanks to everyone who made it possible. K
The next fair is scheduled for 12th March. 10am-2.30pm.
The other dates for 2022 are:- 14th May, 9th July, 10th September, 12th November.
These fairs are subject to the covid rules in place at the time, and could be cancelled at short notice. I will try to get the latest information for you from Steve, but if you want to contact him direct, his phone number is 01745-826434 and email: This email address is being protected from spambots. You need JavaScript enabled to view it.
=============================================================
Wirral fair, Thornton Hough Village Hall.
Manor Lane, Thornton Hough.CH63 1JB
5th March - 10am - 3.30pm, entrance £1. Contact Ian on 0151-608-7611
Criccieth Club.
The Criccieth Club met on Tuesday 1st February, and it was a very enjoyable afternoon, Marion tells us.
For the latest information, please phone Marion on 01766-590203
Adrian's Home Front Museum, Llandudno will be reopening on March 22nd . Tel 01492-87103
On February 1st we welcomed in the Chinese Year of the Tiger.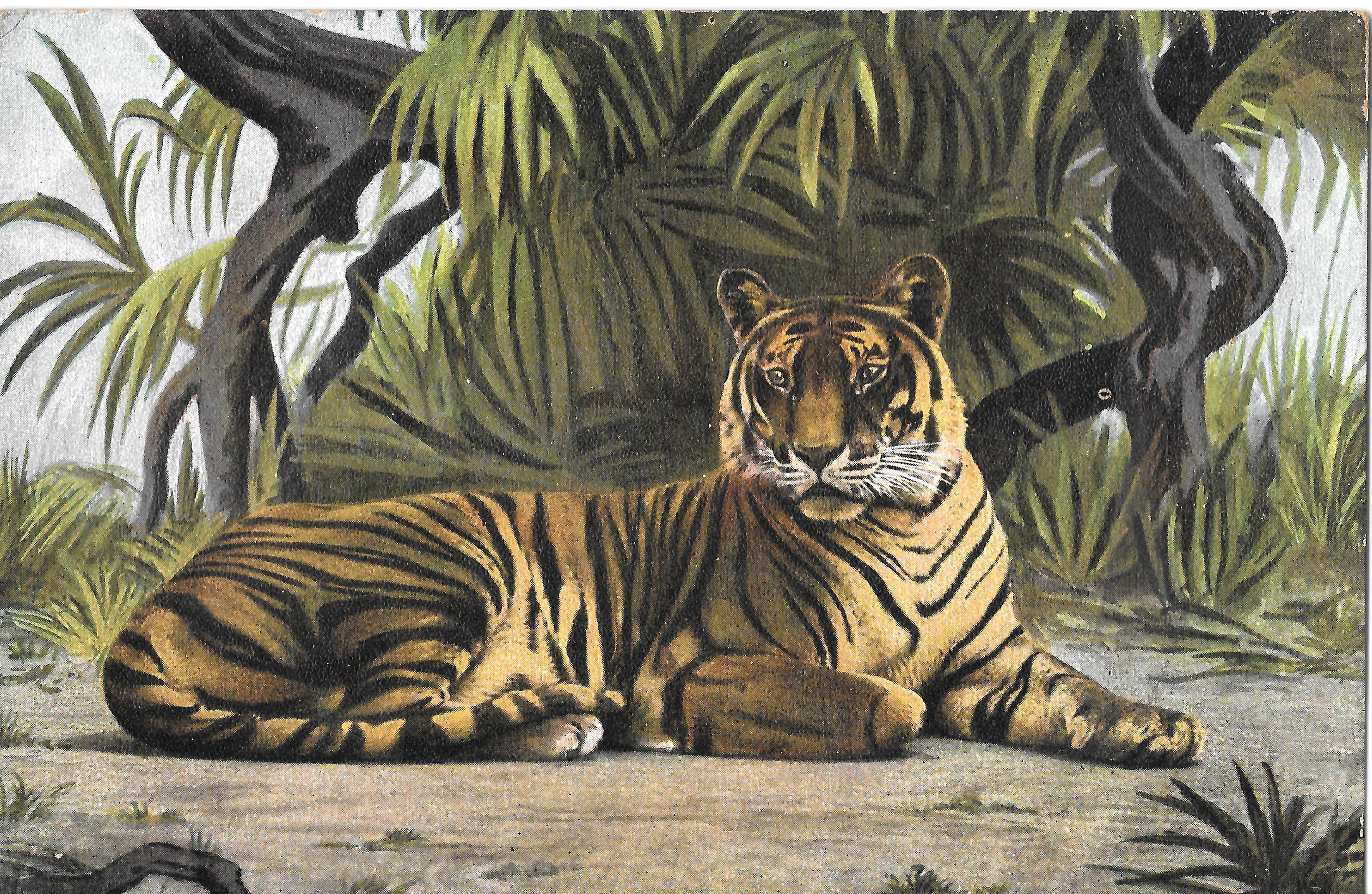 This card is by Theochrom, a Klio Postcard.
~~~~~~~~~~~~~~~~~~~~~~~~~~~~~~~~
Marion has sent a topical item for us. She writes:_
As it was St. Dwynwen's Day on 25th January, [she is the Welsh Patron Saint of lovers], and St. Valentines Day this month, I thought you might like some cards about Welsh kissing. It's interesting that each card has different towns with the similar text. The two that mention Llandudno both say the girls suggest a walk to the pier. The horizontal versions have no publishing name on the back. I like the one with a Welsh lady on top published by Everton telling you how it's done. I have added a transcript of the text to make it easier to read. I've also added a couple of uses for the Welsh hat.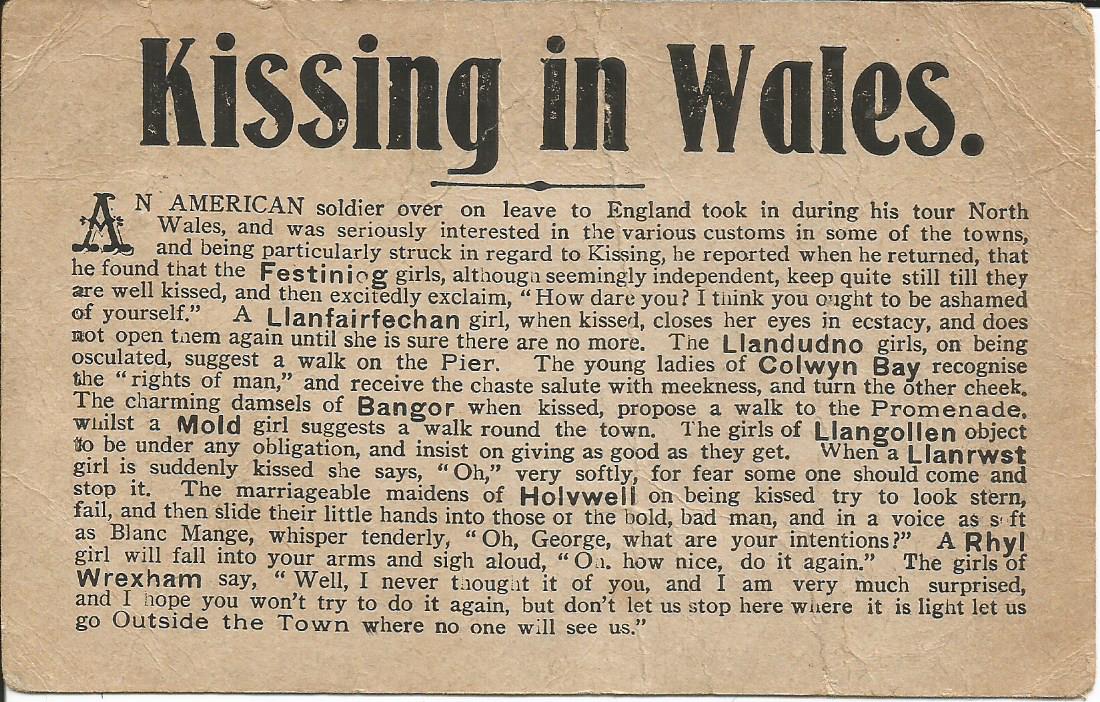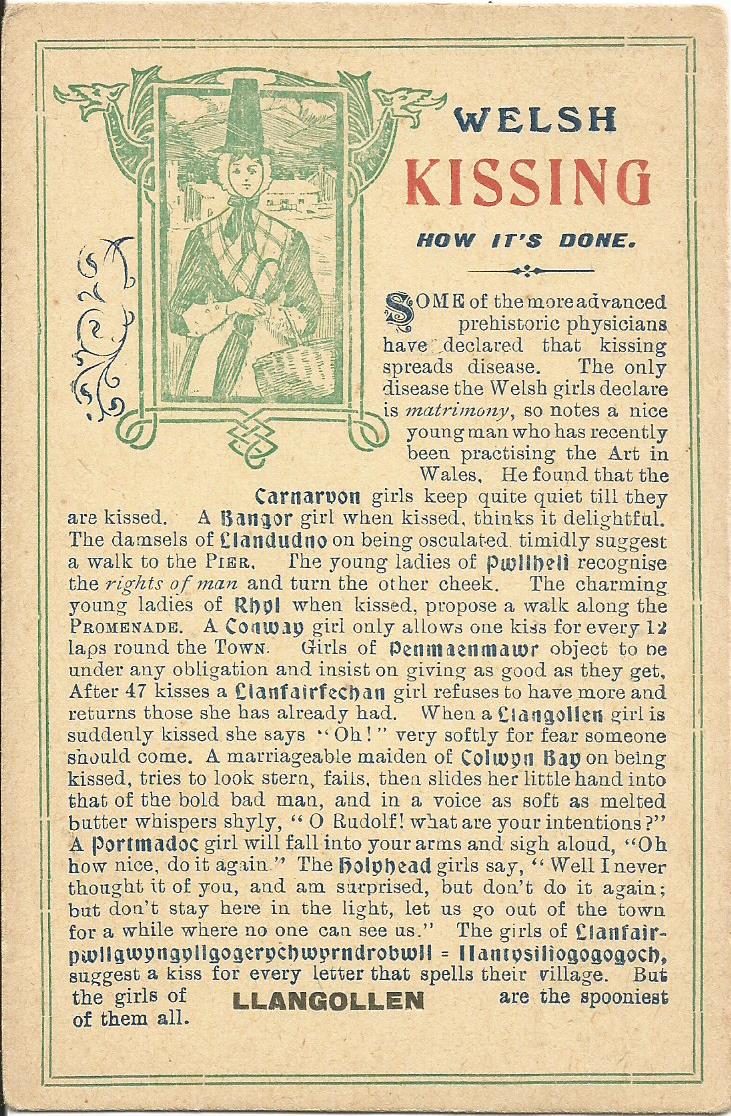 WELSH KISSING – HOW IT'S DONE
Some of the more advanced prehistoric physicians have declared that kissing spreads disease. The only disease the Welsh girls declare is matrimony, so notes a nice young man who has recently been practising the Art in Wales.
He found that Carnarvon girls keep quite quiet till they are kissed.
A Bangor girl when kissed, thinks it delightful.
The damsels of Llandudno on being osculated timidly suggest a walk to the PIER.
The young ladies of Pwllheli recognise the rights of man and turn the other cheek.
The charming young ladies of Rhyl when kissed, propose a walk along the PROMENADE.
A Conway girl only allows one kiss for every 12 laps around the town.
Girls of Penmaenmawr object to be under any obligation and insist on giving as good as they get.
After 47 kisses a Llanfairfechen girl refuses to have any more and returns all those she already has.
When a Llangollen girl is suddenly kissed she says "Oh!" very softly for fear someone should come
A marriageable maiden of Colwyn Bay of being kissed, tries to look stern, fails, then slides her little hand into that of the bold bad man, and in a voice as soft as melted butter whispers shyly, 'O Rudolf! what are your intentions?'
A Portmadoc will fall into your arms and sigh aloud, 'Oh how nice, do it again'
The Holyhead girls say, 'Well I never thought it of you, and I am surprised, but don't do it again: but don't stay here in the light, let us go out of the town for a while where no one can see us.'
The girls of Llanfairpwllgwyngyllgogerychwyrndrobwll – llantysiliogogogoch suggest a kiss for every letter that spells their village.
But the girls of LLANGOLLEN are the spooniest of them all
Card published by Thomas Bros & C o Everton Liverpool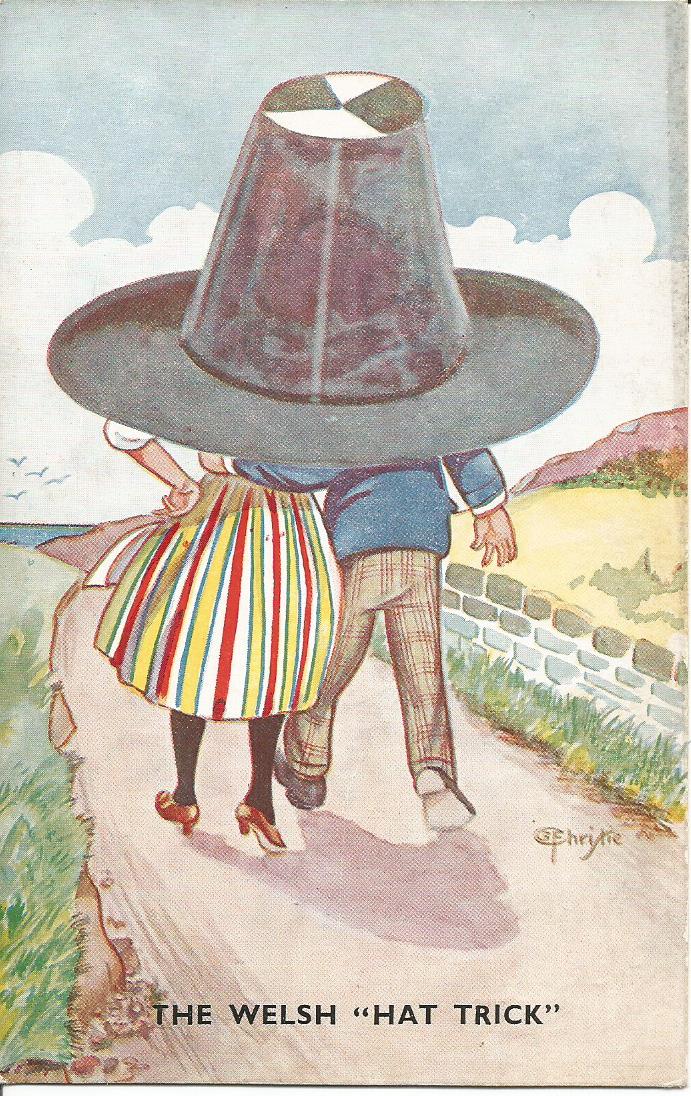 Both cards published by Photochrom - artist George Fyffe Christie.
George Fyffe Christie was a Scot who moved to Bushey Hertfordshire. He had a long career writing and illustrating children's books and drawing comic postcards. publishers included Misch & Co, Photochrom and Wrench. All his cards include his recognisable initials or signature. His wife Ethel had two children Andrew and - confusingly - Fyffe George who became a successful artist and mural painter. In 1930 Ethel died and the family moved back to Glasgow. There he had some success with a cartoon strip Scottkin published in a Glasgow newspaper. But he struggled financially especially through the years of recession. He later worked for American style comics published in Scotland. He died in 1951.
Thank you for these, Marion – lovely cards!. K.
========================================================
Here's an update on the item about The Smithy Arms in Rhuallt. It's a much more recent picture of the pub, c1970s? with lots of changes from the last time we saw it in the October Bulletin. It looks as though it has been completely re-modelled, and bears little resemblance to the original building. By 2009, it had been renamed the Smithy Arms, Pub and Restaurant, with a new sign above a verandah across the front of the three ground-floor windows, and a large car-park. The two posts by the wall are a pub sign to the right, and a box to show the current menus to the left. It has been closed for some time, and is now a private house, according to some local websites.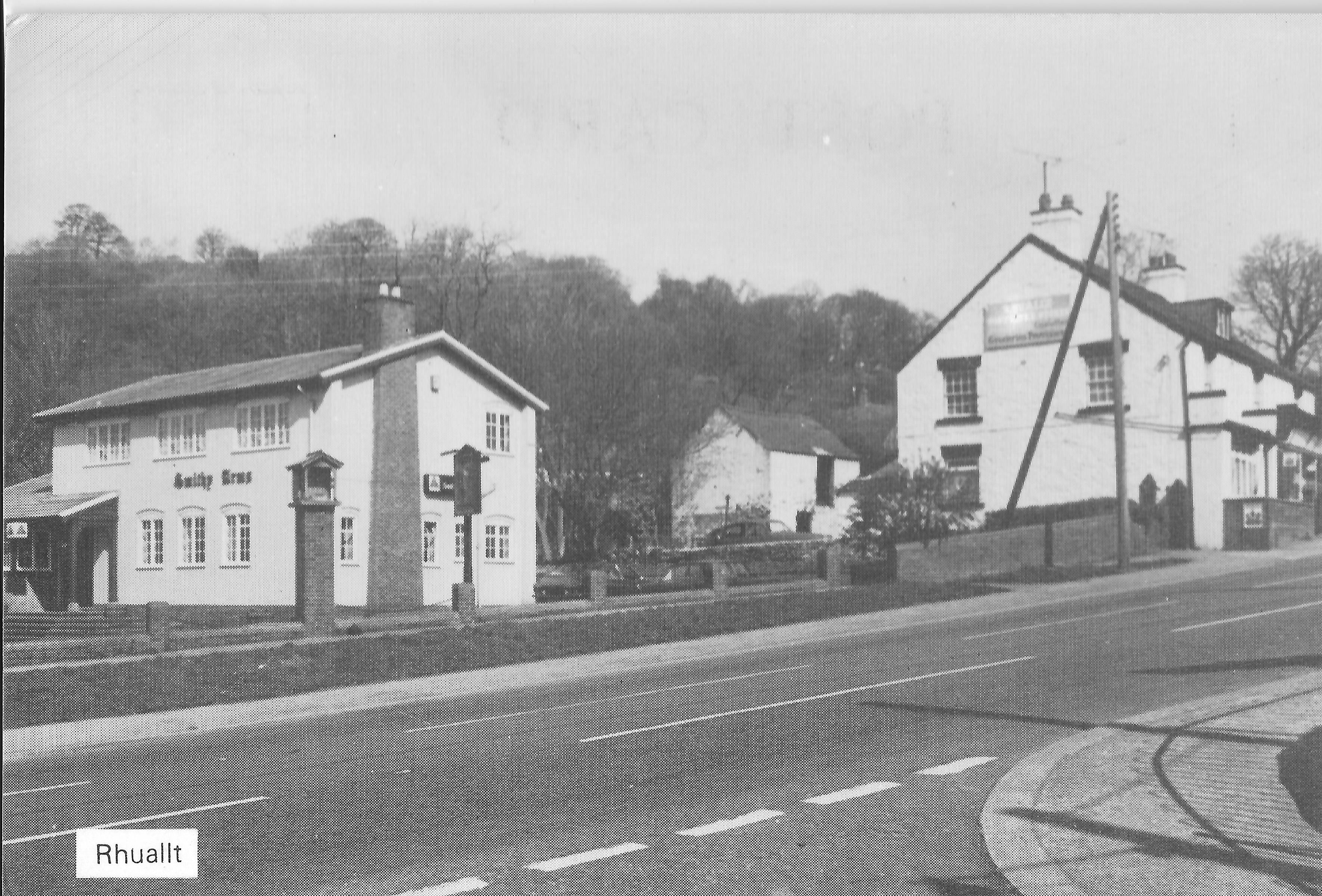 The postcard has no publisher details, and is continental-size c4"x6".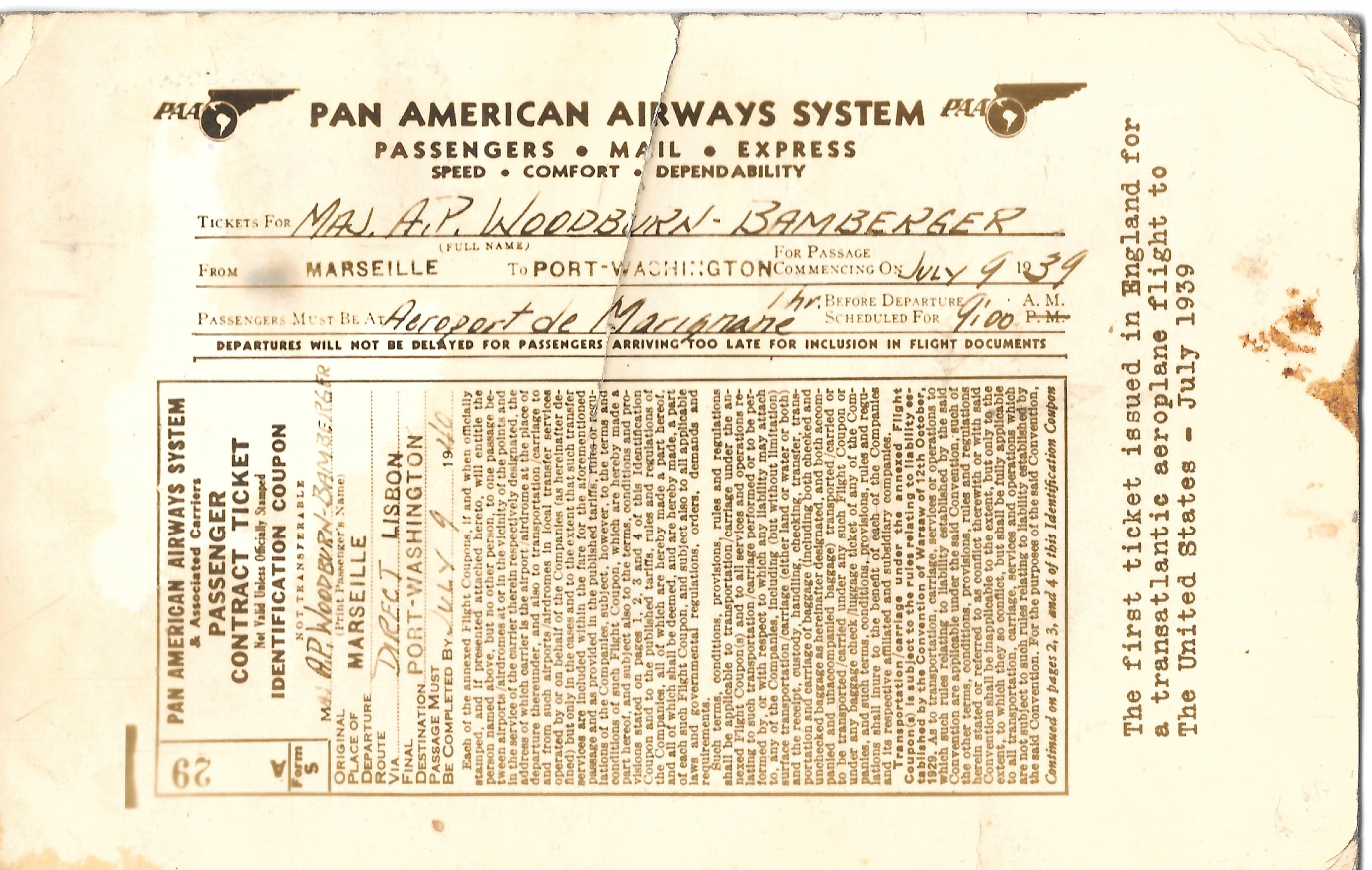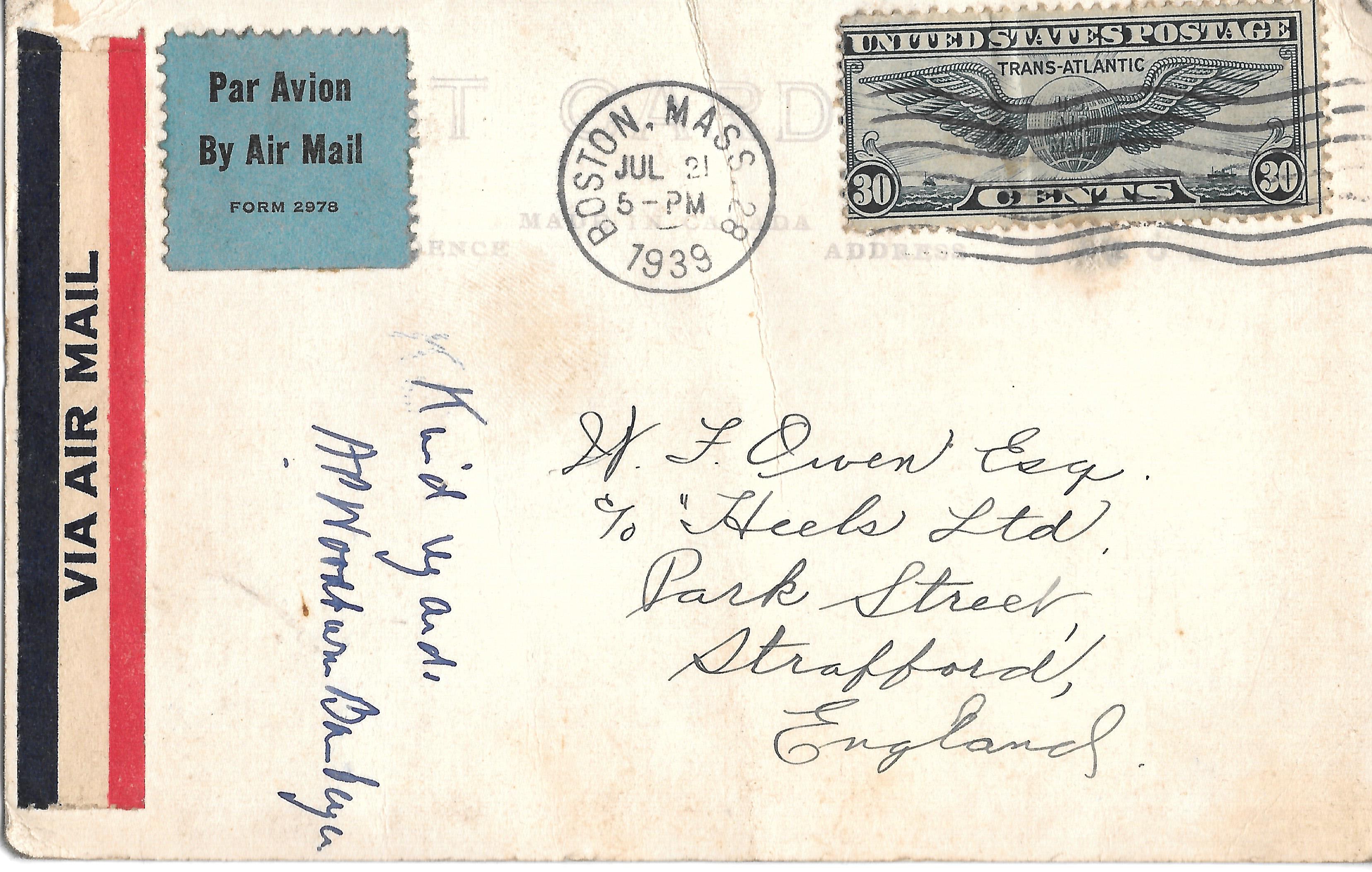 These images are the front and back of a card which has a copy of "The first ticket issued in England for a transatlantic aeroplane flight to the United States – July 1939"
"Pan American Airways System and Associated Carriers. Passenger Contract Ticket. Not Valid Unless Officially Stamped. Identification Coupon. Not Transferable."
It was issued to "Maj. A.P. Woodburn-Bamberger. From Marseille to Port Washington. Commencing on July 9 th 1939. Passage must be completed by July 9th 1940. Departures will not be delayed for passengers arriving too late for inclusion in flight documents."
The card was posted from Boston Massachusetts on 21st July 1939, via Air Mail, to an address in Stafford, England. It has a United States Postage Trans Atlantic 30-cent stamp, and a facsimile? signature of the passenger to the left of the address.
~~~~~~~~~~~~~~~~~~~~~~~~~~~~
We look forward to seeing you at the February Meeting.
Happy Valentine's Day!
Karlyn
Club Bulletin January 2022
We are sorry to tell you that the meeting scheduled for Wednesday, 12th January has been cancelled. Those members who replied to the recent email, which described the regulations in place at Craig-y-Don Community Centre, told us that they did not feel that they could risk being with others indoors at the moment, because of the rising numbers of infections. We will keep you informed of any further changes. Marion and Karlyn.
A New Year message from Marion.
To all the members of North Wales Postcard Club, I wish you a healthy and prosperous New Year. Here's hoping 2022 will bring an end to Covid and we are able to continue meeting and enjoying our hobby.
~~~~~~~~~~~~~~~~~~~~~~~~~~~~~~~~~~~~~
Ken has not been well enough to come to the meetings, but he sends his best wishes for 2022 to everyone, and hopes to be able to join us again soon.
I spoke to Elizabeth this week, and she sends her good wishes to all the members for 2022, and hopes to attend the meetings later in the year.
~~~~~~~~~~~~~~~~~~~~~~~~~~~~~~~~~
Marion has sent a card which illustrates an old Welsh tradition for this time of year:-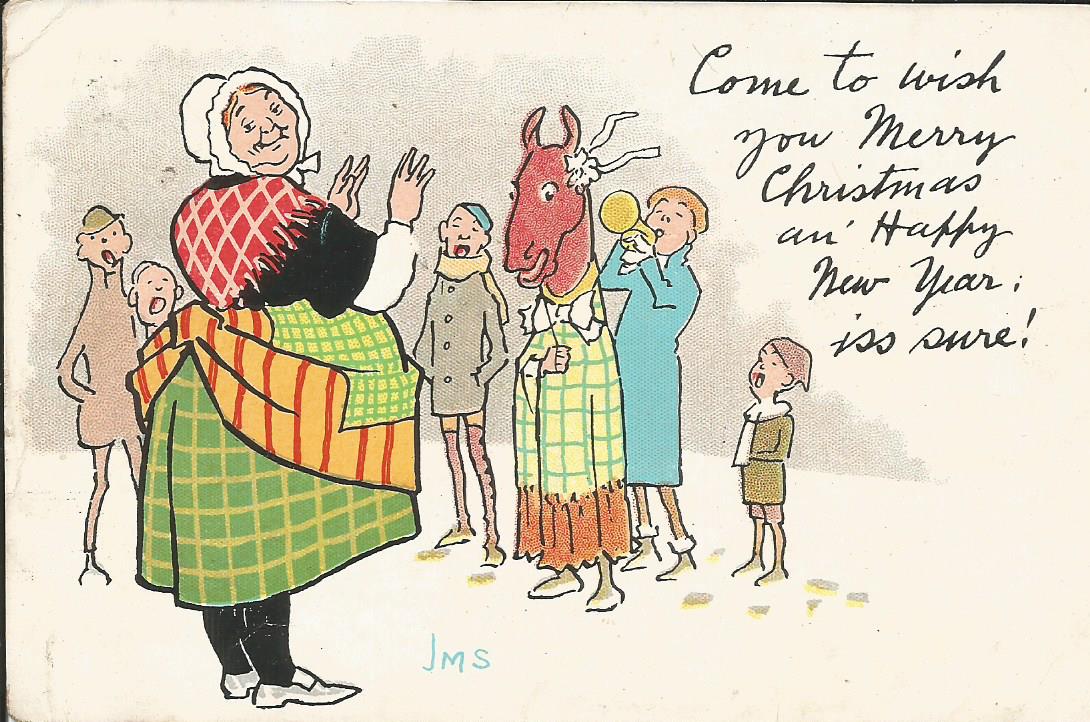 MARI LWYD
Mari Lwyd is a grey mare who joined in Wassailing in the period between Christmas and New Year. He travelled round the village singing in the Welsh language, exchanging rude rhymes with the person he was visiting. It was said that if Mari gained entry to the house there would be good luck for a year. Mari was known to be mischievous even trying to steal things and chasing people he liked. It is first recorded in 1800 but was criticised by the non-Conformists for his bad behaviour. Because of this the tradition slowly died out. Now it only takes place in a few villages.
Thank you Marion.
~~~~~~~~~~~~~~~~~~~~~~~~~~~~~~~~~
Fairs.
Colwyn Bay Fair.
I have spoken to Steve Chapman today, Monday 3rd, and he tells me that the fair will be held on Saturday, 8th January, at the Bryn Cadno Community Centre, Upper Colwyn Bay. LL29 6DW. 9.30am-3pm. For the latest information, phone Steve on 01745-826434.
The phone number for the Centre is 01492-532602;
www.facebook.com/colwynheights
website www.cadnobryn.wix.com/bryn-cadno-centre
Our meeting in December was enjoyable, though attendance was down because of the virus and bad weather. Several dealer-members had brought cards for us to browse through
We congratulated Marion and Walter on their Golden Wedding Anniversary which had been on the Saturday before, and there was some anniversary cake for all those present at the meeting. The couple had asked for donations to Ty Gobaith, the Children's hospice, in lieu of gifts for themselves – a lovely idea!
The theme of the 2-minute talks was "Bring a card or an object which takes you back to your childhood Christmases", and 5 members took part.
Marion showed a recent book of Cicely Mary Barker postcards which brought back memories of a well-loved flower-fairy book which she had received in her Christmas stocking, and a card advertising a Bayko building-set, a present which she had shared with her brother.
Lynne had kept a lovely 'Avon' Honeysuckle skin cream pot, which she was given as a Christmas gift when she was 6 years old. She said that she could still smell the perfume.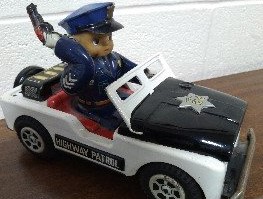 Keith's elder brother, Jack, was on a tour of duty in Germany in 1962, and he had sent this toy police car to Keith for Christmas when he was 8 years old.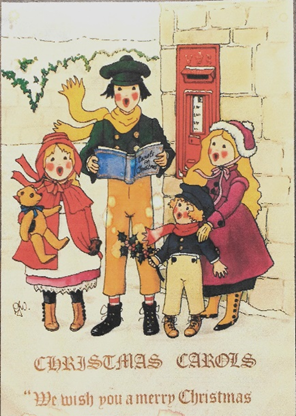 This card brought back fond memories of Christmas to me. I was a member of the church choir for several years, and at Christmas, under the direction of choir-mistress, Miss Nora Pemberton, we went carolling around the village, collecting funds for the church. Our last stop was always the Manor House, where hot drinks and mince pies awaited us.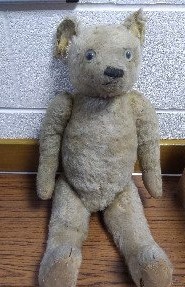 Walter's item brought the biggest reaction of the evening. He had a large bag, and we couldn't see what was inside, but when he revealed his gorgeous teddy we were all touched by the fact that he had been given it when he was just few weeks old. Walter and teddy are still good friends after all those years.
Thanks to everyone who took part. K
. ~~~~~~~~~~~~~~~~~~~~~~~~~~~~~~~~~~~~~~~~~~~~~~~~~~~~
Can you help? John from Ruthin would like to know when and why the "Patronised by Royalty" award was given to Owens & Sons, Purveyors of Meat, of 9 Water St and 51A High Street, Rhyl. The card was posted in May 1908, which gives us an end-date. The nearest Royal visit was in 1902, when Prince George and Princess Mary came to Rhyl to open the Alexandra Hospital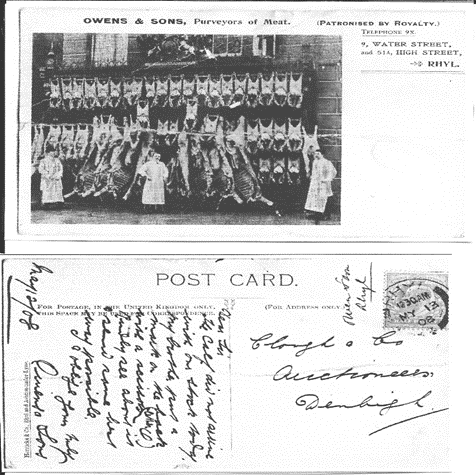 William Ewart Gladstone and Sir Edward Burne-Jones.
Burne-Jones was leading light in the Arts and Crafts and Pre-Raphaelite art movements, and a close associate of William Morris. His art works are wonderfully rich in colour and detail. Gladstone created the Baronetcy of Rottingdean for him on 4th May, 1894.
William Ewart Gladstone was born at 62, Rodney Street, Liverpool on 29th December, 1809. His father was Scottish.
William was educated at Eton and Oxford. He was elected to Parliament in 1832 and his official Maiden Speech was on 3rd June, 1833. It was in defence of his father who had been accused in Parliament of working slaves to death on his West Indies' sugar plantations, during a debate on the emancipation of slaves.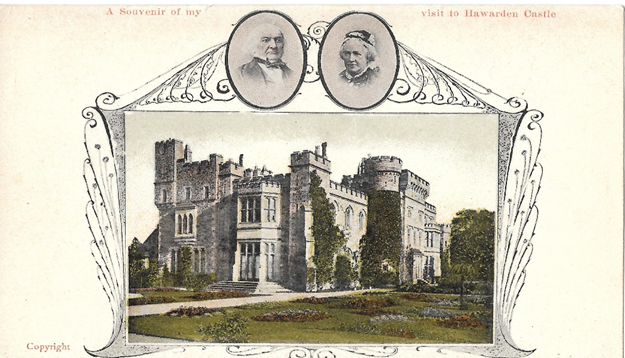 This card is published by J.H. Worley, Stationer, Hawarden,
"A Souvenir of my visit to Hawarden Castle."
Gladstone lived at Hawarden Castle following his marriage to Catherine Glynne on July 25th, 1839, in a double wedding with her younger sister, Mary, and Lord Lyttelton. William and Catherine had 8 children, one of whom, Catherine Jessy, sadly died at the age of 4, on April 9th, 1850. William was a good father, well loved by his children and grand-children. The couple celebrated their Golden Wedding anniversary in 1889, and the fountain which was unveiled on Gladstone's 81st birthday, stands in the middle of the village, and commemorates that occasion.
Catherine was well known for her philanthropic acts which included establishing an orphanage in the village. Her great compassion was shown when, just 5 days after she had lost her own husband, she visited a lady whose husband had been killed in a local pit the day before.
After a remarkable life, which included 4 terms as Prime Minister, William passed away at 5am on Thursday, 19th May 1898.The church bell announced the news to the village and this notice was posted:- "In the natural course of things the funeral will be at Hawarden. Mr Gladstone expressed a strong wish to have no flowers at his funeral: and the family will be grateful if this desire is strictly respected". However, Mr. Balfour asked the Queen to grant the honour of a public funeral for Gladstone. His body lay in the house, on a couch in the library, the 'Temple of Peace' and the estate tenants and neighbours came to offer their condolences. On 25th May, at 6am, his body was taken in a plain coffin to the church, where it lay in state during the day. It was visited by thousands of people from the local area and beyond.
At 6pm, the coffin was taken to Broughton Hall station by a procession, along roads which people had lined to pay their respects. At the station, the coffin was placed in a funeral carriage on a special train. Mourning crowds gathered at the stations along the route to London, where, on arrival, the coffin was transferred to a hearse and placed in Westminster Hall at 1am. At 3am, a service was held for two of Gladstone's sons, Henry and Herbert, who had accompanied the coffin on its journey south. The service was attended by some Members of the House of Commons. Over the next few days over 200,000 people came to honour the Grand Old Man. On Saturday, May 28th , at 10.30am, the funeral cortege moved from Westminster Hall to the Abbey for the service. When Catherine and the family arrived, in a rare tribute, the entire congregation stood and remained standing until she was seated, near to the coffin.
The service was a simple one, in accordance with the family's wishes, and afterwards, Gladstone was laid to rest in Statesmen's Corner in the Abbey, near to his old adversary, Benjamin Disraeli, Lord Beaconsfield. A small gold Armenian cross was placed in the coffin just before it was sealed, to recognise the support that Gladstone had given to that nation.
Hawarden church was an important place for the Gladstone family, and they attended regularly. William had his own seat, and read the lessons at the morning service whenever possible. In 1896, the children commissioned Burne-Jones to design the Great West Window as a thank-offering for the long and blessed life of their parents. It was to be his last completed work.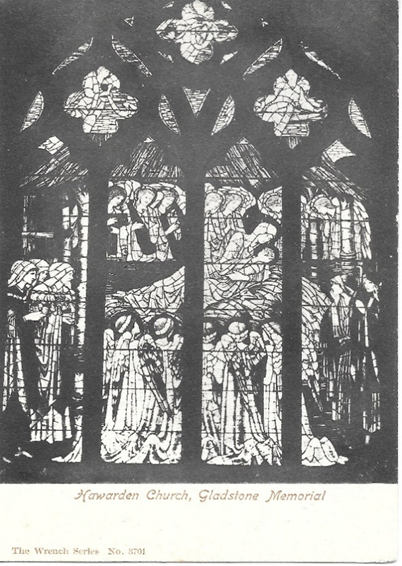 Wrench series No 3701. Hawarden Church, Gladstone Memorial.
Sadly, the window wasn't placed in the church until May 30th, 1898, 11 days after Gladstone's death, and Burne-Jones died 2 weeks before it was in place. The window depicts the Nativity, and is unusual in that the picture crosses the lines of the mullions as though they aren't there. In the central two panels is the Virgin Mary in blue robes, in the stable, with the baby in her arms. Angels gaze down at the child from the background.
The Wise Men with their gifts are to the left, and the shepherds are to the right. At the front of the picture, kneeling before the mother and child, are angels in long white robes, with wreaths around their heads, and their blue wings folded, in a pose of worship. The dominant colours are blue and white.
Other Gladstone family memorials in the church include a window given by the Anglo-Armenian Society in 1896, and designed by Edward Frampton, "In memory of the martyrs and other sufferers in the late massacres, and in grateful remembrance of British sympathy, and in particular of Mr. Gladstone's noble efforts on their behalf"
On the wall near the pulpit is a marble tablet containing the words of the Revd. Toplady's hymn 'Rock of Ages', together with Gladstone's Latin translation of it from 1848. The tablet was placed in his memory in 1899 by his grandchildren.
This card is published by W. Bell Jones, Post office, Hawarden. No 1004/5
On the east side of the north aisle is the Gladstone Memorial Chapel, which houses a beautiful sculpture. It was given by their son Henry Neville, as the tablet on the north wall explains:-
"To the Glory of God and in reverent and loving memory of William Ewart Gladstone and of Catherine, his wife. This shrine has been built and this Monument placed within the Church where they worshipped in the home that they loved, by their son, Henry Neville Gladstone, July 28th, 1906. " Catherine had passed away on 14th June, 1900.
The chapel once housed the church organ, but it was moved at the expense of Henry Neville Gladstone, so that the space could be used for the monument, there being no grave, as both William and Catherine are at rest in Westminster Abbey.
The sculpture, which was by Sir William Richmond, shows Mr. and Mrs. Gladstone in the boat of life, watched over by the figure of "The Angel of Victory over Death", which forms the 'prow' of the boat. It is a beautiful and moving image. There are many references to their life and interests on and around the memorial, such as the large Crucifix which lies between them, an Owl for wisdom, 4 poets and the 4 Patron Saints of the UK. Also represented is the motherhood of Catherine – not only to her own children but to all the poor, and those in need of kindness.
The figures of the Gladstones and that of the angel are made of white Carrera marble. The base is in various marbles, with silvered bronze panels.
Other windows by Burne-Jones are The Angels of Paradise, a memorial to W.H. Gladstone, from his family in 1908.
A memorial to Mary, daughter of Sir Stephen Glynne, and wife of Lord Lyttelton, commissioned by her sons and daughters. It depicts angels with musical instruments.
The East window depicts the Crucifixion and is a memorial to Mrs Gladstone's father, Sir Stephen Glynne. It was made by Morris & Co, to Burne-Jones' designs, and put in place in 1907, a gift from Mrs Drew, Sir Stephen's grand-daughter.
His lasting legacy in the village is St. Deiniol's Library, begun in 1894, which was originally formed from Gladstone's own collection of 30,000 books on Humanity and Divinity, housed in a corrugated iron building in the village. It is now a large residential library, housed in red brick buildings most of which were designed by Douglas & Minshull, architects, of Chester.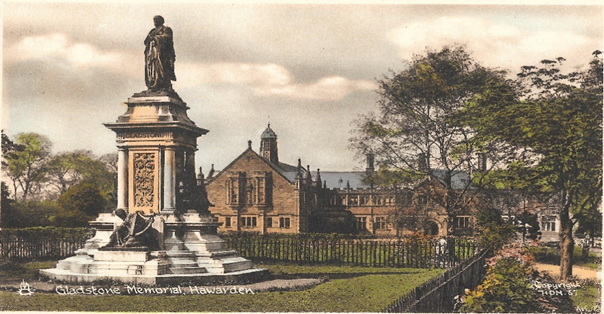 Tuck card HDN 67. Gladstone Memorial, Hawarden. The buildings at the back are part of St. Deiniol's Library.
The memorial has an Irish harp at the front of the base, because the Gladstone National Memorial Committee commissioned 3 statues, one each for London, Edinburgh and Dublin. Dublin rejected theirs because of the unrest in the country, even though its sculptor, John Hughes, was from that city. It was placed here instead, in 1925.
It is remarkable that Gladstone died in 1898, when postcards were in their infancy in this country. He had embraced their use straight away when they were introduced to the U.K. in 1894. Most of the cards in the Hawarden collection are from the 20th Century, because people flocked to the village to see the place where the G.O.M. had lived, and the local publishers continued to produce postcards for some years after his death.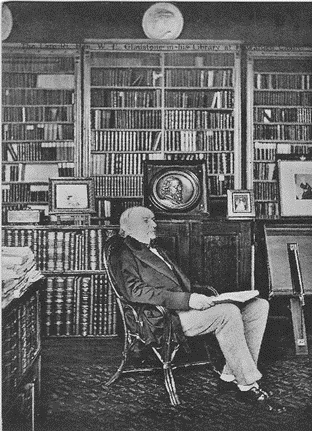 The Late Rt. Hon. W.E. Gladstone in his Library at Hawarden Castle.
The Castle has been open to the public on very few occasions, but we were privileged to be able to visit it some years ago. Unknown to me, Bruce had contacted Sir William Gladstone and told him about our Hawarden collection. He asked us to come to the Castle, so that he could look through the cards. We were taken into the 'Temple of Peace', and it really felt as though W.E. Gladstone had just left, and was expected back at any moment, as the room seemed to be just as it is in the old postcard views.
Sir William was interested in the postcards, but for him, it was almost a 'family album', as he recognised many of his relatives and friends in the pictures, which brought the collection to life for us. Sir William, who was the great-grandson of W.E.G.,was born in 1925, and, sadly, passed away on 29th March 2018. The funeral, which was open to everyone, was at St Deiniol's church on 13th April, with a reception at the Castle afterwards. The collection was for the Clwyd Special Riding Centre. He had served in the Royal Navy in WW2, became a teacher, and headmaster at Lancing, was Chief Scout from 1972-82. and Lord Lieutenant of Clwyd 1985-2000. Sir William was also a talented artist, and one of his paintings is part of our Hawarden collection.
For more on the interesting life of Sir William, go to:- Sir William Gladstone, 1925 - 2018 (gladstoneslibrary.org)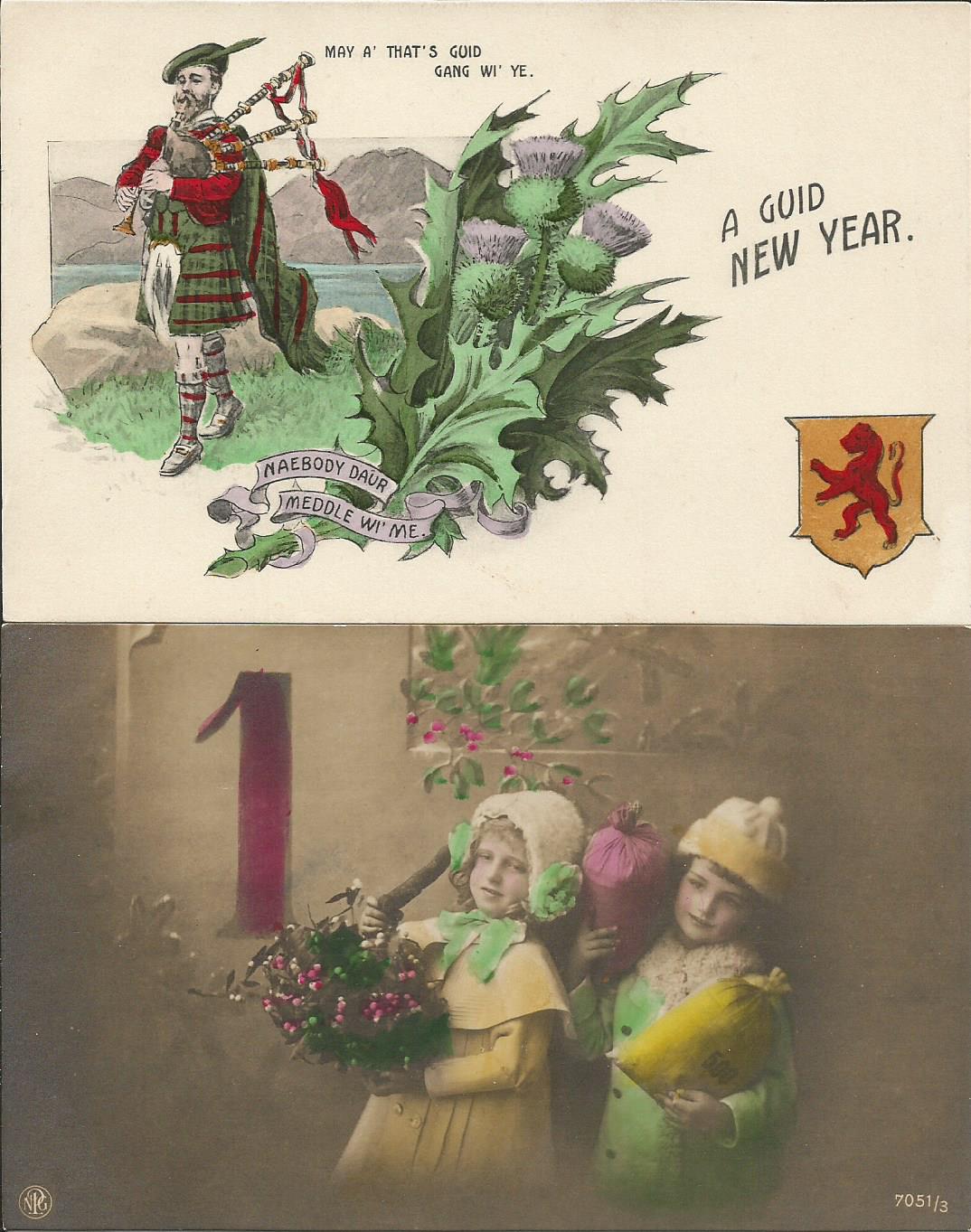 Here are two New Year cards from Marion, to complete this bulletin.
May I wish you all a happy and healthy 2022.
Karlyn
Club Bulletins from 2021
----------------------------------------------------------------------------------------------------------------------------------------------------
Club Bulletin July, 2021.
Hello everyone!
I trust that you are keeping well, and enjoying the better weather. Congratulations to the Wales football team for reaching the last 16 in the Euros. I discovered that their goal-keeper Danny Ward went to Hawarden High School, as did I [but about 45 years earlier!]…..Michael Owen was also a pupil there…. Here's a card from my collection, to celebrate 4th July. It's one of a set of 12 art-nouveau cards, originally published by the American 'Johnston-Ayres Company', in 1911. The artist is Aenz, and each design includes the month's flower, gemstone, astrological sign and symbol. My set is probably a reprint, as all the cards are very crisp, and in perfect condition, but they don't feel quite right for cards which should be over 100 years old, but I love the designs, whatever the age of the cards.
News.
Club Meetings – disappointing news – help needed to find a new venue.
Marion writes:- Craig y Don Community Centre have contacted us to say that in future we will not be able to hold meetings in the nursery. As they have no other rooms available we will have to look for other accommodation. We are looking for something along the North Wales Coast preferably between Penmaenmawr and Colwyn Bay as that area is accessible to all our members. We need a room large enough for 30 people plus enough extra room for dealers and the display. It also would be better if there is a kitchen area - or bar - so we can have drinks. Obviously we will not be able to meet until the restrictions are eased but it would be helpful to have some ideas for later in the year. Do please let Karlyn or Marion know if you have any suggestions who we could approach.
Marion is trying to secure the CYD for the fair on 20th August 2022…..updates when we have them.
Colwyn Bay fair….a message from Steve Chapman. The July fair has sadly had to be cancelled as the school will not allow us in and I can't find another suitable venue. If restrictions are eased I will try for September.
Kind regards
Steve
Marion has sent two gorgeous cards for us to enjoy:
They are from a rare Tuck set, 9804, by Mabel Lucie Attwell entitled "What the Moon Saw". The Tuck data base tells us that they were listed in Tuck's Travelogue in 1905, and were perhaps made for the USA. They are a recent addition to Marion's wonderful collection of children's cards. It's good to see cards from areas or subjects different from those which we ourselves collect, as I'm sure we don't often have the time to look through random sections of dealers' stocks at fairs. Thank you Marion
The results of some research from the coaching item in last month's bulletin:-
When I wrote the bulletin, I had been unable to find any of the J. Fred Francis coaching cards, but one appeared recently. It's the usual view on the Pass, but it's an advertising card for the company. The card was published by Horrocks & Co., Rhyl and Ashton-under-Lyne, and the photo is by Burrow, of Cheltenham - the name appears in the lower right-hand corner of the photo. The card is not dated.
While I was writing about this card, Barbara had sent me this fabulous view, which shows the coaches outside the
Woodland Mews premises in Conway Rd, Colwyn Bay.
The Woodland Mews was located to the west of Station Rd, and opposite to the North and South Wales Bank Ltd., now the HSBC bank, which is on the corner with Woodland Rd West [ the old bank sign can still be seen on the wall ]
The card is an undivided-back view, number 17647 by Stengel & Co., London E.C., 39 Redcross Street. It is undated but will be c1902
Barbara also sent these wonderful adverts for the firm…
Thank you for all your help with this, Barbara!
I found the description of the plans for their new stables in Conway Road, in the Weekly News and Visitors' Chronicle for Colwyn Bay [WNVC] for 7th December, 1901, so I decided to have a look at that paper in the on-line newspaper archives at the National Library of Wales, for the years around that date, to see if I could discover any information about J. Fred Francis, so here are some of the things I found….
Before J. Fred Francis took over the firm, c1901, it was owned by Edwin Jones of Glas Coed, Victoria Park, Colwyn Bay, and the Woodland Livery Stables. Both men were pillars of the community, and well respected for their good works in the town. The date for the changeover seems to be between 9/11/00 and 1/2/01, as the adverts in the paper change from 'Edwin Jones' to 'J. Fred Francis, Successor to Edwin Jones' during that time
An advert for Edwin Jones' firm tells us:- 'Funerals furnished with the new patent glass-side hearse and closed carriages. Grand Coach Tours: Tour No.1 To and from Bettws-y-Coed; Tour No.2 To and from St. Asaph; Tour No.3 Grand Circular Tour. For particulars, see Edwin Jones' Coaching Guide, Livery Stables, Colwyn Bay.'
WNVC 13th April, 1894: There was no place in the kingdom that would come up to Colwyn Bay in the quality, smartness and style of Mr. Edwin Jones' horses and carriages and that he knew of no-one who had done more in making Colwyn Bay attractive to visitors than the enterprising and always cheerful Edwin Jones. He wished him further and greater success in the future than ever in the past. He was just the man…that the Prince of Wales would like to confer Knighthood upon.
WNVC 12th October, 1894. The Welsh Congregational Sunday School Trip to St. Asaph was this year on Monday 24th September. Edwin Jones, with his usual kindness, supplied the conveyances.
WNVC 5th July, 1895. The Groes yn Eirias bridge opened for traffic. Councillors and the County Surveyor assembled at the The Mews and went on "Ye Olde Times" coach for the bridge. The Chairman formally declared the bridge open, and Edwin Jones drove the coach across to Old Colwyn and back to Colwyn Bay. His four first-class horses evoked much admiration.
WNVC 26th June, 1896. St. Paul's Welsh Choir given their annual trip by Edwin Jones, upon one of his coaches, on Thursday June 18th, to Rhyl and St. Asaph.
WNVC 20th August, 1896: Edwin's coach 'Ye Old Times' took Prince Ademuyiwa on a trip during his visit to Colwyn Bay to show his approval of the Congo African Students' Training Institute, which had been founded by the Rev W, Hughes.
WNVC 23rd April 1897: Edwin Jones is described as a 'veteran coach proprietor'
WNVC 31st March, 1899: An advert for Edwin Jones of the Mews. Colwyn Bay.
WNVC 5th May, 1899: Denbigh May-day festivities. Edwin won 1st prize for 4-in-hand.
WNVC 8th September, 1899: Edwin is described as 'The Coaching King'.
WNVC 23rd February, 1900: Edwin Jones and Mr Byrne helped a deaf and dumb boy to go to a special school by paying for his clothing.
WNVC 15th June, 1900: Mourning coaches supplied by Edwin Jones.
WNVC 3rd August, 1900: Mr. Edwin Jones's coaches. It would be impossible to over-state the good work done for Colwyn Bay by Mr. Edwin Jones in establishing his excellent and now widely-known coaching service. Year after year these coaches have helped to give added popularity for Colwyn Bay, not only as a healthful resort, but as an ideal centre for excursions.
WNVC 5th April 1901. The excellent coaching service established by Mr Edwin Jones, and recently taken over by Mr J. Fred Francis of the Mews, has contributed very largely to the success and popularity which this favourite resort deservedly enjoys.
WNVC 19th April, 1901: New buildings were approved for the house and stables in Conway Rd., opposite Brickfields, for Mr J. Fred Francis.
WNVC 19th April, 1901: Fire – False Alarm. Shortly after 8.30, the alarm was raised and the fire-bell rung. Captain Tom Roberts and the Fire brigade turned out in record time. Not only were the brigade exceedingly smart, but the horses supplied by Mr. J. Fred Francis were harnessed with remarkable despatch and soon were galloping with the engine in the direction of the supposed fire. They were followed by hundreds of people, all in a state of apprehension and alarm to the house in Brackley Ave, but the Brigade was not required. The fire was caused by packing materials used in furniture removals catching fire, and had been quickly put out.
WNVC 31st May, 1901: May Day Festivities. Mr J. Fred Francis was thanked for entering so many carriages in the procession, to further the success of the show.
WNVC 31st May 1901: Old Colwyn Horse Show – 1 st Annual Exhibition- a revival of an old institution. Mr J. Fred Francis was involved.
WNVC 2nd August, 1901: Colwyn Bay Amateur Swimming Club, Exhibition. The judges were Mr. E.T. Owen of Station Rd and Mr J. Fred Francis, The Mews.
WNVC 4th October, 1901: Fire at Mochdre, near the White Horse Inn. Firemen quickly harnessed their splendid steam fire engine to two magnificent and speedy horses, which J. Fred Francis always keeps at the mews in readiness for such emergencies.
WNVC 4th October, 1901: A driver and outside porter in the employ of Mr. J. Fred Francis were jointly charged with stealing a half-sack of horse fodder, the property of Mr Francis. They pleaded guilty and were each fined £3-9-6d., including costs. Mr Francis said that he would continue to employ one of the men, and did not want them to be severely punished.
WNVC 10th January, 1902: A Billiard Tournament was held at the Constitutional Club, at which Mr Francis was present.
WNVC 31st. January, 1902: …wedding carriages were supplied by J. Fred Francis.
WNVC 21st March, 1902: A verandah for Mr. J. Fred Francis on Conway Road, was approved.
WNVC 28th March, 1902: At the first quarterly meeting of the Colwyn Bay Mutual Benefit Society, the Chairman was the President, J. Fred Francis. They had 103 members and £51.7.11d in funds.
WNVC 28th March, 1902: At the District Council Elections at Colwyn Bay, amongst the nominees was J. Fred Francis.
WNVC 9th May, 1902. The carriage for the May Queen, Madge, was provided by J. Fred Francis. There were 4 horses and 2 postillions in full costume, and the carriage was festooned in flowers, ….
WNVC 16th May, 1902. "I see from a neat little guide supplied at the Mews, that Mr. J. Fred Francis will, this season, as formerly, run 5 tours in addition to the one under notice, the principal of course being the loop tour of 56 miles, embracing all that is best in Welsh mountain, lake and coast scenery. The four other drives are also highly interesting and I would advise visitors at Colwyn Bay to see Mr. Francis's Coaching Guide before making any definite plans".
WNVC 15th August, 1902: The swimming gala was held in the Bay opposite the station, by the Coronation Festivities Committee, and it was started by J. Fred Francis.
WNVC 15th August, 1902: Mr. & Mrs Edwin Jones have returned to Glas Coed, Victoria Park after a stay of some months in the Vale of Clwyd. He had had an accident at Ruthin Castle when riding a spirited horse which he was showing to Colonel and Mrs Cornwallis West.
WNVC 20th August 1902: At a garden party and sale of work for St. Paul's on 17th, Edwin Jones gave a pony for the sale. It was a 5 year old bay, and was won by Mrs T. Rees, 40, Grange Mount, Birkenhead.
WNVC 24th October, 1902: J. Fred Francis donated 18 shillings to the Colwyn Bay Jubilee Cottage Hospital Fund, Hospital Saturday.
WNVC 7th November, 1902: The Colwyn bay Fire Brigade under Captain Thos. Roberts drove to Colwyn Bay on Saturday and engaged in a practice drill in which the thorough efficiency of the men and the completeness of the appliances were plainly evident. The horses, supplied by J. Fred Francis were driven by Mr. W,R. Owen.
WNVC 17th April 1903: Although the weather here was cold during Eastertide, the well appointed coaches of Mr. J.F. Francis were kept busy. Visitors describe the tours as 'exceeding interesting and pleasant'
WNVC 28th December 1906: Edwin Jones was meeting a train when he slipped and fell on the steps, and sustained nasty cuts on his head. He is making excellent progress after being attended to by Dr. Pryce Morris. A lady had come to help him, but he didn't know her, so he has asked her to call at Glas Coed, his home, so that he can thank her.
If you would like to read the description of the plans from the newspaper, it is reproduced on the website of the Manchester Victorian Architects, many of whom designed buildings in North Wales
https://www.manchestervictorianarchitects.org.uk/buildings/stables
Another lovely article, in the WNVC for 16th May,1902, entitled "Coaching in North Wales", gives a description of one of Francis's tours from Colwyn Bay to Trefriw and Bettws-y-Coed. This is from the introduction:-
"The visitor who desires to see and enjoy must travel by coach. As far as our district is concerned there are no coaches equal to those of J. Fred Francis of the Mews. It is well-known that Mr Francis, like his predecessor, Mr. Edwin Jones, is most careful in his selection of horses and vehicles and in these respects, Colwyn Bay scores by the side of London and Brighton, the greatest coaching centres in Great Britain.
It is the intention of Mr Francis to "put on" a new tour this season, a drive from Colwyn Bay to Bettws-y-Coed via Trefriw, through one of the loveliest districts in North Wales. In company with Mr. Francis and a party of influential gentlemen who readily accepted his kind invitation, I had the pleasure of making a journey on "The Tourist" and some impressions of the drive may interest the numerous readers of the Weekly News.
On the box was seated the stalwart figure of the coachman, William Jones, who we learnt is thoroughly familiar with our proposed route, over which he has driven ever since 1891, and not only did he prove a most capable driver tooling his team with great skill, but also a most entertaining guide, able to point out all the objects of interest we passed, and to relate some acceptable bits of gossip connected with them." The writer goes on to describe in detail the wonderful journey.
-------------------
Barbara tells me that J. Fred Francis's main claim to fame was being the first to introduce the motorised charabanc to Colwyn Bay whilst still running his horse-drawn carriages!
In a later advert," J. Fred Francis and Sons Ltd., [Telephone No. 1 and No. 1a] offered Tours in the Mountains by Grey de Luxe motor coaches, daily from Penrhyn Road office. Particulars and prices on application. Any make of car supplied, touring card and taxis on Hire. Engineering and Coach Building; Shoeing Smiths; Saddle horses, coaches, carriages. New building July 1920, Garage for 100 cars. Petrol and Benzol storage tanks. Engine Oil, tyres and accessories; Fully equipped repair shops.", so the firm had expanded considerably over the previous 20 years.
There is an abundance of information about the motor coaches in North Wales in the archive of the 'Commercial Motor' magazine, at this website. archive.commercialmotor.com
A few snippets from it:
17th August, 1920, J. Fred Francis had the first pneumatic-tyred coach in Wales – it was a Leyland char-a-banc.
By 1922, a report in the Commercial Vehicle Archive states that " The most progressive motor coach owners in Colwyn Bay are J. Fred Francis and Sons Ltd, who operate the "Grey de Luxe" coaches ….
29th April 1924, J. Fred Francis had 4 motor coaches and was trialling a semi-open version, where the front part was open, and the back part enclosed. He was then operating a local bus service in conjunction with the Royal Blue motors of Llandudno. There were also full-day tours, e.g. Moor and Mountain for 21/- , and half-day tours, e.g. Fairy Glen & Dolwyddelan.
I have not yet been able to discover when the J. Fred Francis coach firm finished, so if anyone can let me know, I will put the information in a future bulletin. There is a building on the Mews site, but the front looks as though it has been rebuilt…there is a date on the water pipes of ?1911.
==================================================================================
Our members, Jack and Lyn Jones, who belong to the "Talacre Now and Then Project" , sent these pictures:-
Jack writes:-
These are 3 digital pictures from the film made by Dextra Visual(they have a site on youtube(well worth a look),and also the film is on youtube(type,,'spitfire training over Talacre' and you should find it.)The coloured postcard shows the brick houses that the spitfire is flying over.Enjoy
Thanks, Jack & Lyn….it's good to have something from your village….
Stay safe all…. best wishes, Karlyn
Club Bulletin August 2021.
Hello everyone! I'm glad that the heatwave is over for now…20C is plenty for me, but I know that many people do enjoy the high temperatures. Congratulations to the England football team which held Italy to penalties in the Euros' Final. Good luck to the GB team in Tokyo, which has 27 Welsh athletes in the squad.
News.
Llandudno Fair.
We haven't yet had a written confirmation for our Fair at Craig-y-Don on August 20th, 2022. We will let you know when it arrives, but do pencil in the fair on your 2022 calendar.
NWPCC meetings.
I'm sorry, but we have not yet been able to find an alternative room for our meetings, mainly because many of the possible venues are closed, or they have no staff to answer enquiries. If anyone has any ideas for a new meeting room, please let us know. 'Thank you' to those who have sent information already.
Colwyn Bay Fair.
I had a message from Steve, the organizer, and he regrets that he has not found a suitable alternative to Eirias Park School for his fairs, but I said that we were hoping that they would be back soon
. ~~~~~~~~~~~~~~~~~~~~~~~~~~~~~~~~~~~~~~~~~~~~~~~~~~~~~~~~~~~~~~~~~~~~~~~~~~~~~~~~~~~~~~~~~~~~~~~
John from Ruthin sent these pictures for us, following the item on J. Fred Francis last time – Thank you, John!
This is a lovely picture – I wonder what has caught the horses' attention…
Jump on, and take a ride in this wonderful vehicle!....even the dog has been included in the trip.
John also provided us with a mystery card, which, he said, showed a village P.O. on the right, probably somewhere in North Wales .There is no title to the picture and no publisher, nor any other information. While the Euros' football final was on tv, I looked through a box of Welsh P.O. cards, and found a match. It's Nantglyn village, 4 miles south-west of Denbigh town. My card shows the view in the opposite direction, but I checked on the internet, and it's the same village. The phone box is still there, but the shop is a private house now, and there is no P.O. in the village…
In the 1920s, the population of the village was c260, but over the centuries, it has produced several people of note, including David Samwell, the vicar's son, 1751-98, who became a naval Surgeon and served on Captain Cook's ships. He was also a poet and diarist, and a supporter of Welsh life and traditions. He had a most interesting life.
For more information about him, see:- Dictionary of Welsh Biography
My card has a stamp commemorating the 20th International Geographical Congress, which was held in London in July 1964,
but the cancellation is not clear enough to read. The photo is by P.S. Chappell. ~~~~~~~~~~~~~~~~~~~~~~~~~~~~~~~~~~~~~~~~~~~~~~~~~~~~~~~~~~~~~~~~~~~~~~~~
Marion has sent us her article about
G.P. Abraham, photographer and postcard publisher, of Keswick, Cumbria.
You may wonder why a photographer from the Lake District has anything to do with Wales but this company did indeed produce a few postcards showing our area.
The firm was founded by George Perry Abraham when he was 22 years old. He was a hard-working photographer who took snapshots of tourists as they walked down to Derwentwater in Keswick. He also walked many miles to photograph the scenery of the area. His sons Ashley and George Dixon joined the firm and claimed that they had produced the first postcard in the UK. As their first card was not available until 1903 this claim was obviously false. They were mountaineers who climbed peaks in the Alps, Wales Scotland and of course the Lake District. They took their tripod and huge camera with its leather bellows and photographed where they went producing stunning views of the mountains.
Every year they would travel to produce a new series of between 50 and 100 cards. They then took 2 or 3 large sample books to various shops to take orders. In March they would hire a lorry for distribution. The firm continued with its photographic business. One of their rooms was used for lantern slide shows, The business was in two buildings on opposite sides of Lake Road Keswick. Communication between the two buildings was by ear phone through a pipe. At first 8 men were employed in the print works but with the growing demand for postcards they were soon unable to cope. They contracted printers in Germany and later Sweden to produce the cards. Ashley Abraham died in 1951 aged 75 and George Dixon in 1965 aged 93. Ashley's son Geoffrey carried on the business until its closure in 1968 after 102 years.
The firm had a methodical filing system and most of the postcards are numbered. Initially the year of issue was indicated by the first digit. (so no's 201 – 253 are 1905 301 – 355 1906 etc) But some postcards were re-introduced at a later date so dating is not simple. Pre 1917 all cards were marked "This card is an actual photograph by G P Abraham FRPS Keswick" After 1917 the firm became a limited company – G P Abraham Ltd. By 1960 total postcard production reached 5,000. All the negatives are preserved in Tullie House Museum Carlisle. The family have short entries in Wikipedia should you wish to more about their lives and particularly the mountaineering achievements.
They did produce two unusual series – a set of 6 entitled Abrahams Humorous Series and a second was reproductions of paintings by G P Abraham. The greater number of postcards are photographs of the Lake District, Switzerland and a small number of Wales – as these two examples show. If you know of any others do please let me know.
Thank you, Marion, for a fascinating insight into this publisher...
HSBC Bank Building, Conway Rd., Colwyn Bay.
While I was in Colwyn Bay recently, looking for J. Fred Francis's Mews building, I saw this wonderful doorway in the HSBC bank building on Conway Road.
It was originally a branch of the North and South Wales Bank Limited, commonly known as 'The Wales Bank' and the stonework sign is still in place, facing Conway Road. It is topped with the Prince of Wales's Feathers. The Bank has an interesting history, beginning in Liverpool, in 1836, and later merging with the Midland Bank.
Edward Hubbard's 'Buildings of Clwyd' tells us that the Colwyn Bay branch building was redesigned in the Italian style in 1903-4 by Woolfall and Eccles.
The door is facing Woodland Rd. West, rather than Conway Road. I must have passed it hundreds of times in the car and hadn't noticed it, but as I walked past, I was amazed by the fabulous decoration. The scenes depict what look like Viking boats with figure-heads of grumpy birds, and ?mermen with winged heads, in the sea, holding the bows of the nearest boats – a scene from a Scandinavian legend, perhaps? A very angry dragon-rampant graces the corbel stone, and the door is framed by a wave-pattern.
While I was trying to find out about the beautiful doorway, I was surprised to learn from their website that HSBC [Hongkong and Shanghai Banking Corporation Ltd.] began life in Hong Kong in 1865, to help with trade between Europe and Asia. It was founded by a young Scotsman, who was working there for a large shipping firm. It came to Europe in 1992, when it merged with the UK's Midland Bank.
HSBC has an interesting history, illustrated and well presented, at:-
History timeline | HSBC Holdings plc
Here are my photos taken on 30th June 2021.
If anyone knows the story behind the images, I'd be delighted to hear from you!
The Rhyl I Remember…Part 1.
My parents came to this area on camping holidays with their friends in the 1930s, in a motor-cycle and side-car. Later, they had a holiday-hut on the Bastion Road Camp in Prestatyn until 1965. We spent a lot of time there, and went to Rhyl many times. In the late 60s, early 70s, I often came to Rhyl on day-trips with friends, so I have been in and around Rhyl for most of my life. Here are a few things which I remember with pleasure…..
The Sun Centre
E.T.W. Dennis & Sons Ltd., Photocolour R.0797. c1980.
Sun Centre coaster [with original coffee stain!
The fabulous Sun Centre appeared in 1979, and was a boon to the town, as it enabled visitors and locals to enjoy a 'beach-day' at the "Tropical Island on the North Wales Coast", even in bad weather. The coaster tells us that it was "Europe's First Indoor Surfing Pool". I remember that it was always uncomfortably hot and humid inside. The new Pavilion Theatre was added in 1991. The graphics in and around the theatre building had dome-shapes, referencing the lovely old domed Pavilion Theatre, 1908-74 which was on West Parade.
The Sun Centre was demolished in 2016, and the theatre underwent an update, which included a new first-floor Restaurant and Bar. This was named the '1891', which references the Grand Pier Pavilion, which was built in that year, but which was destroyed in a fire in 1901.
There is now a new and exciting waterpark in town, SC2, which opened on 5th April, 2019 on West Parade.
The Rock Gardens
Photo Precision Ltd. Colourmaster International no. PT28550. East Parade Gardens, Rhyl. c1970.
The Central Promenade was extended to the east in the 1920s, and included the Rock Gardens.
This is the view of the rock gardens that I remember, with the animal and bird figures which lit up at night - magical!
Some of the pools had fountains in the shape of animals too.
There are what seem to be a few remnants of the rock gardens left on East Parade.
The Floral Hall – "The 8th Wonder of Wales."
E.T.W. Dennis. Photocolour card No R0745. Royal Floral Hall Gardens, Rhyl. c1960
Bamforth & Co., Ltd. 'Color Gloss' view series No. 8. Royal Floral Hall, Rhyl. c1960s
Opened on 14th May, 1959, it was a major attraction in town. Built at a cost of £21,000, it had over I million visitors in the first 3 years. I was there on June 8th, 1960, when The Duke & Duchess of Gloucester visited and gave their permission for it to be renamed 'The Royal Floral Hall.' In the following year, a heating system was installed so that a greater variety of plants could be grown. Tropical and foreign birds enjoyed free flight within the hall, and by the 1965 season, there was also a 'Continental Zoo'. Sadly, by the 1980s it had become run-down, neglected and vandalised, so it was dismantled and the framework sold. The building was just to the east of high street, on the promenade where the tennis courts and bowling greens used to be, and backing onto the open-air swimming pool, also now gone. The Seaquarium is now on the site.
Model Village.
Pentre Bach [in English - Little Village] was situated on the south side of West Parade, near Sandringham Avenue and the Ocean Beach funfair, whose proprietors also owned the Village. It was a popular attraction and was described in the 1965 town guide as "Rhyl's Great New Attraction" "The only Model Welsh Village in the World". "Open Daily Throughout the Season. On Promenade Near Pleasure Beach" This card, W8453, is by Valentine's in their 'W' series, views of Wales, and is one of the last to appear in the series in the 1960s. It shows a charming scene of the Welsh Lady showing the young children the farm buildings.
Pavilion and Roller-Skating Rink.
In this view, we are looking west along the prom c1960. The Pavilion is the most iconic and well-loved of all the buildings in Rhyl. It was on the West Parade, almost opposite to Edward Henry Street. It dates from 1908 and was opened by Lord Mostyn on 30th July. It cost £16.500 and 1600 people could sit in the theatre, to enjoy concerts and shows by top artists of day, including Vera Lynne, Shirley Bassey, Jimmy Jewel & Ben Warriss, the 5 Dallas Boys, Rawicz & Landauer and Paul Robeson.
The bowling greens and the open-air roller-skating rink [where I have skated many times] are in the foreground, with the east wall of the Pavilion advertising the popular Prince's International Circus which gave performances at 2.30 and 7.30 daily. The Circus visited the town for several years from the 1950s, and featured animals, including Lions, Bears, Tigers, Horses and Dogs. The dome was 120' high, but in 1974, it was declared unsafe because cracks had appeared in it, so it was decided to demolish the whole building. Amazingly [and sadly], despite all the worries, the dome came down completely intact, but an old friend had gone.
Part 2 will be in the September Bulletin.
~~~~~~~~~~~~~~~~~~~~~~~~~~~~~~~~~~~~~~~~~~~~~~~~~~~~~~~~~~~~
I had a nice surprise when I was flicking through the tv channels on Wednesday evening, and came across "Craig and Bruno's Great British Road Trips" on ITV at 8pm, which this week was in Wales. I didn't catch the start, but they were in Snowdonia and then went over to Anglesey, ending at South Stack lighthouse at sunset – beautiful!
Congratulations to the Snowdonia Slate Mine district in Gwynedd on becoming a World Heritage Site.
It joins 3 others in Wales:- The Castles and Town Walls of King Edward in Gwynedd; The Blaenavon Industrial Landscape, South Wales, and the Pontcysyllte Aqueduct and Canal near Llangollen. [Ref:- Cadw]
Greaves Slate Quarries, The Finished Article. Blaenau Ffestiniog.
If anyone has an item for the bulletin, I'd be glad to have it for future issues, while we're unable to meet up…
Best wishes for now, and enjoy the summer if you can.
Karlyn.
Club Bulletin September 2021
Hello Everyone! I hope that you were able to get out and enjoy the holiday weekend. Good luck to GB in the Paralympics…Wales is well represented in the squad, and they have secured some medals for the team already. We are still trying to find a meeting room for the Club, so do tell us if you know of any suitable places we can investigate. There's no news yet on our 2022 Club Fair.
========================================
Fairs.
As Covid is still affecting events at short notice, please do check with the organizers if you're thinking of going to any fairs. You can check details and contact numbers for most of the UK postcard fairs on the Postcard Traders' Association website at:- www.postcard.co.uk/pta.php
Colwyn Bay
Steve Chapman says "Nothing positive to report. I'm awaiting on a couple of venues getting back to me."
Liverpool and Red Rose
Helen Prescott "I've now handed over the running of Red Rose but they plan to have their fair in Sat 25th Sept as usual. As for Liverpool, the venue is still closed so nothing is happening there this year! H"
Information for Red Rose Fair on 0771-272-2116 or 0771-479-7791
Menai Bridge Book Fair. October. Cancelled.
Wirral Club and Fairs.
Ian Boumphrey: "Our first meeting will probably be the first Thursday in October but will have to wait nearer to the time to confirm. The fair on 9th October is still on but a final decision will be made mid-September. Ian." Contact number:- 0151-608-7611
Anglesey - Mona Showground Antiques Fair. 16th & 17th October
Listed on their website as 'live' up to now, but do check again before going. 01584 873 634 / 07703 558 600 / 07802 267206 This email address is being protected from spambots. You need JavaScript enabled to view it.
York. 29th & 30th October 2021
Details and latest information:- Jack Stasiak. tel : 01347-822722 . email : This email address is being protected from spambots. You need JavaScript enabled to view it.
Meetings.
Criccieth Philatelic and Postcard Society.
Marion says:- "all being well the Criccieth Philatelic and Postcard Society is starting meetings on Tuesday 5th October at 2pm. The first meeting will be the delayed AGM and general catch up on everyone's news. If anyone is interested in joining us please contact me"
Marion's number is:- 01766-590203
--------------------------------------------------------------------------------------------------------------------------------------------------------
A North Wales connection to a 'Poirot' Film
On Sunday, I was watching the last half-hour of the 1974 film version of Agatha Christie's "Murder on the Orient Express", with Albert Finney as Poirot, when I spotted a link to North Wales. In the closing titles, there was a note that the jewellery worn by the character 'Princess Dragomiroff' was by Wartski.
Jeweller, Morris Wartski opened a shop in Bangor in 1895 and the firm became one of the most prestigious retailers of jewellery and luxury items in the world.
Morris Wartski 1855-1946, was of a Russian-Jewish family in Poland , who moved to Liverpool with his brothers to escape persecution. Morris was a jeweller, who, by 1891 lived in Bangor with his family. From a humble beginning, as a licensed peddler, selling jewellery and watches, by 1895, he had opened a shop at 21, High Street, Bangor. The signs on the front told passers-by that he was a Jeweller, Goldsmith, Silversmith and Diamond Merchant, who took in repairs. By 1903, the shop and house were advertised 'To Let', and the family business moved to larger premises at 204 High Street, which was a draper's shop.
His sons, Charles and Harry, opened shops in Llandudno at 33, 93 and 101 Mostyn Street, the most fashionable street in town, and in 1911, the family opened a shop in London, which had the sign "Wartski's of Llandudno". Members of the family are still in the firm today.
This is the advert in the Llandudno Advertiser for 17th June 1905,
announcing the opening of the shop at 33 Mostyn Street
The London shop sold jewellery of the highest quality, and other exquisite items, such as those by Faberge, jeweller to the Russian Royal Family. The firm made rings for the British Royal Weddings in 2004 and 2011.
Morris was laid to rest in a Jewish Cemetery in Liverpool.
The North Wales shops have now closed down, but there are still memories of the family name:-
In Bangor, The "Wartski Fields", is land donated by the widow of Isidore Wartski, 1879-1965, Morris's son, who was a draper, and Mayor of the town 1939-41. and "Wartski Square", earlier known as the Market Square, and renamed by the local people, because Isidore's shop and his Castle Hotel formed part of the perimeter of the square.
The Llandudno shop at 93, Mostyn Street is now occupied by 'Goldsmiths'. The wrought ironwork on the pavement has been repainted white, and the 'Goldsmiths' name now appears in the same place as Wartski's was, in the frame above the canopy.
The shop also retains this mosaic in the floor of the doorway.
This is my photo, from February 2016, following a Club meeting when we had some information about the firm
The shop at No. 33 Mostyn Street is now part of Billy Lal's Bargain Centre at 33-35, and No 101 is W.H. Smith's.
The Wartski name is still to be seen in London, with a new "Wartski Art and Antiques" shop, opened in 2018, at 60, St. James St, specialising in luxury antique items.
For more information about this family and their shops:-
History Points - Former Wartski jeweller's shop, Llandudno
Places of interest - Bangor - Trails - Anglo-Jewish History - JTrails.org.uk
Wartski
https://research.bangor.ac.uk/portal/files/18912487/2017_Wartski_bo… · PDF file
Newspaper archives – National Library of Wales, Aberystwyth.
===============================================================
Now that some of the North Wales Clubs and societies are beginning to plan their programmes after the lockdowns, I thought that it might be interesting and useful to feature some of them in the bulletin, where our interests overlap.
I asked Barbara to send some information about the Society to which she and John belong:-
LLANDUDNO & COLWYN BAY HISTORY SOCIETY
Chairman: John Lawson Reay Vice-Chairman: Adrian Hughes
This group is planning to re-start at 7.15 p.m. on Tuesday 14th September.
We meet at the Trinity Centre, Trinity Avenue. (this used to be known as the Old People's Centre and is not connected to Trinity Church) on the 2nd Tuesday of the month.
Coming from Augusta Street, turn left at the traffic lights, after about ½ a mile you'll see a school on the left and shortly afterwards a low building on the right with a grassed area in front of it – this is the Trinity Centre. Coming from Bryniau Road, obviously it's on the right.
Subs cost £13 per year and visitors to indoor meetings are asked to pay £3 per meeting. We meet Jan – April & Sept – December indoors; & April – July outdoors. Unfortunately it is not possible to invite visitors to outdoor meetings due to the difficulty of keeping track of everyone, and the leaders making themselves heard.
The programme for the rest of 2021 is as follows
Sept. 14th Dr. Marian Gwyn Atlantic Slavery & Penrhyn Castle
Oct. 12th Wil Aaron Martha Hughes Cannon of Llandudno - the first woman Senator in US history
Nov. 9th Jane Matthews Art, Doughnuts and Pianos – a History of Mostyn Art Gallery
Dec. 14th Vicky MacDonald Hidden Conway.
The Society can be found on Facebook.
We look forward to welcoming you!
==============
If you go along, you will see some familiar faces – John, the Chairman, and Adrian from the Home Front Museum, who is Vice-Chairman. The November presentation is by our good friend Jane who was on the staff of the Mostyn Gallery, and who led the wonderful Local History afternoon sessions. She also helped us with the research into the Llandudno postcard publisher G.R. Thompson, The Postcard King.
For more information about the History Society, phone John on 01492-582185 or email This email address is being protected from spambots. You need JavaScript enabled to view it..uk
=============
Recycling at its best…..
Some of our members will remember David Rye from Pembrokeshire, as he came to talk to us about 'Welsh Folk Dance & Costume' in June 2002, and in June 2004, we had 'An Evening with David Rye', which was a most enjoyable meeting.
He was for many years, the editor of 'The Welsh Lady' magazine, which published research and information about the postcards and the ladies. The magazine is now, sadly, discontinued. When we started the North Wales Postcard Publishers' List in 2004, we exchanged a lot of information, and the Club is mentioned in the magazine.
David is a most entertaining character and, by his own admission, quite eccentric!. He hand-makes photo-corners and will make them to fit any shape – he has recently discovered a way of making them for circular cards. If you'd like some, do get in touch with him.
He has recently begun making two types of postcards, which were popular in the past, but with his own twist [of course!]
The first is what he calls 'Woollies' – a new version of the WW1 embroidered 'silks'. David was at a local woollen mill, and when the looms were being made ready for a new pattern, he noticed that the wool taken off the looms was in long strands and was being discarded. He asked what happened to it, and was told that he could have a bag for free. David then took his love of the 'Welsh Lady' cards, and made picture-postcards of them, embroidered in the wool. On the reverse of my copy, it says:- "Hand embroidered, using wool waste from Welsh woollen mills" They really are beautiful little works of art…
The second is bird-pictures made from real feathers. It came about when a friend told him about an antique postcard of that type, which he had recently bought. David went down to his local beach and was able to collect a bag of various types of feathers. He set to work to construct the 'birds', and as you can see, the result is charming.
If you would like one of David's 'Woollies' or Bird postcards, or any photo-corners, then you can send him a stamped addressed envelope and, if possible, some postcards for his collection. David and his wife Pat are folk-dancers, and his current postcard collection reflects that interest. He would like to see any modern cards depicting European traditional- or folk-costume, particularly Breton.
He and Pat have also appeared in this month's Picture Postcard Collecting magazine.
You can contact David on 01646-698463.
His address is:- 9, Bay View Drive, Hakin, Milford Haven, Pembs. SA73 3RJ.
Lindsay has sent some cards this month:-
This is a different view from those we had last month. It shows the shop, which has the proprietor's name, 'ELLIS ROBERTS' above the window, and 'NANTGLYN POST OFFICE' across the top of the window. The usual oblong 'POST OFFICE' board is on the wall, to the left of the top window. In the doorway is a man in a long apron, who is surely Ellis himself. The boy standing outside the shop could be his son or another relative, or a shop-assistant from the area, perhaps. Thanks Lindsay, for adding to the story of Nantglyn.
I don't think I need to explain why this is in Lindsay's collection – what a lovely card!
Here is the second [and last!] part of my item on Rhyl from the 50s onwards.
The Marine Lake Pleasure Park and Ocean Beach Fun-fair.
This advert is from a North Wales guidebook c1911.
The 40-acre Marine Lake was formed at the west end of the town and officially opened on 3rd June 1895.
It contains 4 million gallons of water and is 4' deep. The lake was originally made for bathing and boating, and had a pontoon for bathers and a special boating area for children. In 1910 the Marine Lake amusements began to appear on the eastern bank, with the arrival of the water-chute. By 1925, it was fully functional, with rides such as the helter-skelter and a huge roller-coaster. The 1965 town guide tells us that there was a "new Jet Speedboat", as well as other rides, "Figure 8 Coaster; Go Karts; River Caves; Dodgem Cars; Pony Rides; Ghost Train; Krazy Kot; Crystal Maze; Miniature Car Rides; Peter Pan Railway; Chariot Roundabout and a host of exciting sideshows"
The lines for the Miniature Railway were laid around the lake in 1911, and its 1930's Central Station was located in the Pleasure Park, with the track running underneath the rollercoaster.
A card in the Valentine 'W' series, No. 7448. Foryd Harbour, Rhyl. The view was registered in 1959, and shows the
Foryd Harbour to the right, West Parade and the Ocean Beach Funfair to the left.
The Ocean Beach fairground was in the area between the West Parade and Wellington Road, near to the Foryd Bridge, and the Marine Lake. It opened in 1954 and the 1965 town guide lists these rides:- "Breathtaking Big Dipper; Dodgem Cars; Whirl-a-round; Aerial Ride; Super Waltzer; Big Wheel; Octopus; Pony Express; Rotor; Caterpilla; American Coaster; Special rides for children and lots of sideshows for all."
I remember that you could walk from the Ocean Beach fair across Wellington Road to the Marine Lake fairground. Admission was free and the sites were open on Sundays. There was a Car park and Free Coach park.
You could see the big-wheel as you walked along the prom from town to the Ocean Beach, and it was thrilling to think that we would soon be amongst the throngs of people, the hubbub of the music and machinery, and the aromas coming from the fast-food and candy-floss stalls. My favourite rides were the Waltzers, and the Caterpilla, but I never go on roller-coasters or big wheels, as I'm not good with heights. In the 60s, as a teenager, I didn't go to the fairs at night, but in the 70s, I often went with a group of friends, and we all of us very much enjoyed the night-time atmosphere, the lights, the rides and sideshows, and the deafening noise.
I have a memory from the 70s of a fish and chip shop on Sydenham Avenue, which runs between the Prom and Wellington Rd, along the east side of Ocean Beach, and there is still such a shop at no 2., so perhaps it's the same one.
In 1969, the Marine Lake amusements and the railway were dismantled, but in 1978, a new company came to restart the railway. The lines were re-laid, some of the original engines were brought back into service, and a new Central Station was built in 2007 on the north side of the lake, near to Wellington Road. It is still a most popular attraction today, although I don't remember ever having been on it myself. A friend told me of the day his wife and daughters were on the train, and the last carriage, in which they were travelling, came uncoupled from the rest, and was stranded on the line. They were quickly rescued!
The former fairground area is now a carpark for visitors to the Miniature Railway.
For more information about the railway, go to:-
https://rhylminiaturerailway.co.uk
History Points – Rhyl Miniature Railway
The Ocean Beach fairground site closed in 2007, and I do recall the pictures in the newspapers of a planned redevelopment, which included a glamorous apartment building, such as those in Miami, and a large retail park..
Sadly, the plans were shelved, and only a few shops and a car-park have appeared on the site, which is now named 'Marina Quay'.
If you're nostalgic about the funfair, there is information and a lot of wonderful photos on this website:-
https://www.ridemad.com/end-of-an-era-for-rhyls-ocean-beach-fun-fair
The Hovercraft.
If you had been with me in a crowd of excited spectators on the beach in Rhyl at 10.25am on Friday, July 20th, 1962, you would have seen a marvellous thing! The world's first passenger and mail hovercraft came towards us on the sea like a boat, but then made its way up the beach like a gigantic crab. It had departed from Rhyl on its first journey to Wallasey at 9am, and arrived there 32 minutes later, and we were there to welcome it back to Rhyl. It was £1 for a single journey, £2 return, and it held up to 24 passengers. Its speed was 60 knots. Every passenger that day received a certificate.
The event was so important, that it made the news outside the UK . Sadly, because of technical problems and the fact that it couldn't go out in rough seas, it was in service for only about 1/3 of its scheduled days that year. The season was due to end on 16th September, but on the 14th, after an engine failure, it was brought in for repairs. On Monday 17th it broke from its moorings for the second time that weekend and drifted out to sea. The lifeboat was called to rescue the 3 captains who had remained on board overnight, because of the bad weather, before the craft hit the sea wall, and its time in Rhyl was over. This was recorded as the world's first lifeboat rescue from a hovercraft.
Finally, it sank in the Solent in 1966 when taking part in trials to determine what damage mines could do to a hovercraft. More recently, about 14 years ago, we saw a tiny car-sized hovercraft on the beach in Rhyl, but although we were told by the people who were with it, that it would be going into service, it seems to have vanished without trace…..
The Rhyl History Club website has a good section on the hovercraft, including many personal memories.
https://rhylhistoryclub.wordpress.com/2012/05/03/the-hovercraft-1962
and Wirral History also has a wealth of information, and photos of the craft, publicity items, etc.
www.wirralhistory.uk/hovercraft.htm
other sources:-
J.W. Jones. Rhyl and Round About, Clwyd Press, 1976.
Ward Lock & Co. Rhyl and North Wales 1939.
=============================================================
Stay safe and take care.
Bye for now, Karlyn
Club Bulletin, October, 2021
Hello to all our members and friends….
It has been a strange month, with some warmer days recently, but I hope that you have been able to get out and about a little, to enjoy the nice weather before we dip into Autumn proper.
NEWS.
North Wales Postcard Club can now re-start in our usual venue –
the Craig-y-Don Community Centre, Queen's Rd., Craig-y-Don, Llandudno. LL30 1TE.
For 2021, the meetings will be held on the 2nd Monday of the month, as usual, but
for 2022, we have moved to the 2nd Wednesday of the month.
As you will know, our members have tried to find an alternative meeting room, when our room at the Community Centre was no longer available. We initially wanted somewhere which could accommodate us on Mondays, but when that was not possible, Marion went back to CYD and asked if they had any other days for us. They were able to let us continue on our usual Mondays for 2021, but offered Wednesdays for 2022, so we accepted that as the best solution. CYD is a good venue for us, as it has everything we need – a nice modern building, help with moving tables etc., kitchen, screens, on-site parking, and a central location with good road-links for our members from across the region. We know that this change of day may not suit everyone, and we don't want to lose any of our postcard family at the meetings, but it seemed to be the best compromise to get the Club up and running again.
Room 1 is quite spacious, so we can be distanced, and masks should be worn indoors, with the usual exceptions.
Here are the dates for the meetings – note the earlier start-time.
Meetings in Room 1. 7pm-9pm.
The dates for your diary are:- Monday
October 11th 2021

November 8th 2021
December 13th 2021
2022 Wednesday
January 12th
February 9th.
March 9th.
April 13th.
May 11th.
June 8th.
July 13th.
August 10th
September
14th October 12th
November 9th
December 14th
We will let you know if there are any changes due to covid restrictions etc.
You can check the CYD website at any time for information too:- craigydoncommunitycentre.org.uk, or if you're not on-line, you can phone me or Marion 01492-440763 01766-590203.
We are looking forward to seeing you all on October 11th for an informal evening, to catch up with all the news and browse through some dealers' cards. I'm sure we've all missed the meetings over the past 18 months! K
- Elizabeth has written to me and has a message for us:- "I hope all our members are keeping well, and please give them my love. Alaw and I used to love coming to the Club every month and of course, our Summer Fair. "
Thank you, Elizabeth. I know that everyone will miss Alaw, but we hope that you will be able to come to meetings again – you will be amongst friends.
~~~~~~~~~~~~~~~~~~~~~~~~~~~~~~~~
- Elizabeth also told me about an exhibition of local views in Menai Bridge Post Office, arranged by John from his superb postcard collection. He writes:- "Members will be impressed with the PO shop, having a wide range of fine greetings cards, local books & stationery, as well as photocopying facilities. The owners are making a huge effort and deserve to succeed."
If you pop over to Anglesey at any time, do call in to see the exhibition. Thank you, John.
~~~~~~~~~~~~~~~~~~~~~~~~~~~~~~~~~~
Fairs.
North Wales Postcard Fair.
Our fair date for 2022 is now confirmed as 20th August,
at the Craig-y-Don Community Centre, Queen's Road, Craig-y-Don, Llandudno.
I will let you know if there are any changes
Wirral Fair - 9 th October 2021. – a message from Ian Boumphrey 0151-608-7611
List of dealers that have booked tables for the Wirral Postcard and Local History Fair at
Thornton Hough Village Hall, SATURDAY 9th OCTOBER 2021.
IF YOU ARE LISTED TO ATTEND AND ARE NOT ABLE TO DO SO or YOU WISH TO ATTEND PLEASE LET ME KNOW asap.
RALPH STUDDART TWO?
JOHN RYAN ONE
MARK KEELEY TWO
CAMPBELL McCUTCHEON TWO
ALEX WALLACE TWO
KEITH BIRD ONE
IAN BOUMPHREY TWO
DAVE SEDDON TWO
MIKE LIVERSEDGE TWO
HARRY HICKS TWO
GLYN THURSFIELD ONE
PAUL MITCHELL ONE
ANDREW GEORGE TWO
STEVE MCGREAL TWO
WIRRAL POSTCARD CLUB ONE
The Wirral fairs for 2022 are SATURDAY 5th MARCH - 11th JUNE - 8th OCTOBER.
Dealers, if you wish to attend any of these fairs, please let me know. Cheers Ian.
October 16th & 17th 2021.
The Anglesey Antiques fair at the Mona Showground is still listed as live on the Continuity Fairs website, but here are their contact details if you want to check before you go.
01584 873 634 / 07703 558 600 / 07802 267206
This email address is being protected from spambots. You need JavaScript enabled to view it.m
There is no news yet on the Colwyn Bay fairs.
2 newspaper cuttings….
North Wales Observer & Express, April 25th, 1902
Explosives – Energetic agents wanted to push sale of Dynamite & Co. in North and Mid Wales. On commission or purchase. Excellent make, already introduced and taking. Box 287 Observer.
Cambrian News & Welsh Farmers' Gazette. March 26th 1915.
Recruiting in Carnarvonshire for Lord Kitchener's Army. The Age on Enlistment. 19-38;
For Ex-Soldiers, Ex-Militiamen, Ex-Special Reservists, Ex-Yeomen, Ex-Territorials and Ex-Volunteers, 19-45.
Welshmen can now enlist in the Welsh Army.
Standard of height for Royal Welsh Fusiliers now reduced to 5'1".
~~~~~~~~~~~~~~~~~~~~~~~~~~~~~~
I have noticed, whilst working on the publishers' list, that in the early 20th Century,
the owners of businesses often had more than one service to offer.
In the June bulletin, two of the cards illustrated this:-
- Peter Edge's Famous Coaching Tours in Wales – the mews - a great variety of services were offered here.
- On the card of the funeral in Conwy we see that D.C. Walker's shop is a tobacconist and hairdresser.
Here are a few more from the Publishers' list -
Owen Richards, Bala – Hairdresser, Tobacconist & General Dealer. 1905.
- J.R. Hughes, Portmadoc & Criccieth – Artist & Photographer, Dealer in Stationery and all kinds of Fancy Goods etc.
- J. Turley, Holywell. - Agent Wholesale & Retail Dealer in Jewellery, Drapery, Stationery, Fancy Goods etc.
- Brookes Bros, East Parade, Rhyl. Furniture Removals & Storage, Funeral Directors, Coffin Makers…Motor Ambulance at any time.
- and this advertising card from John Brookes of Furnitureland, London House, Rhyl…
From my ballet collection…..

Rotary Photo. 11835. Anna Pavlova & M. Novikoff.
Anna Pavlova, The Dancing Revelation of the age.
Photo by Claude Harris, 122, Regent Street W.
This is a publicity card for a performance at the Grand Theatre, Hull,
Commencing Monday, Sept.30th for Six Nights at 7.30.
Matinee: Saturday at 2.
Anna Pavlova was a Russian Prima Ballerina who brought European ballet to the world by her many tours.
She was born In St. Peterburg on 12th February, 1881, and in 1912, she settled in London with her partner at Ivy House, Golder's Green. In 1913, she formed the Pavlova Ballet Company. She died of pneumonia in The Hague on 23rd January, 1931.
I became aware of Anna at school, when we were given a book to read about her life. I was fascinated by her story, and ever since then, I have enjoyed this art-form. I have some postcards showing her in various roles, and a book which I acquired recently – 'My Years with Pavlova' by H. Algeranoff. Heinemann , 1957. He was also a dancer who frequently performed with Anna.
On 24th August 1985, I had the privilege of seeing Rudolf Nureyev on stage at the Palace Theatre, Manchester, with the Ballet Theatre Francais de Nancy. The event was entitled "A Homage to Diaghilev". The music included Debussy's 'L'apres-midi d'un Faune' , and Stravinsky's 'Petrouchka', in which Nureyev performed. I particularly enjoyed 'L'apres-midi d'un Faune'. Rudolf was 47 at that time, and not as athletic as before, but he was still able to entrance the audience with his powerful presence on stage.
He was born on the Trans-Siberian Express on 17th March, 1938. In 1955, he was accepted for the Kirov Ballet School and was trained by Alexander Pushkin. On June 16th 1961, he sought political asylum at Le Bourget Airport Paris, at the end of a tour with the Kirov Ballet. He died in Paris on 6th January 1993.
For more information, go to:-Rudolf Nureyev's biography
Carlos Acosta is another of my favourite dancers, and he is mesmerising to watch. He was born in Havana, Cuba on 2nd June, 1973, one of eleven children, in an extremely disadvantaged family. His father enrolled him in a local dance school to try keep him out of trouble and to give him a future. He thrived in the school and became one of the most celebrated dancers and choreographers of his generation. He danced with several prestigious companies, including the Royal Ballet. Later, he opened a Ballet school in Cuba to help children, as he had been helped. Following his retirement from dancing, in 2020 he was appointed Director of the Birmingham Royal Ballet.
Carlos Acosta | International Dancer and Choreographer | Official Website
AS TIME GOES BY - The Smithy Arms, Rhuallt, near St Asaph.
The top picture is post-marked for St. Asaph on October 5th, 1909 and is a postcard by Rae Pickard of Rhyl, one of the best photographers in North Wales. He has staged the scene for us, with the heavily-laden coach standing on the road, the collie sitting nearby, and the family lined up outside the front door. The two things that jump out of the picture are the 'Smithy Arms' sign on the gable-end to the right, hanging from a wrought-iron bracket, and the date of 1776 beneath the top window to the right of the door. There is some writing on the walls – above the ground-floor window at the left is 'ALES & STOUT'; above the next window along is 'WINES', and above the window to the right of the door is 'SPIRITS'. Just below the date is 'GOOD STABLING'. There are 3 men and 2 women in front of the building, and the lady with the white top is holding a baby. There is a group of people on the far side of the road, and 2 ladies appearing from behind the building.
The car and the dresses seem to tell us that this photo is probably c40 years later than the postcard. The building is much the same, but the hanging sign and earlier wall-signs have disappeared, except for the date of 1776. There are some new signs, the most prominent being 'BENT'S ALES' to the left of the door. Below that, in the square frame is 'DRAUGHT CYDER', which has the shadow of 'GARAGE' on the wall behind it. There is a new globe light above the porch and some chimney pots now have cowls. The windows seem to have new black surrounds. The bushes in front of the building have gone, and the area now seems to be a car-park.
I wonder if anyone in the more recent photo also appears in the earlier view….intriguing
Date-line Criccieth..
These pictures are of the front and back of an envelope in which Alpha series postcards were sold at the shop of
E. Davies Hughes, M.P.S., Medical Hall, Criccieth…
Chemist, Wine Merchant etc., Photo and Fancy goods.
Don't forget that the Criccieth Club is meeting at St. Catherines's Church, Lon Ednyfed,
Criccieth. LL52 0AH
on Tuesday 5th October at 2pm.
There will be the delayed AGM and a general catch-up on everyone's news.
It's a very friendly Club, so do go along if you can.
Details from Marion on 01766-590203
~~~~~~~~~~~~~~~~~~~~~~~~~~~~~~~~~~
We hope to see everyone on October 11th . Best wishes for now, and stay safe, Karlyn
Club Bulletin November 2021
Greetings!
It was so good to have a meeting after such a long time. 10 of us attended and all covid rules were in place and observed. I couldn't guess at how many members we would have. I had received 7 apologies, but no-one had told me that they would be coming, so it was lovely to see so many of you. Maralyn and Roger had brought refreshments – thank you!…they were very much appreciated. There were several boxes of cards to browse through, courtesy of our dealer-members.
There was no structure to the evening, as we all just wanted to chat and catch up on all the news. I had a few points to share with the members, including a plea for talks or entertainments for the 2022 programme. If you'd like to volunteer, please phone me on 01492-440763, or email This email address is being protected from spambots. You need JavaScript enabled to view it.
As Marion was unable to be with us, she had sent a letter, which I read to the group. Members and friends who had passed away since we last met were remembered for their contribution to the Club. Subscriptions would be reintroduced at the January meeting. Marion asked for someone to consider taking up the position of Vice Chair at the AGM in January, to make sure that the Club had a Chair at most meetings. Marion thanked everyone who had helped to keep the bulletin going throughout the pandemic. Marion writes:- "To conclude I can only say I hope that the club will continue to flourish and we can enjoy sharing our collecting interests for many years to come."
The members were asked if they would be able to support the fair in August, and everyone was happy to help, so the booking forms have been sent to all the dealers who had booked tables for 2020, and to some other dealers who have expressed interest, but who have yet to attend. I hope that we can persuade a couple of new dealers to come, to keep the interest in the fair for our members and the visiting collectors. We have had seven 6' tables booked already, which is a good start. I will begin the advertising routines in January, as usual.
I should like to thank Walter for all the work he does to keep the website up-to-date, as it's such an important window into our Club for people who don't know about us and what we do. Mike Day is also involved with the process, and helps when required, so we are grateful to him for his input too.
News
I went to the Anglesey Antiques Fair on Saturday, 16th October. It was my first outing to a fair for almost 2 years, and I was excited to be going. As we're in Wales, the covid precautions were in place at the Mona Showground. We were asked to wear masks [with exceptions, of course], use hand-sanitiser at each stall if we wanted to touch anything, keep a safe distance from other people, and use the one-way system around the aisles. Most people were happy to comply. They were allowing only 500 people inside at any time, but the sheds are very large. There were about two-thirds of the usual number of stalls at the Fair, and some of our favourite dealers were absent, but there was plenty to see and I bought several items for my non-postcard collections, and a Christmas gift for my sister-in-law. There were two postcard dealers with a good number of boxes. The refreshment room was open and, as usual, the cakes were gorgeous. I saw some of our members there, including Chris from Trearddur Bay. She has recently undergone an elbow replacement, and her arm was in a protective sheath. She sends her best wishes to everyone, and hopes to be able to come to Club next year. We wish her a speedy recovery and look forward to seeing her then.
Lindsay has been ill recently, and we wish him well again too.
Llandudno and Colwyn Bay Historical Society – change of speaker on November 9th. The talk about the Mostyn Gallery by Jane Matthews has been postponed, but "Posh Privies" will be the subject of Dr. Marian Gwyn's talk that evening. For more information, phone John Lawson Reay on 01492-582185 or email This email address is being protected from spambots. You need JavaScript enabled to view it.
~~~~~~~~~~~~~~~~~~~~~~~~~~~~~~~~~~~~~~~~~~~~
An update on previous items:-
In the research about J. Fred Francis, I recently found that Francis Garages Ltd., Motor Engineers, were in Conway Road, Colwyn Bay. John from Ruthin had sent us a card of J.L. Francis's Riding School, which appeared in the August 2021 Bulletin. We could see in the picture that it was in Colwyn Bay, but I discovered that it was in Rhos Road, Colwyn Bay in the 1930s.
Here's an item from Barbara, following my list of shopkeepers with multiple strings to their bows….
Barbara says "At one time there were 11 hairdressers/tobacconists in Llandudno. but only 1 in Colwyn Bay - don't know what that tells you!"
Thank you, Barbara!
~~~~~~~~~~~~~~~~~~~~~~~~~~~~~~~~~~~~~~~~~~~~~~~~~~~~
Last month, Jack, who was born in Talacre, brought along this book about the history of this tiny village, which was the result of a project by the residents and visitors, past and present, called "Talacre Then and Now". It really shows what can be achieved when a community gets behind an idea such as this. It has been supported by the Talacre Community Centre committee, the National Lottery Heritage Fund and Flintshire County Council. The book was designed by Bill Smuts, with script by Lorna Jenner. The text is in Welsh and English.
The timeline traces the development of the area from the 1st Century when Roman ships passed by on their way to Chester, through the building of the iconic lighthouse in 1777, and Talacre Hall in 1829, the opening of Point of Ayr Colliery in 1890, and the station in 1903, the role of the village in WW2, and up to the present day, when Talacre is still a well-loved holiday destination for many people, especially those from Merseyside, Lancashire, Yorkshire and the Midlands.
The book has sections such as Living in the Warren, A Child's Paradise, Holidays, and Village Life, where personal memories are brought to life with family photos and postcard images. It really transports the reader into this hidden gem of a village, and its fascinating story.
Jack adds - 2 people also involved with the book but not mentioned are: Lisa Heledd Jones who did most of the recordings for the book (she has her own web page called Storyworks with all her contact details etc), and Kim Norman the land manager for ENI who look after the Warren and sand dunes etc., based in Llawndy Farm, Talacre. She gave permission for historical digs to be made in the area of the firing ranges. and also to excavate one of the chalet sites
In addition to the book, which sells for £3, there is a video, also £3, both of which are available at the Talacre Community Centre, which benefits from the sale of these items
I am hoping that Jack will come to Club in 2022, to tell us about the village and the project.
Jane Matthews has generously sent us some items for the bulletin, from research she has done on some postcards and messages for an online postcard group to which she belongs. Here's the first, which is the undercover story of Evans Hotel in Charlton Street, Llandudno.
Evans Hotel
My first postcard is of the Evans Hotel in Llandudno – it looks like an ordinary seaside hotel, but it has an unlikely connection to espionage! The postcard is unsent. In the event of a German invasion in World War II, MI5 needed a plan to deal with Britain's top double agents. The man organising the scheme, a Captain Finney, was based at the Melfort Hotel in the nearby resort of Rhos-on-Sea.
It was feared that double agents were untrustworthy and to prevent them turning to the Germans during an invasion, a plan was made to have them and their families arrested and driven to Wales under armed escort. They would then be housed with their minders in selected hotels, one of which was the Evans Hotel. Handcuffs were loaned from Scotland Yard, together with revolvers and ammunition to be used if the spies and their family members had to be shot.
One of the spies under suspicion was the Welsh agent Arthur Owens, born in Swansea in 1899. Owens worked for MI5 under the code name 'Snow', while also working for the German intelligence agency Abwehr under the code name 'Johnny'. Seen as a fervent Welsh nationalist by the Germans, he was encouraged to recruit other nationalists as agents. Seemingly motivated by money (he was paid the equivalent of one million pounds by the Germans), status and women, he led a colourful life and neither espionage agency was entirely sure of his true loyalties. At one point most of the German spies dropped into Britain were contacting him, so he was a pivotal character, and if they were subsequently arrested he did manage to persuade some of them to become double agents.
When it was felt that Owens could no longer be trusted, he was interned in Dartmoor Prison for the remainder of the war. However, he still worked for MI5 by passing on information from German prisoners. Arthur Owens died in Ireland in 1957. His daughter from his first marriage was Hollywood actress Patricia Owens, who starred in many films including 'The Fly'. She never talked about her father being a double agent.
Next time, Jane tells us a story about the Ormescliffe Hotel, on the prom. Many years ago, I stayed there with my late mother. It was then a rather traditional hotel, but following its super-modern refit, it is a very glamorous place, renamed the 'Llandudno Bay'.
Thank you Jane
The next meeting is on Monday 8th November, at 7pm., and we're having a DIY evening –
2-minute talks - bring a card with an interesting message….it can be something to do with your family, a national event, a printed message or just a quirky note….whatever you have… I'll sign off this month with some 'K' cards which I collect, and look forward to seeing you in November.
Best wishes, and stay safe, Karlyn.
1. Max Ettlinger & Co, The "Royal" Series, London E.C. postmark Belfast, 1904.,
2. E.S., London W.C. postmark Ilfracombe, 1906.
3. Raphael Tuck & Sons' Real Photograph series F.G. 140 Flower & Beauty Series – Kingcup. undated.
The ladies are Miss Innes Kerr, Miss Olga Kingston and Miss Muriel Kennedy.
=========================================================================================
Club Bulletin December, 2021.
The November meeting was well attended, with 3 dealers bringing stock for us to see. We marked the approaching Armistice Day with two postcards from Rhyl and a card with a message.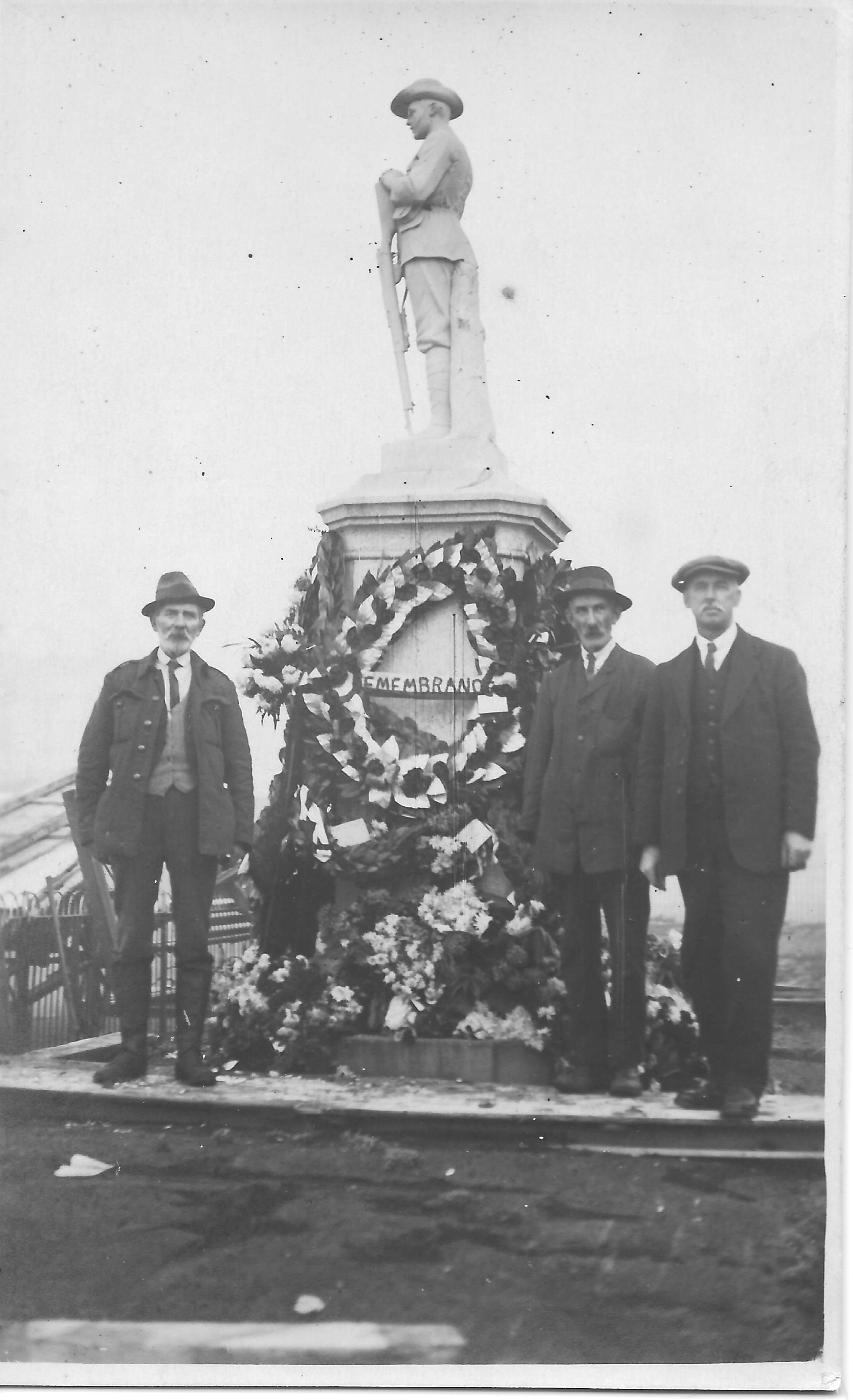 Rhyl, Boer War memorial on 11th November 1925.
The memorial was erected in 1904, and was paid for by public subscription. It was then on Rhyl's West Parade but It was moved further east, to a garden near the Pavilion in 1928. On 15th August 1948 it was moved to The Garden of Remembrance, further east again, on the Promenade. Two side pillars now commemorate those who fell in World Wars One and Two, and a further name was added to the memorial, that of Paul Green, who died during the Falklands War in 1982.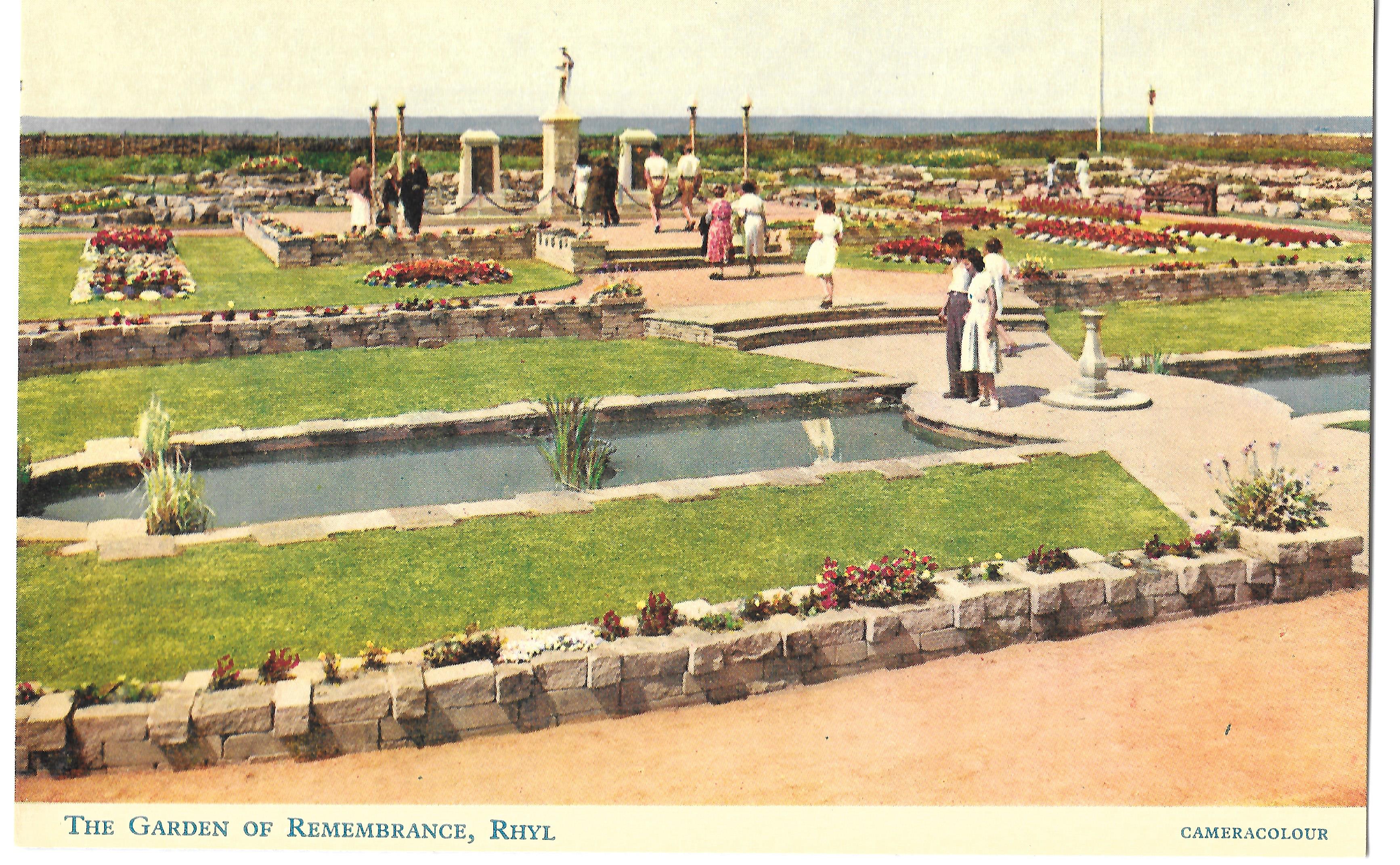 A Salmon "Cameracolour" card 841C.
~~~~~~~~~~~~~~~~~~~~~~~~~~~~~~~~~~~~~~~~~~~~~~~~~~~
Many congratulations to Walter and Marion, who celebrate their Golden Wedding Anniversary this month.
Our next meeting is on Monday, 13th December, so I hope to see you all then.
The evening will be 2-minute talks on a card or an object which takes you back to your childhood Christmases. Do join in if you can
Please look out for emergency emails or phone-calls from me, between now and the meeting, as the new variant of the virus looks as though it could be a problem, and we may have to cancel at short notice. You can always phone me on the day, to check what's happening, on 01492-440763. K.
===================================================
The new programme for 2022 is filling up nicely, but if you would like to give a talk or host an evening's entertainment, then please let me know, and I will send you the free dates
The Annual Club Fair on 20th August 2022 is being well supported by our usual dealers, and up to now, we have had bookings for 1 x 6' table; 4 x 12' and 1 x 18'.
The next Criccieth Club meeting is on Tuesday 7th December at 2pm., at St. Catherines's Church, Lon Ednyfed, Criccieth. LL52 0AH. Phone Marion on 01766-590203.
~~~~~~~~~~~~~~~~~~~~~~~~~~~~~~~~~~~~
Can you help?
John from Ruthin has sent a card he'd like your help with. He thinks that it could be Colwyn Bay. There is a group of soldiers and well-dressed ladies outside a lovely old house. There are no publisher or photographer details. There is a date, 1897, above the door and a monogram of intertwined letters -WVS. There is some lovely stained glass in the window to the left of the door.
Any ideas, members and friends??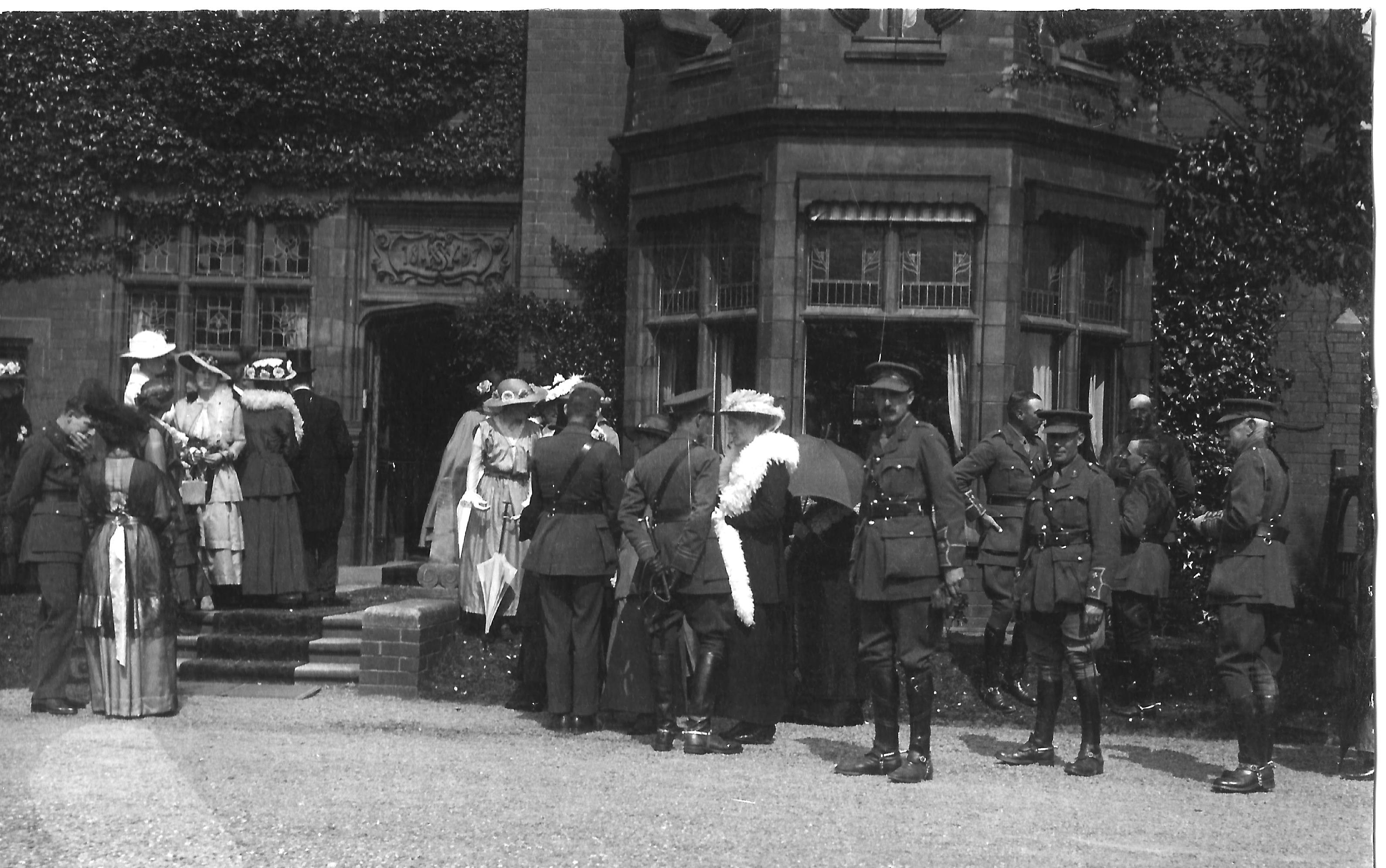 enlargement of the area above the door.
The topic for the DIY evening was "Bring a card with a message". It could have a family connection or mention an important event or person, or be a quirky or funny message, and, as usual, our members came up with a good variety of examples.
The message relating to Armistice Day was written by a lady who had attended the service at the Cenotaph on 11th November, 1926. She writes:- " On Armistice day we were as near as we could be to the Cenotaph in the dense crowd. It was too solemn and silent for words"
~~~~~~~~~~~~~~~~~~~~~~~~~~~~~~~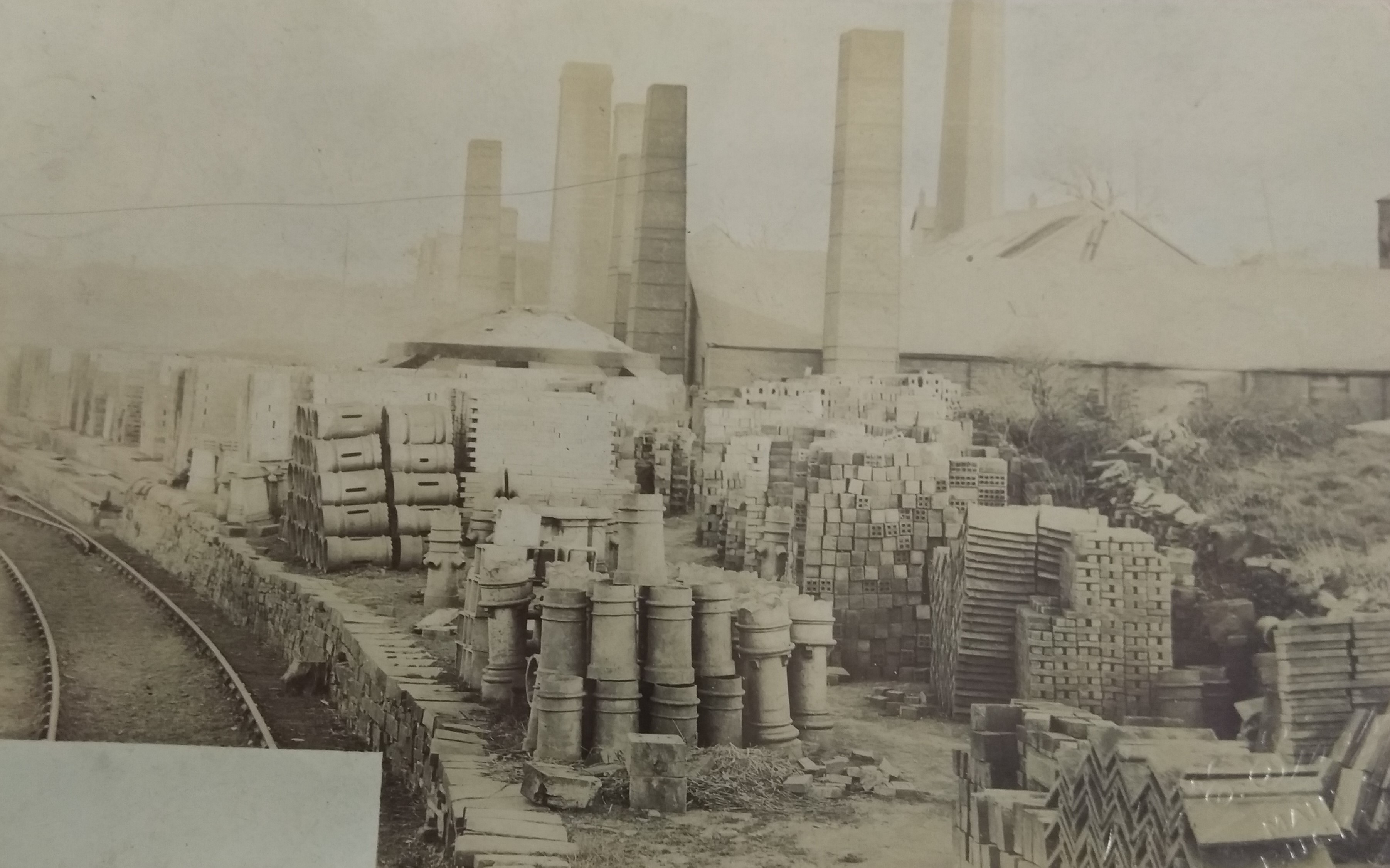 Buckley Pottery, Flintshire. The last pottery in the town closed in 1946.
Keith had a card relating to Buckley Pottery, which had supplied the area with sturdy, useful and decorative items for centuries. Most families had at least one piece – we had a large flared bowl with a cream interior and a dark brown exterior. Keith told us that the potters could make a toy for their children at Christmas. For more information about the pottery, go to:-
Buckley Pottery (peoplescollection.wales)
https://ceramics-aberystwyth.com/potter/slipware-buckle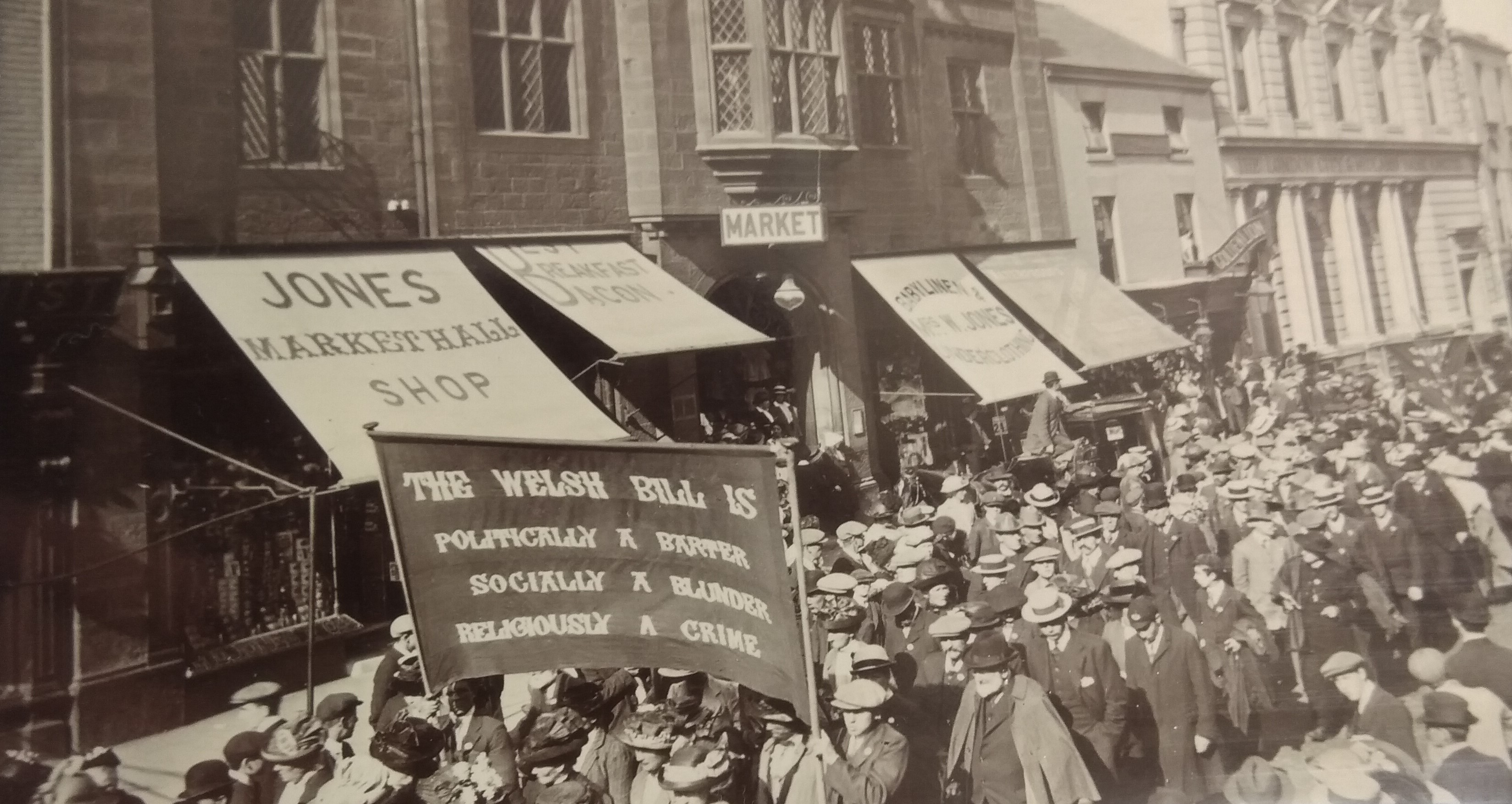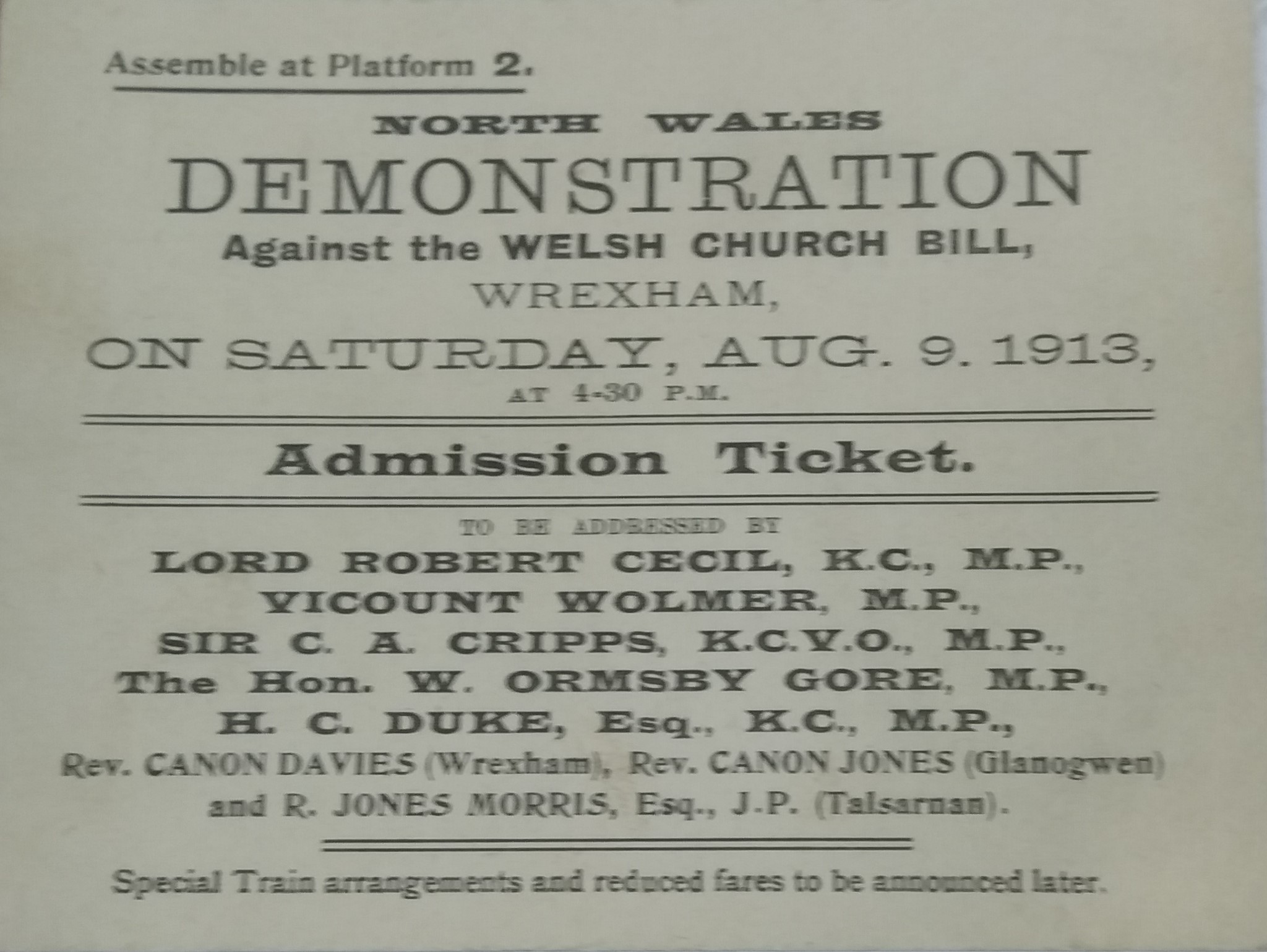 Lynne had an admission ticket to a Demonstration against the Welsh Church Bill, 1913,
together with a view of the event in High St, Wrexham.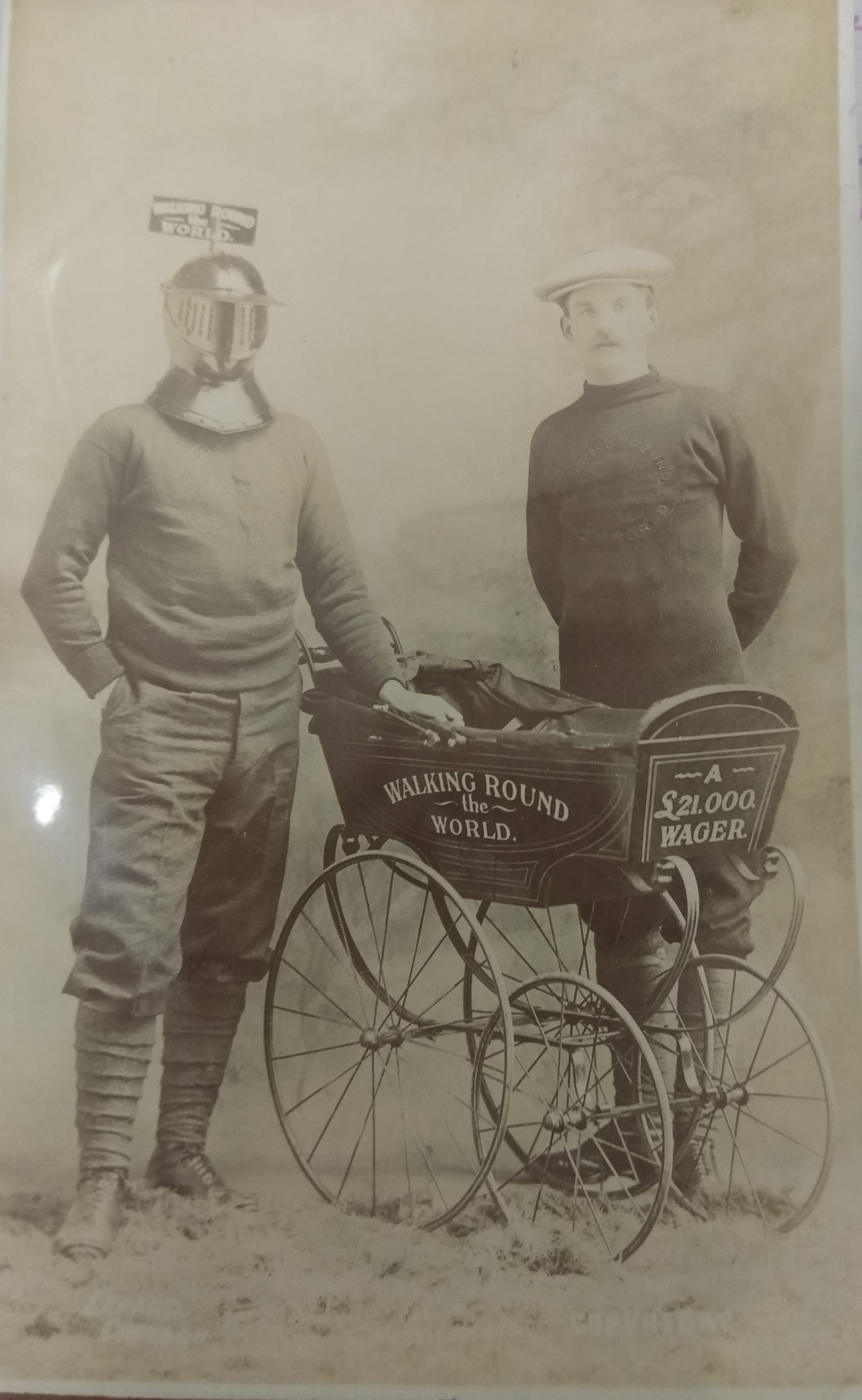 Marion's card mentioned the 'Man in the Iron Mask' – she tells the story….
Henry Bensley was the 'Man in the Iron Mask'. He was 18 when he took on a wager to walk around the world, pushing a pram and wearing an iron mask. He had to let no-one see his face, but had to pick up a wife along the way. He had to set off with only a change of smalls and a £1 note. The reward offered by American Millionaire, John Perriepoint Morgan was 100,000 dollars - £21,000 at that time. Henry raised money by selling postcards, but he was arrested in Kent for selling postcards without a hawker's licence. He appeared in court in Bexley Heath, but he was allowed to keep his mask on. He was fined 2/6d, and sent on his way. He completed 30,000 miles in 6 years, travelling to Ireland, Canada, America, China, Japan, India, Egypt and the Balkans. He was in Italy when WW1 was declared and the wager was cancelled. He returned home and was given £4,000 in compensation. He married a Yorkshire Lass and settled in Brighton.He died in 1970.
The message on the card reads:- "I bought this PC off the man you see as I thought you might like the card. He came to Taunton on Saturday and he has got to earn his living by selling these postcards. He must not beg or receive anything, not even a drink and to pick up a wife before he comes back. After going through Somerset, he is going to Wells including Swindon, so you will have a chance of seeing him walking round the world"
~~~~~~~~~~~~~~~~~~~~~~~~~~~~~~~~~~~~~~~~~~~~
Lawrence brought an unusual modern card, of a family standing for their photograph, but there was nothing on the front to indicate what the card was about. Only when you turn the card over, do you see that it was issued by a removals firm. It was one of a set, none of which had any information on the front.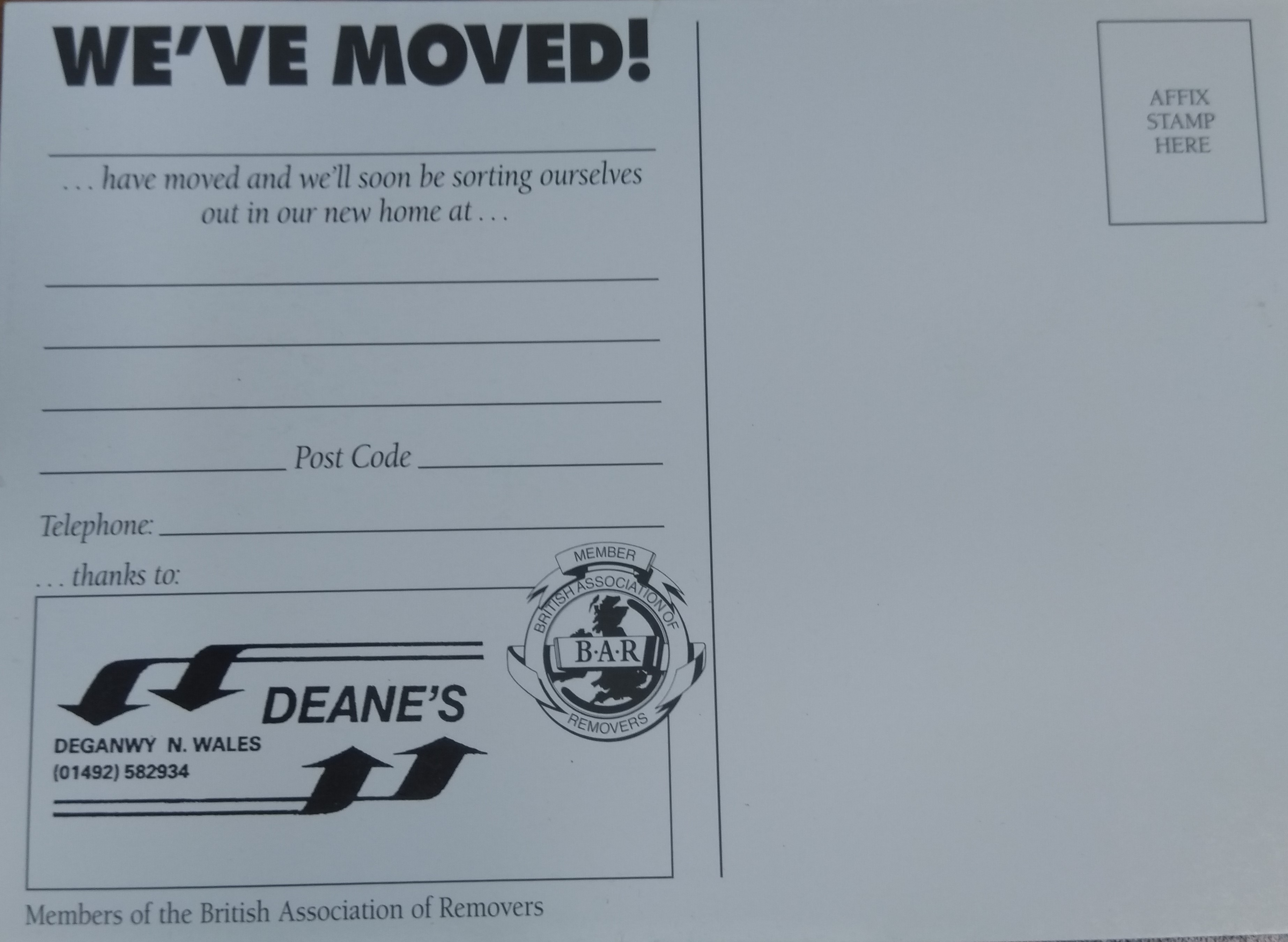 John's card of Llandudno's lifeboat illustrated the story of boatmen's strike in the town in 1899…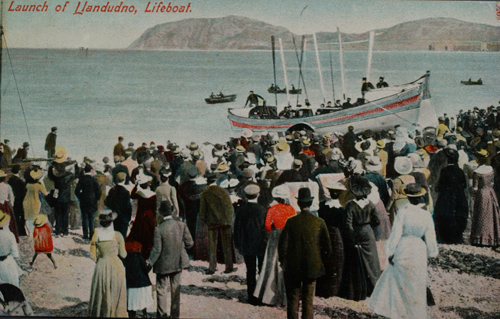 John writes:-
It was reported on the 5th of August 1899 that the Llandudno boatmen had threatened a strike. Mr Tom Jones and other representative boatmen were interviewed by the Bye Laws Committee at the Council Office with reference to the enforcement of bye-laws prohibiting the men from 'touting' on the promenade for their boat trips. The boatmen pointed out that they had for many years been allowed to accost visitors that they thought would like to hire a rowing boat and that to limit their operations to the sands would greatly decrease their earnings.
It was hoped that the Council Inspectors would not so rigorously enforce the rules. It was not to be and the boatmen went on strike, which may have lasted a month. It really was pointless as the boatmen were all self- employed and would have lost their earnings, in what would have been a short season!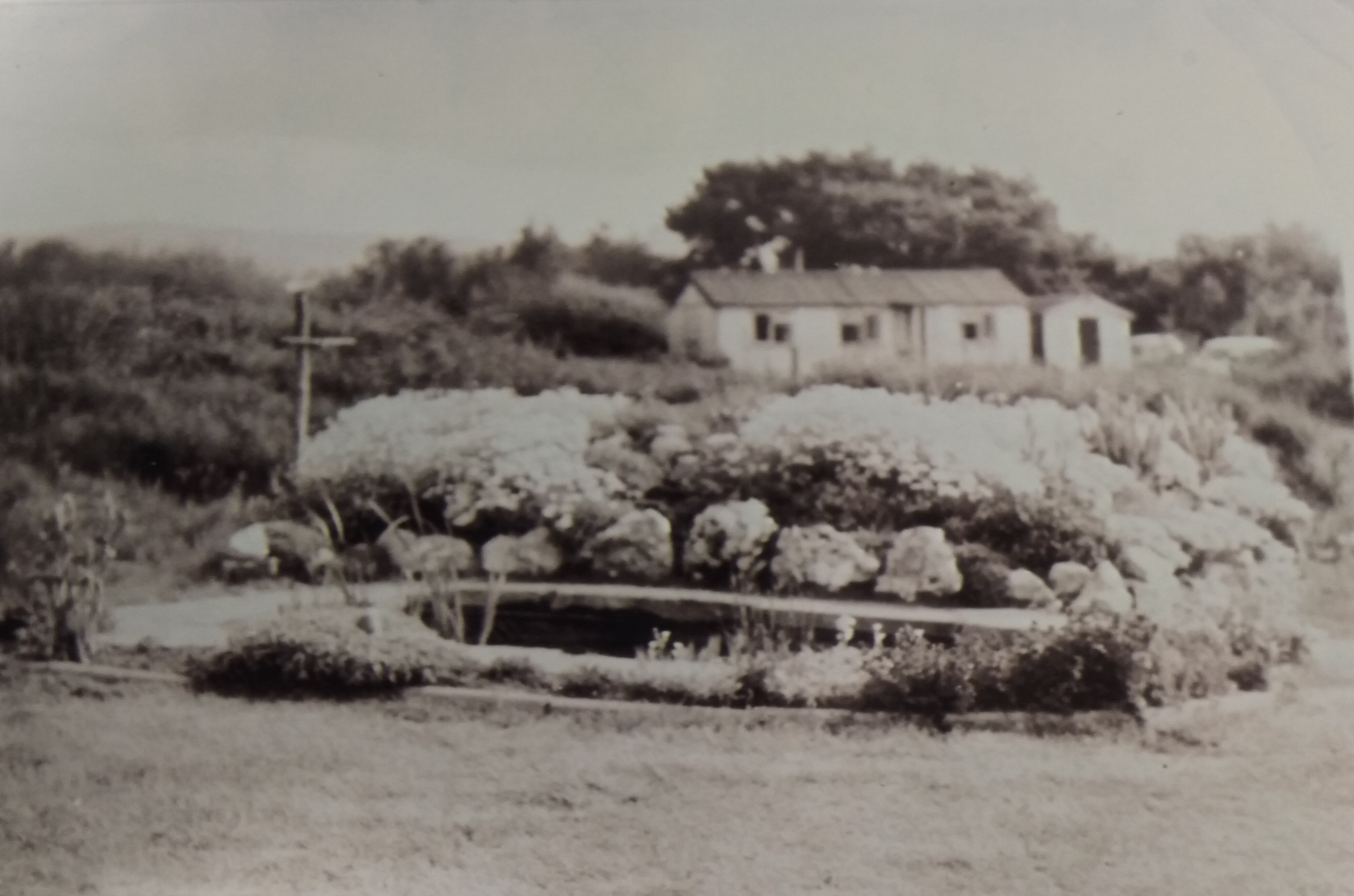 Jack showed a photo in a book about Talacre, the village where he grew up. The neighbours had taken the photo of their new pond in the garden, and in the background, was the house in which he had lived as a child. By chance, Jack had caught the neighbour's house in a film he had made of his family when they were setting off in their new car, so they were able to swap the images that neither family had seen before. Both of the houses had disappeared in the clearing of the Warren in 1973.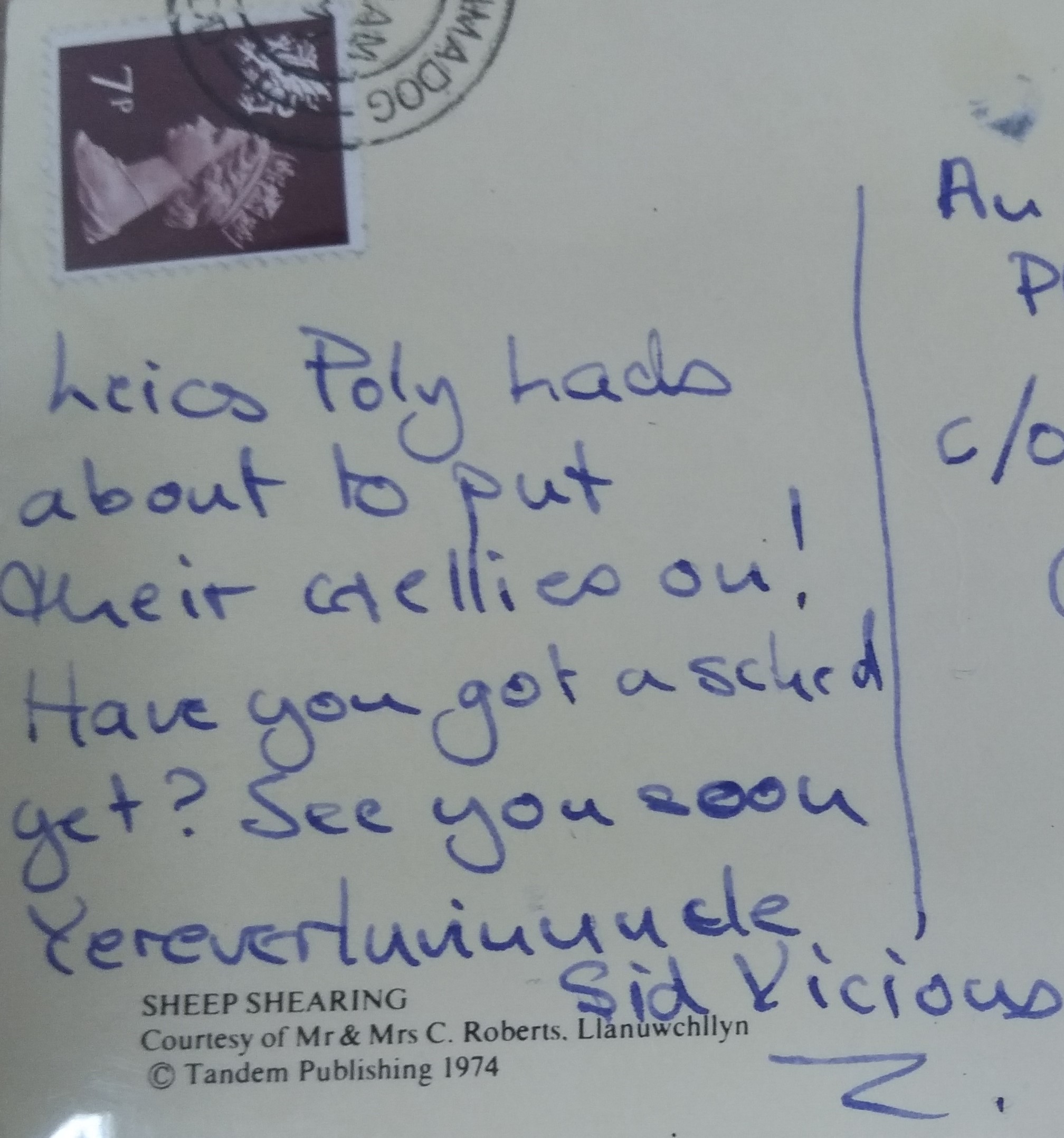 Sue's card presents a challenge – is the writer the REAL Sid Vicious?
Thank you to everyone who took part – it was a very enjoyable evening!
=========================================================
We've had a notice from Brian Lund about the new Picture Postcard Annual:-
"New 2022 edition of Picture Postcard Annual now available.
112pp, loads of features on postcard subjects, big reference section, diary of 2022 events.
The postcard collecting world in one convenient book!
£8.95 + £1.95 p/p
You can order at www.postcardcollecting.co.uk
or phone them to order on 0115 937 4079.
Buy 3 to give as presents or resell for £23 inc. post.
Brian & Mary Lund Reflections of a Bygone Age
Picture Postcard Annual 2022 published 24 November 2021.
Children in Need postcard 2021 now available at. 50p each plus75p p/p. Pack of 20 different previous cards £10 postfree"
Here is the second of Jane Matthews' 'Hotel stories' - The Ormescliffe Hotel.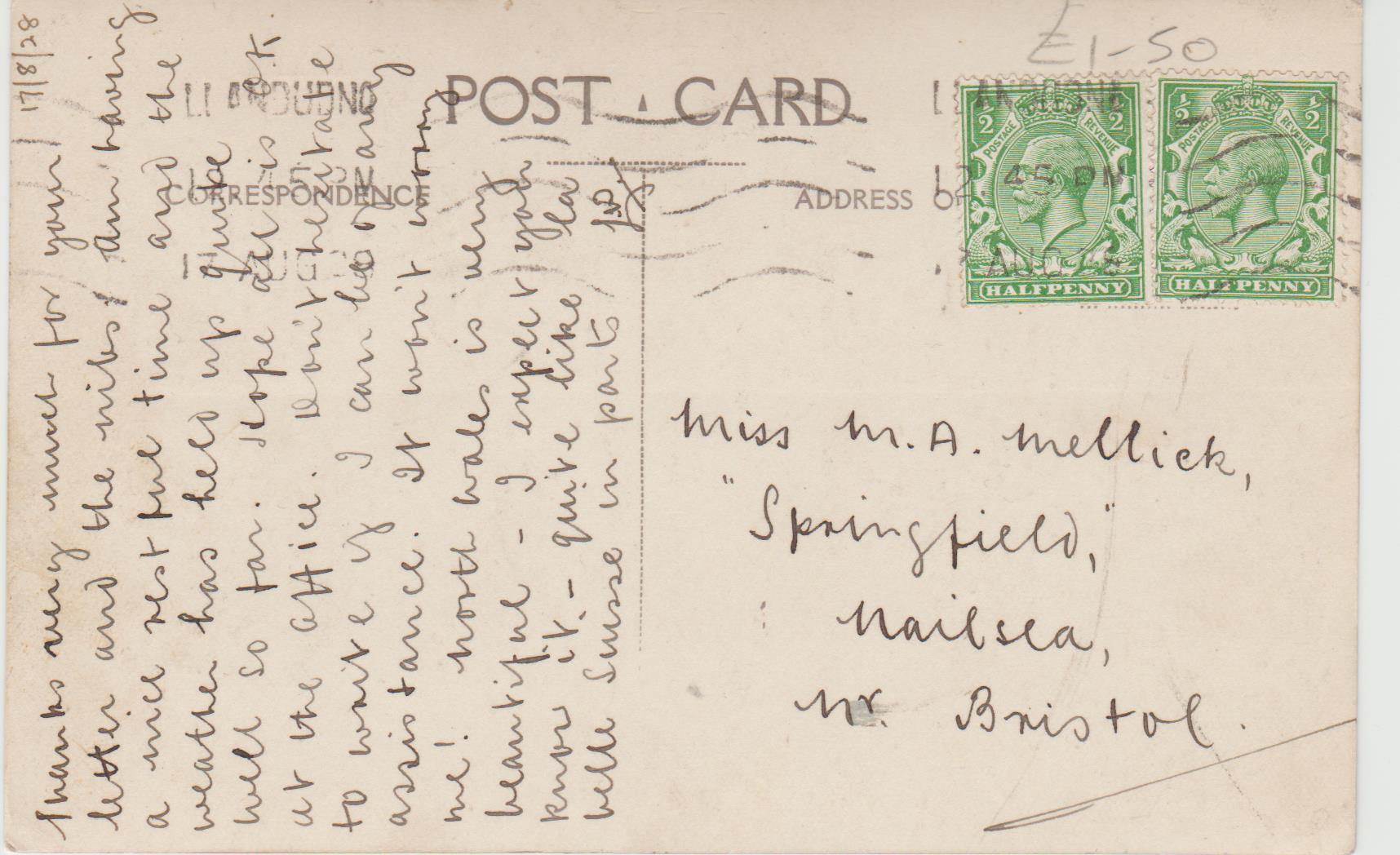 My second postcard features the Ormescliffe Hotel, which is on the Promenade in Llandudno. The card was posted in August 1928 and it seems to be sent from one colleague to another, or from a manager to a worker, as the sender hopes all is ok in the office and offers help if necessary. The sender thanks the recipient for her letter and the nibs – presumably one of which is used to write this card. The writer is well educated, which can be determined from the text and by the use of a French description when comparing Wales to 'la belle Suisse' (beautiful Switzerland). There is no name as a signature, just the initials LW.
The recipient is Muriel Alice Mellick, born in Bristol on 5 May 1888, and aged 40 in 1928. In 1911 I found her working as a clerk for the Midland Drapery Company in Derby. Midland Drapery was a large department store and she seems to have been living with other employees (45 women and 2 men!) on the store site, perhaps in rooms above. The huge ornate building was sadly demolished in the 1970s.
On the 1939 register, Muriel is living at the address on the card and her sister Nora Comins Mellick (a teacher of domestic subjects) is the head of the household. Muriel's occupation is 'clerk in tobacco manufacture' and this would fit with the fact that there was the famous WD and HO Wills tobacco company in the local area. Henry O Wills opened a tobacco shop in Bristol in 1786 and the company grew to be a multi-million pound concern, eventually being a founder member of the Imperial Tobacco Company (now Imperial Brands). Wills was one of the first UK companies to mass-produce cigarettes and it introduced cigarette cards which collectors look for today. Imperial is currently the fourth largest cigarette company in the world and still has its headquarters in Bristol. The company looked after its employees and even commissioned portraits of those who were long-serving…I wonder whether Muriel was one of them?
Having been designated a 'safe' area, Llandudno became the hub for the Inland Revenue in the war years and around 5,000 staff and their families relocated from London. Over 400 hotels, boarding houses and private residences were requisitioned in order to provide offices and living accommodation.
The Ormescliffe Hotel (now the Llandudno Bay) became the Inland Revenue recreation centre, with many games facilities. Dances and keep fit were held in the ballroom, and on a practical level there were washing and ironing spaces. A monthly magazine, the Ormescliffe Gazette (priced at one penny) provided reviews and articles and kept everyone up to date with the social scene. A variety of societies were created and this enabled staff who lived miles apart in London to meet together and share interests such as rambling, photography and chess, while IR sports teams competed with local ones.
James Callaghan was in charge of billeting and entertainment and he supervised activities at the Ormescliffe. He would later become leader of the Labour Party and then Prime Minister from 1976 to 1979.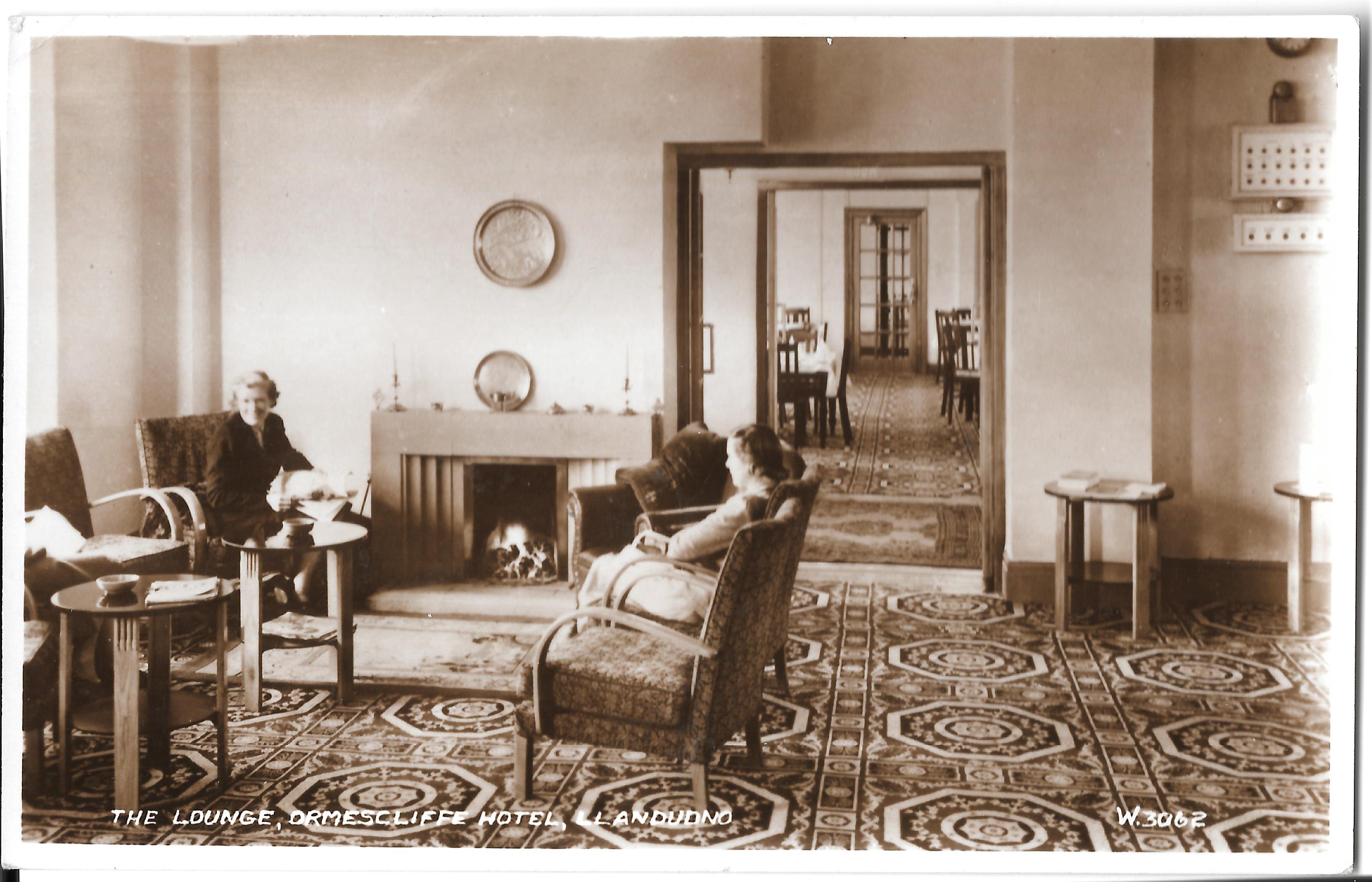 The photo for this Valentine card, in their 'W' series, was registered in 1949,
and shows the lounge at the Ormescliffe.
Jane adds:- It gives an idea of the decor post war, however, it may have been redecorated after the IR left. One of the gentlemen I interviewed worked on the plumbing of the sea front hotels after the various departments had left - apparently they were left in a bad state, but this may have been the work spaces rather than the Ormescliffe social centre - hard to say. Thank you, Jane, for another fascinating glimpse into the hidden life of the town. K.
Earlier this month, I met Jane for coffee at the Mostyn Gallery, and we had a very odd experience! I had taken a letter written by the artist and stained-glass designer, Sir Edward Burne-Jones, to show Jane. Later, whilst looking at the new exhibition in the Gallery, we were chatting with one of Jane's friends, who said that she had been to the Lady Lever Gallery in Port Sunlight, and had particularly enjoyed the work of Edward Burne-Jones. You can imagine how surprised she was when I said that I had a letter in my handbag, which had been written by him!
My mother's family has lived in Hawarden village for centuries, and Burne-Jones 1833-1898 designed some of the stained-glass windows in the Church, which is why the letter is part of our Hawarden collection.
~~~~~~~~~~~~~~~~~~~~~~~~~~~~~~~~~~~~~~~~~~~~~~~~~~~~~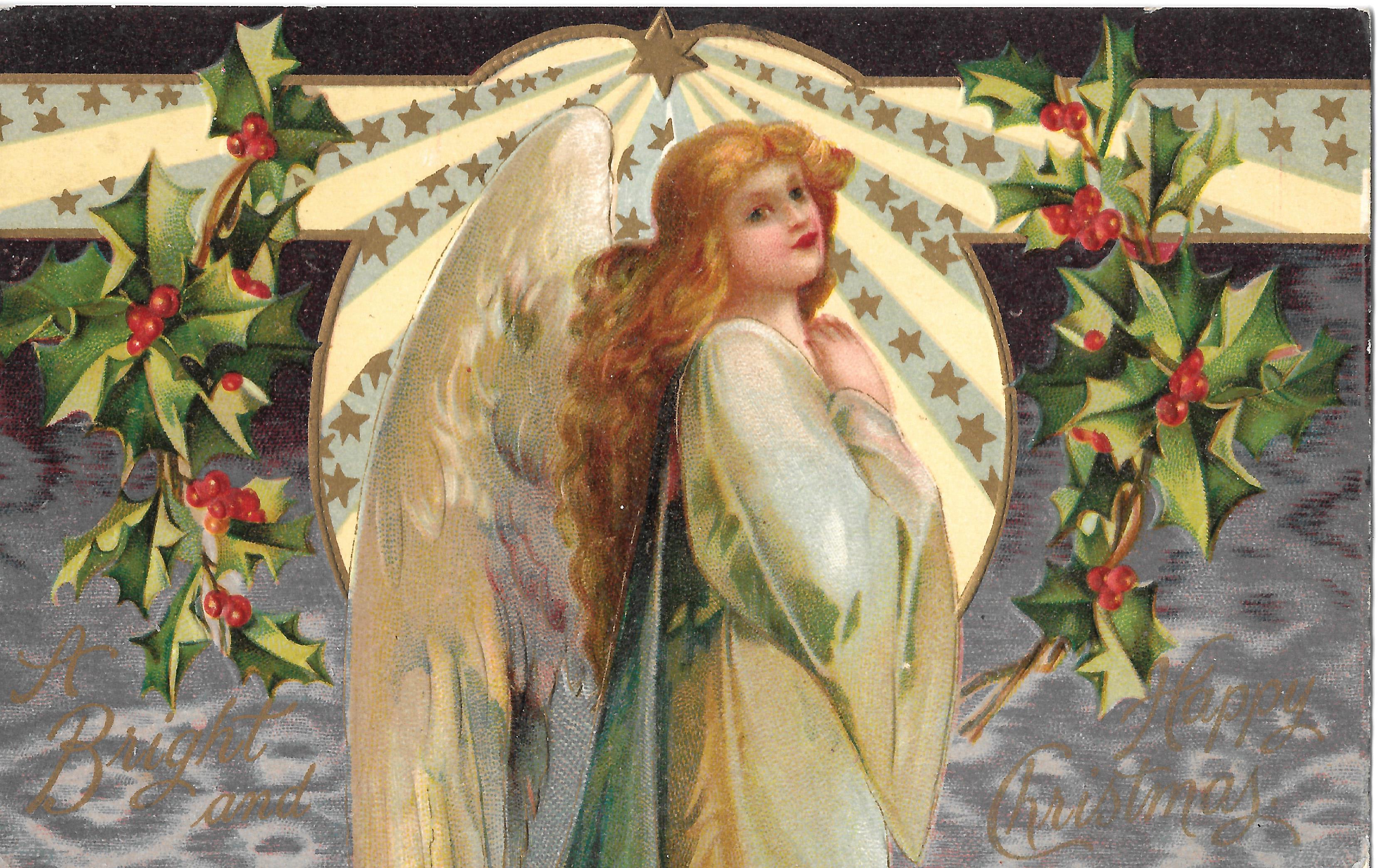 A Christmas Card by Max Ettlinger & Co., Ltd, London E.C. and New York, in their 'Royal Series' 5240. sent in 1907.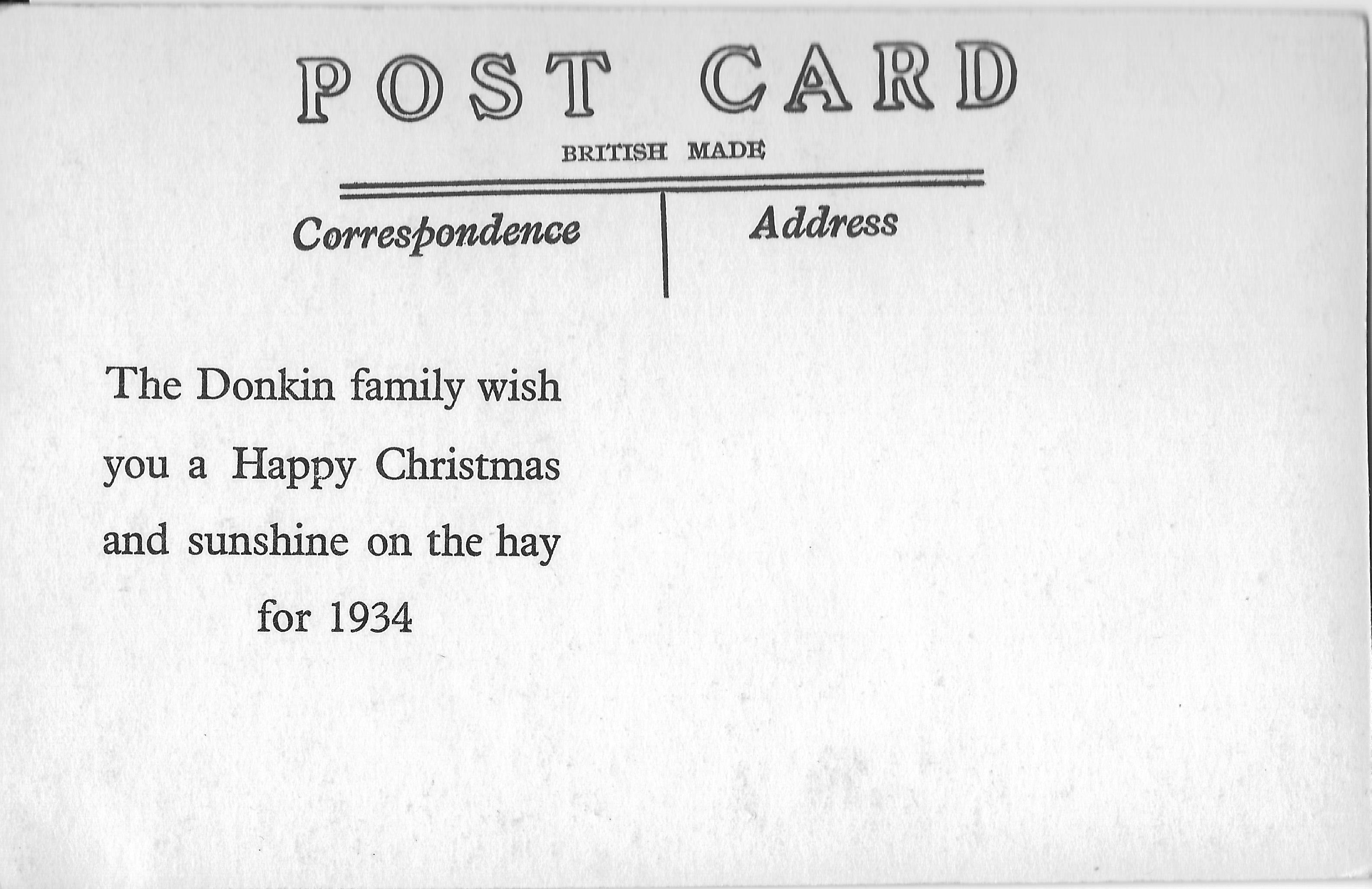 Here's a rather lovely printed message from 1933, but I will use it to wish everyone a very happy Christmas and a good year ahead. Karlyn.
July, and Aled Jones was telling the listeners to Classic FM about his memories of the railway station at Llanfair PG, [which he said in full], because the platform has been closed, as it'stoo small to accommodate social distancing! He said that with such a long name on the sign, the platform itself ought to be long enough. He remembered going on the trains with those big white tickets with the full station name a good keepsake for visitors. Aled grew up in Llandegfan, a village between Menai Bridge and Beaumaris. I always enjoy his programmes he has such a lovely voice, both for speaking and singing.